What is this fastest crossbow? Check out these 430-plus-fps stick slingers available this year
The crossbow market continues to march forward each year. The options available for 2023 don't disappoint, either. Manufacturers continue to crank out better bows. Here, we're highlighting some of the fastest crossbows available to consumers. With bows ranging from 430-505 fps, speed is front and center. Axe, Barnett, CenterPoint, Ravin, and TenPoint all have skin in the game here. Check out these incredible crossbows, all of which are among make our 2023 list for the fastest crossbow available.
---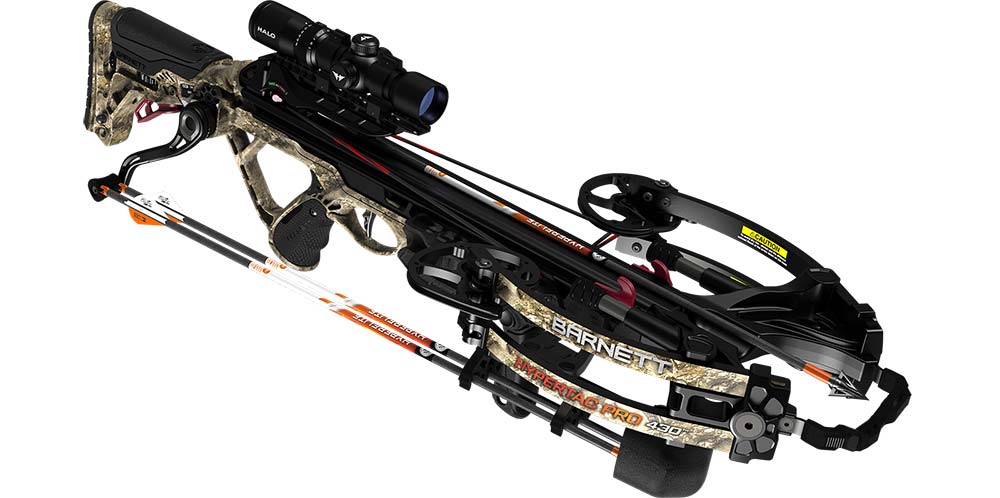 Coming in at 420 fps (speed tested with a 380-grain arrow), the Barnett HyperTac Pro 420 might be among the slowest bows on this list, but it's at an elite speed regarding the entire crossbow market. It also delivers 156 foot-pounds of kinetic energy. This model features the newly patented string hook system. It also has a quick-detach, integrated crank cocking device, which makes cocking the bow much easier. It even sports a flip-down Verti-Grip, which allows you to shoot AR style. It also allows for a customizable length-of-pull via an adjustable buttstock and cheek piece that permits micro adjustments. Regarding balance, this bow is designed with a traditional front end and narrow back end, which really enhances balance and feel. Furthermore, the Hyperflite technology boosts downrange speed and energy, which gives it the high fps that it boasts. This option is compatible with .204-inch micro-diameter arrows. It even sports a 3-pound TriggerTech with zero-creep frictionless release technology. It's topped off with three picatinny rails and a 1.5-5x32mm illuminated, speed-compensating scope. Additional features and other things to know include a step-through riser, metal injection molded trigger, anti-dryfire technology, and it comes fully assembled. Overall, the Barnett HyperTac 420 is a fast, smooth, and quiet crossbow. It measures 37x17x9.25 inches. The axle-to-axle measurement is 9.125 inches, power stroke is 14.25 inches, and draw weight is 230 pounds. This bow weighs 18 pounds.
---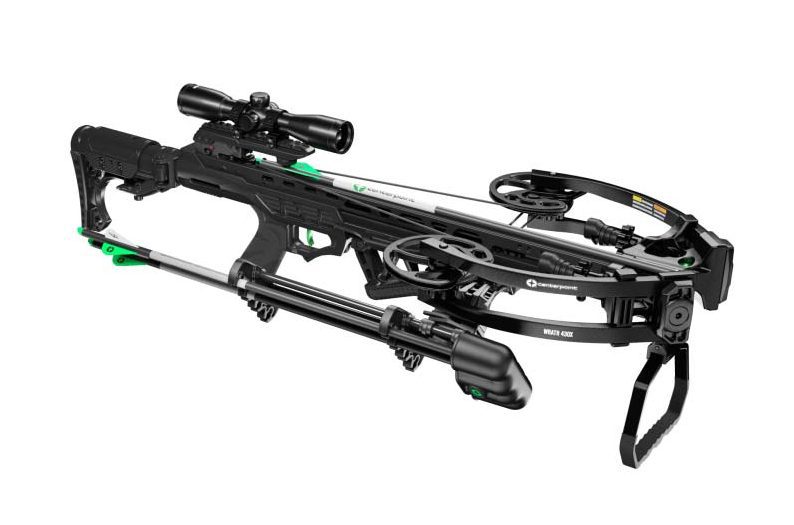 Another 430-fps crossbow, the CenterPoint Wrath 430X is a great 2023 offering. This crossbow is compact and fast, which is ideal for those hunting in tighter corridors, such as ground blinds and some treestands. This model comes with an inverted cam design, which allows for some of the technologies it packs in. Measuring 9 inches axle-to-axle when fully cocked, and 13 inches axle-to-axle when un-cocked, plus the fold-up stock and stirrup, this thing doesn't take up much space. The 430X also delivers 164 foot-pounds of energy, which is ideal on bigger-sized game. Thanks to the full bearing cam system, this crossbow shoots very smoothly, and doesn't deliver much hand shock. Stability increases further due to the ability of folding down the stirrup into a bipod with three-stage locking. CNC-machined aluminum rails boost durability, ball bearing retention speed keeps nocked arrows in place, and more. The full accessory package includes a 4x32mm illuminated scope, three 20-inch bolts with .003 straightness, parallel quiver, silent cranking device, and rail lube. This bow is 32 inches long, weighs 9 pounds, and has a 200-pound draw weight.
---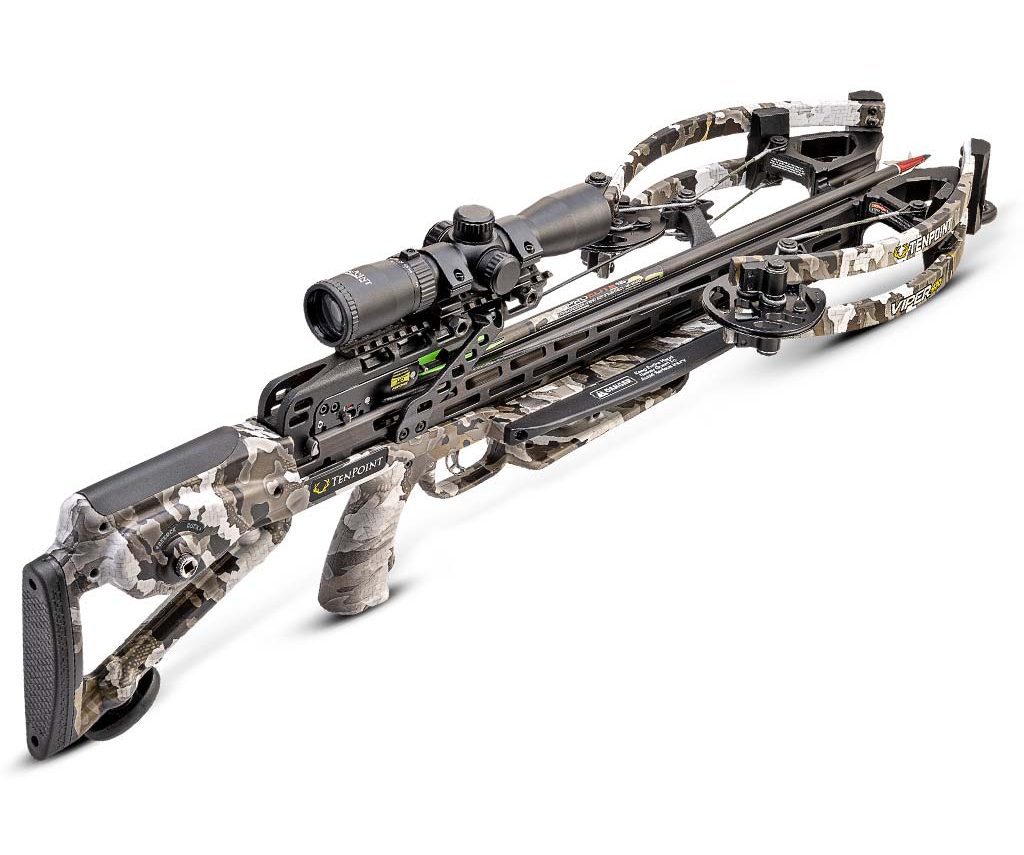 The TenPoint Viper 430 is the last 430-fps crossbow on the list. Boasting 100-yard accuracy, this bow offers pinpoint precision. The Viper 430 is a very fast and narrow bow, which is what most shooters want. It hits hard via 164 foot-pounds of kinetic energy (with 415-grain arrows). It's also quite durable, providing a longer lifespan. Plus, the new elongated dovetail provides for heavier scopes and more adjustments but doesn't pack in the extra weight from a full-length rail. This model comes with a two-stage trigger with a 3.5-pound, zero-creep S1 design that features an advanced roller-sear system. De-cocking is also easier and safer due to the patented ACUslide technology. The bow is 33 inches long (without foot stirrup), 11 inches when un-cocked, 6.5 inches when cocked, has a 13-inch power stroke, weighs 7.5 pounds without accessories, and has a 250-pound draw weight. Overall, this forward-draw bow is an excellent option when looking for the fastest crossbow. It comes topped with a 100-Yard RangeMaster Pro Scope. The purchase includes the bow, scope, three Pro Elite 400 carbon bolts with .003-straightness, quiver, and Sentry bow hanger. MSRP: $1,749.99-$1,849.99
---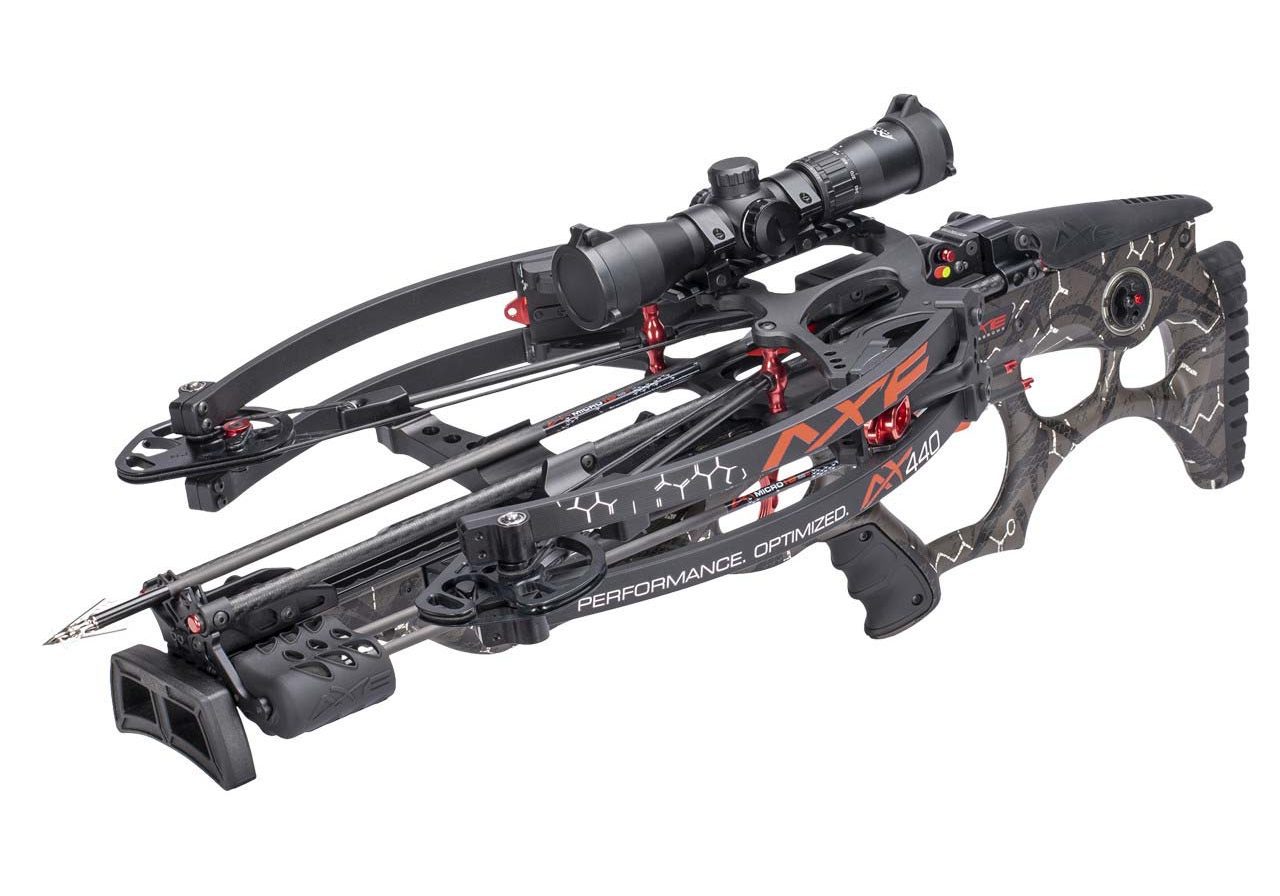 Stepping up to 440fps, the Ax440 by Axe is a solid option available on the 2023 crossbow market. This bow is a very maneuverable and stable in-hand. It's very balanced thanks to a shoot-through stock and riser with reverse limb design. It's split-limb system with 15-inch power stroke slings bolts fast that hit hard. Plus, this bow shuns the traditional aluminum rail system, and instead, utilizes dual carbon guide rods. Paired with a shoot-through riser and tunable roller rest, it produces a free-floating arrow system with minimal contact, friction, and torque. It's also safer to shoot, because the nock capture system creates an audible sound, effectively alerting the shooter that it's fully seated and ready to go. Regarding measurements, this model is 11.5 inches axle-to-axle when cocked, 16.6 inches axle-to-axle when un-cocked, 12.25 inches tall, 30.5 inches long (with foot hold collapsed), 34.75 inches long (with foot hold extended, and weighs 10.5 pounds (without a scope). It sports an adjustable butt stock, cheek comb, integrated crank cocking device with a de-cocking feature, and a trigger that automatically resets to safe with every shot. It even offers 85% cam efficiency. This crossbow includes a 3.5-pound two-stage sliding trigger assembly and multi-range illuminated 440 reticle scope. It shoots small-diameter, 19-inch bolts with a .166 internal diameter. MSRP: $2,099.99
---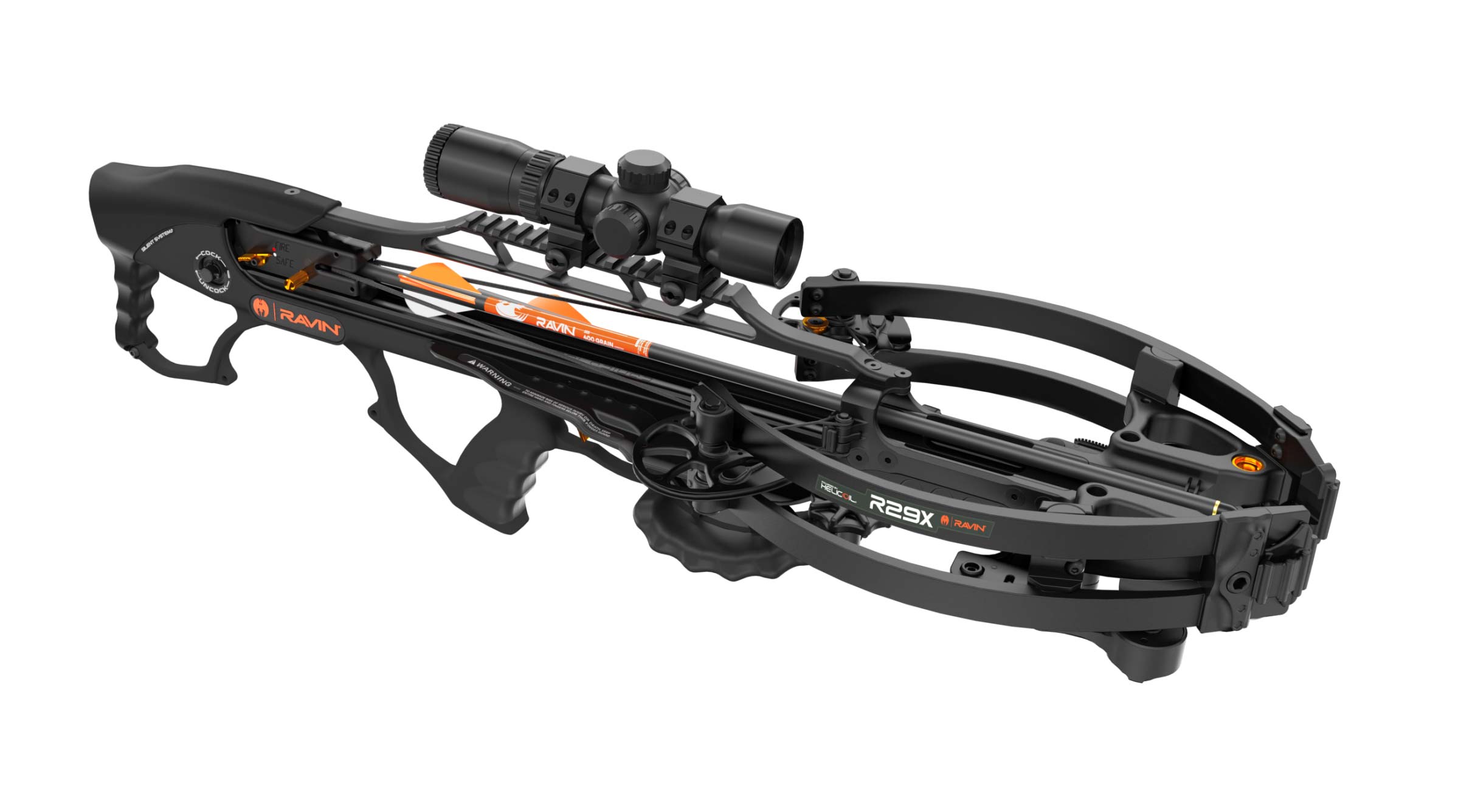 The Ravin R29X slings the sticks at 450 fps and delivers 180 foot-pounds of energy (with a 400-grain bolt). It incorporates a revolutionary design that permits the technological advances it offers. It sports a Trac-Trigger Firing System, which is built sleekly into the stock. Its cocking device is ambidextrous, offers cocking and un-cocking capabilities, and allows for stopping and re-starting of the draw cycle. This crossbow measures 29 inches long, 6 inches axle-to-axle when cocked, 10.5 inches axle-to-axle when un-cocked, has a 12.5-inch power stroke, and weighs 6.75 pounds. It boasts a 12-pound draw force and is powered with the HeliCoil technology. This crossbow comes with a built-in cocking mechanism, silent cocking system, anti-dry fire, auto safety, and built-in sling mounts. The package includes three 400-grain Ravin arrows and field points with .003 straightness, removable draw handle, quiver and mounting bracket, and 100-yard illuminated 550 fps scope. MSRP: $2,724.99
---
TenPoint Stealth 450 with Oracle X Scope – ($2,799.99 at Amazon)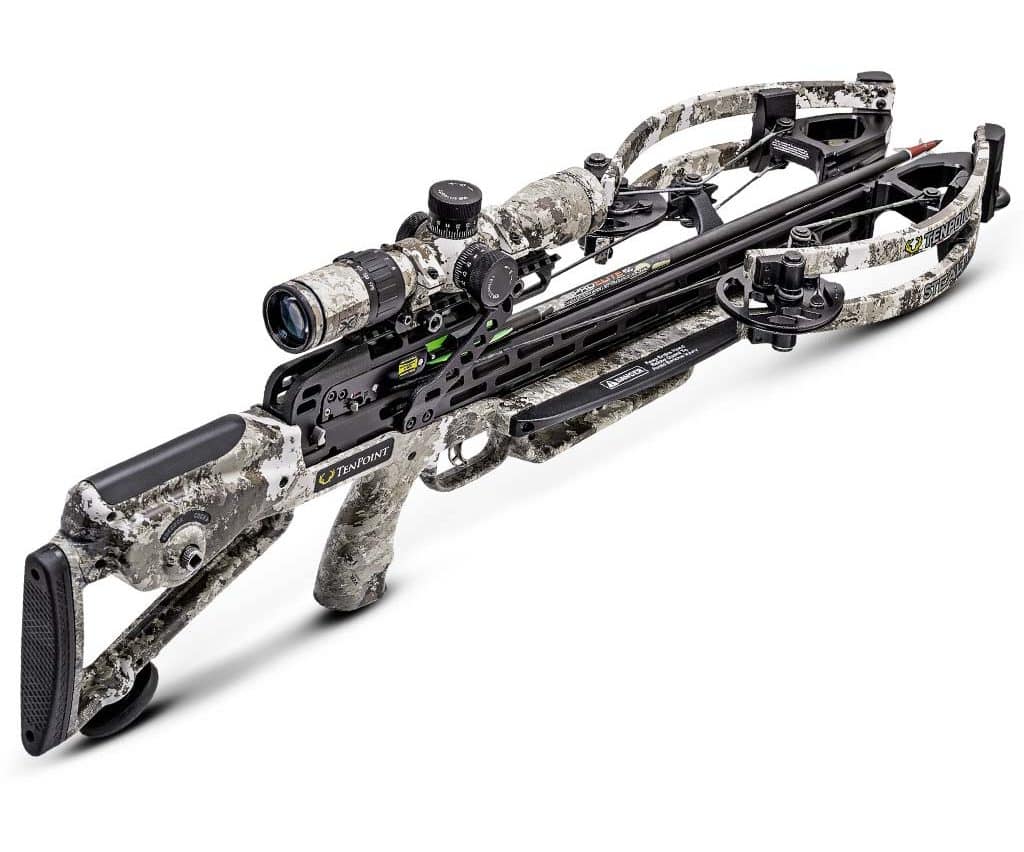 The Stealth 450 by TenPoint is another 450-fps bow that pumps 191 foot-pounds of kinetic energy (with 415-grain bolts). This forward-draw bow is very sleek with incredible mobility, measuring only 6.5 inches wide. It's also built tough to boost durability and longevity. Plus, with a longer dovetail, it increases strength by 80%. This results in great foundation. It can be cocked or de-cocked safely due to built-in technology. If your hand slips off the cocking handle, the draw cycle merely stops, rather than everything unraveling. The Stealth 450 also includes the 3.5-pound, two-stage, zero-creep S1 trigger with advanced roller sear system that provides a very crisp pull. Drilling down on specs, it's 33 inches long (without foot stirrup), 6.5 inches axle-to-axle (when cocked), 11 inches axle-to-axle (when un-cocked), 13-inch power stroke, and weighs 7.5 pounds without accessories. It has a 300-pound draw weight. It comes with a 100-yard Evo-X Marksman Elite Precision camo scope, increasing overall accuracy downrange. The complete package includes a bubble level, an Integrated String Stop system, Sentry bow hanger, quiver, and three Pro Elite 400 bolts with .003 straightness.
---
Bumping up to 460 fps (with 410-grain arrows), the TenPoint Flatline 460 moves bolts downrange like a rocket. With 188 foot-pounds of energy, it smacks the target hard, too. It's one of the highest rated options on the market today. This crossbow offers incredible speed in a very small platform. It also has great accuracy and durability. The reverse-draw system produces power and speed. It even sports a 3.5-pound, two-stage, zero-creep S1 trigger. It cocks and un-cocks easily and safely, even if you lose a grip on the handle. Drilling down on specs, it measures 26.5 inches long (without foot stirrup), 12 inches when un-cocked, 7.5 inches when cocked, has a 13.5-inch power stroke, and weighs 7.5 pounds (without accessories). It has a 300-pound draw weight. The longer dovetail allows for quality scoping without adding too much weight. It comes topped off with a 100-yard Evo-X Marksman Elite Precision camo scope. It also has a bubble level, Sentry bow hanger, quiver, integrated string stop system, and six 400-grain EVO-X CenterPunch Premium crossbow arrows with .001 straightness. MSRP: $2,649.99
---
Speeding up even more, the Ravin R500 downright scoots. With a 400-grain arrow, it thunders downrange at 500 fps with 222 foot-pounds of kinetic energy. This crossbow is powered by the HeliCoil System, which is a proprietary system that rotates cams 360 degrees. It also features the VersaDrive system, where the internal screw drive moves the Trac Trigger Firing System back and forth. The internal clutch prevents over-cocking, and permits stopping and starting of the draw cycle. Plus, the Frictionless Flight System is patented technology that allows the arrow and string to free float above the rail, which increases accuracy and crossbow longevity. Furthermore, the Silent Cocking System makes operation much quieter, which is important to most hunters. It even incorporates anti-dry fire technology. Regarding measurements, it's 28.5 inches long and has a 15-inch power stroke. The axle-to-axle length is 7.75 inches when un-cocked and 3.6 inches when cocked. The draw force is 17 pounds. The crossbow weighs 8.4 pounds. This package comes with a 100-yard illuminated 550-fps scope, built-in sling mounts, a removeable draw handle, quiver with mounting bracket, and six 400-grain Ravin R500 bolts and field points. MSRP: $3,124.99
---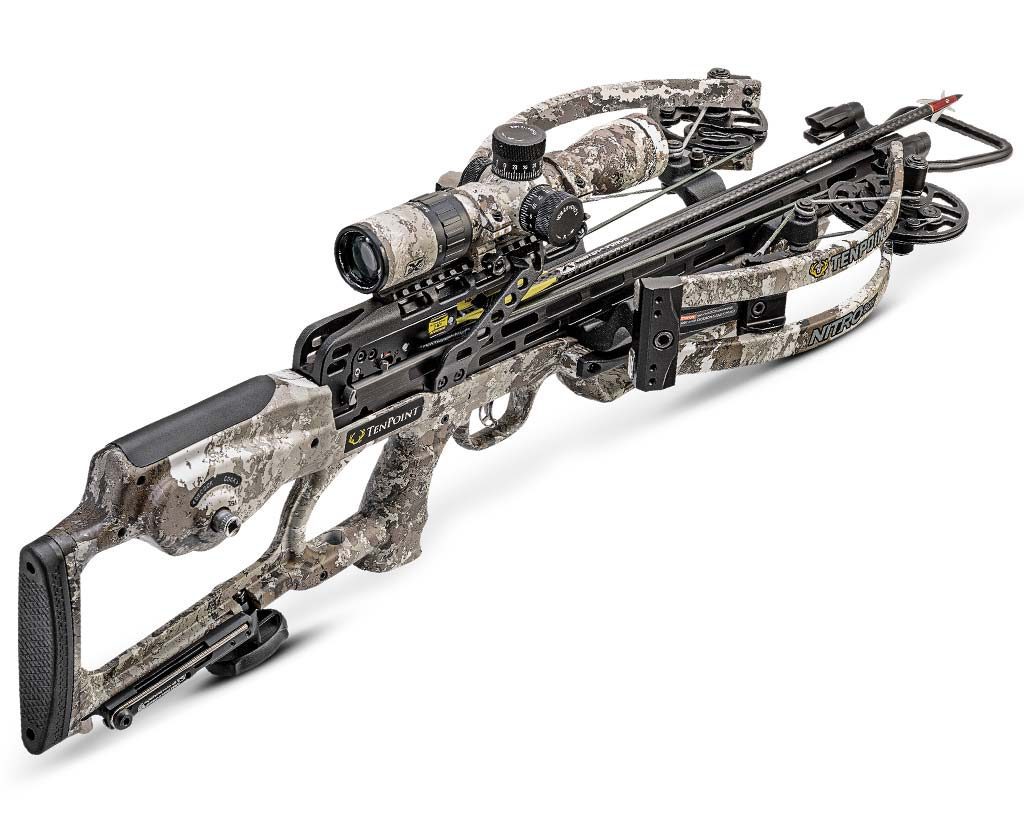 The fastest crossbow on the market, the TenPoint Nitro 505 turns on the turbos and gets there in a hurry. Pumping bolts at 505 fps with 227 foot-pounds of energy (with a 415-grain bolt), it does serious damage and does so with record time. It's reverse-draw design is very accurate, durable, and fast, yet offers utmost smoothness. It comes equipped with the new RX-8 cam system, as well as a 3.5-pound, two-stage, zero-creep trigger. It's also simple to cock and un-cock thanks to the ACUslide that requires only 5 pounds of force to operate. Moving to measurements, it is 30.5 inches long (without foot stirrup), 6.5 inches axle-to-axle when cocked, 12 inches axle-to-axle when un-cocked, has a 17-inch power stroke, and a 300-pound draw weight. It weighs 7.9 pounds without accessories. The complete hunting package includes an Evo-X Marksman Elite variable speed scope with external adjustment turrets, Integrated String Stop System, cocking device, Sentry bow hanger, quiver, and six Evo-X CenterPunch Premium bolts with .001 straightness. MSRP: $3,049.99-$3,149.99