The last of the snow had just melted off as I hiked out a ridge to look for shed antlers. I was new to hunting this area, and although I'd put my tag on a nice 8-point mountain buck in a different location, I knew I still had a lot to learn about how deer traveled here. I figured this ridge to be a hot spot, even though I'd hunted it on at least five different occasions the previous fall and seen a total of zero deer. Instead of abandoning the spot, though, I wanted to look it over without foliage on the trees.
As soon as I neared the actual spot where I'd been set up all those times, I started finding buck rubs that had been made months earlier. No surprise. This was a 12-year-old cut where deer liked to bed and browse, and there were rubs scattered throughout. About a half-mile beyond the low gap where I'd hunted, I reached the edge of the cut. Beyond the cut, the next few hundred yards of the ridge was populated with huge oak trees all the way out to the point. But what caught my eye was the edge between the cut and the taller timber where there were scores of rubs. Several rubs had been made the previous hunting season. Even more were from years prior.
HISTORICAL STAGING AREAS
I knew right away that I'd found a historical staging area, a place where rubbing and scraping activity occurs consistently, year after year. In fact, bucks had used this edge on the ridge even though the oak trees hadn't produced acorns that fall. So, I couldn't even claim that deer were coming here because of any food source. Rather, there were doe bedding areas on the hillsides on each side of the ridge, and the edge of this cut served as a natural travel route between those areas. Historical staging areas can be interesting places to hunt. I don't always see a lot of deer here, but I do see a lot of bucks. The frustrating aspect of these stands is that they can seem dead during the early archery season because they're not always near early season food sources. This is especially true in Big Woods situations or anywhere there's not a lot of agriculture. But as the rut approaches, these spots get better and better, and fresh sign will appear on an almost daily basis. Bucks will cruise these areas, which are typically downwind of where does prefer to bed, and they're almost always some of my most productive stands to hunt during the rut.
 In agricultural areas, the typical staging areas are the inside corners and edges of fields. The best ones – ones used year after year – are usually those with some sort of thick cover or funnel that leads to the field. Bucks will stage in these areas until they feel it's safe enough to enter the field or food source where does may be feeding. Several years ago, I walked in cold to hunt a food plot and set up a stand. I was just planning to do some reconnaissance, to see if any good bucks were in the area. About two hours before dark, I spotted a mature 8-point in some thick cover about a hundred yards away. He was only about 10 yards from the field edge, and he stood almost perfectly still, checking the wind every few minutes until it got almost completely dark. By the time he emerged from the cover, there wasn't enough shooting light left. The next day, I moved my stand closer to where the buck had entered the field and quickly found a few faint trails. But there was nothing nearly as heavy as the trails on the other side of the field where several groups of does had entered the field the evening before. However, I did find a plethora of rubs, old and new, that told me this was the spot that bucks had used for many years to access the field.
Early spring before the foliage starts growing back on most trees is the best time to get out in the woods to locate historical staging areas. The rubs from the recent rut are still fresh enough to distinguish from those of previous seasons.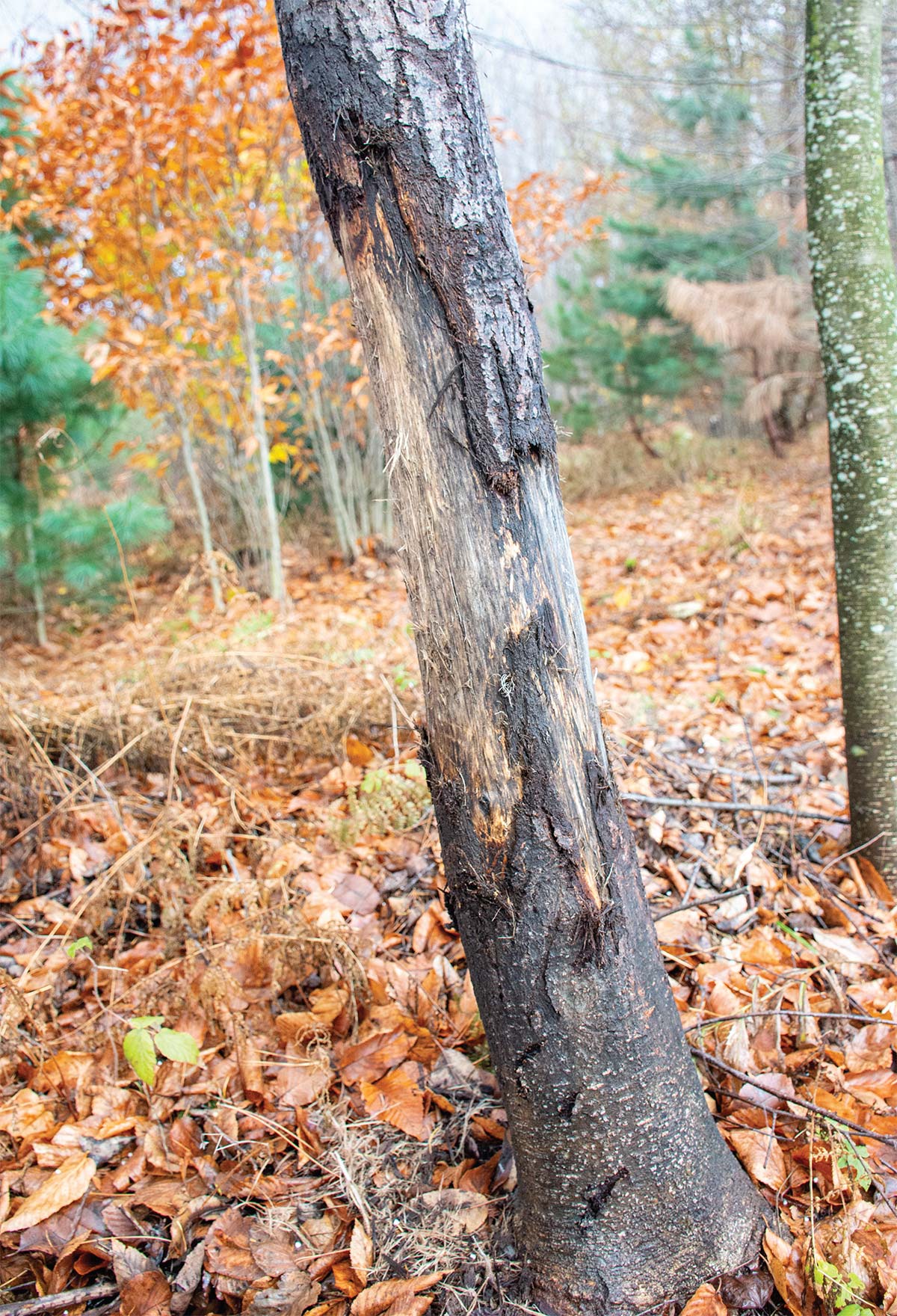 SIGNPOST RUBS
Another piece of "old sign" I look for during spring scouting missions is signpost rubs. Throughout one season, a buck can rub hundreds of trees. Some of these rubs will appear in clusters in key areas while others are made randomly when- ever and wherever a buck feels the need to do so. Of all the rubs bucks make, signpost rubs are the most significant.
Signpost rubs are made in areas that will remain consistent hot spots year after year.
The biggest problem with signpost rubs is finding them. They're not always easy to locate because they often appear in heavy cover and in specific places within a buck's home range; and although bucks of all ages will rub them, they primarily occur where the range of multiple mature bucks overlap. In that regard, signpost rubs are the ultimate territorial markers.
Signpost rubs are trees that have been rubbed for many years by multiple bucks.
I've found signpost rubs that looked as if deer have been rubbing them for decades. These trees typically display a huge dead spot on one side where repeated rubbings have killed the tree and a bulge on the other side where the tree continues to grow.
I've found signpost rubs of all ages. They typically start out as rubs on saplings only an inch or two thick, but as the tree continues to grow, bucks continue to rub them year after year. I almost always find them on a species of tree that is not the dominant species in the area. For instance, one of my most recent finds is on an evergreen that is surrounded by hardwoods. This tree sticks out like the proverbial sore thumb, which is probably why bucks have rubbed this particular tree year after year. After all, what good is a signpost if it can't be seen?
I look for signpost rubs in thick travel corridors, especially in those hard-to-reach places that receive little human pressure or traffic. Swamps, bogs, brushy water- courses, and even far out on the end of secluded ridge points are great places to look for signpost rubs. Locating them is a huge step in unlocking the secrets of mature buck movement in that area.
OLD SCRAPES
The third piece of "old sign" I like to look for this time of year is scrapes. Most of the scrapes bucks made last fall will still be visible in the spring before foliage regrows. Like rubs, bucks can make dozens, if not hundreds, of scrapes in a single season. However, the location and quality of those scrapes can help you determine if the area will be a hot spot next season, too.
The most important scrapes to focus on are those around known bedding areas. The farther you get from these core areas, the less pertinent information you can gather from a scrape – unless it's also in an area near a signpost rub or cluster of an historical staging area. But when you find huge, table-top-sized scrapes near bedding areas, there's a good chance these were used as community scrapes during the rut. There's also a good chance that scrapes will appear in these same places and be used in the same way next fall.
In fact, there are some community scrapes that deer never stop using. Nu- merous times, I've placed trail cameras to monitor old community scrapes and have found that bucks will continue working the licking branches all months of the year. Even after they shed their antlers, or while growing their new set, bucks will stop to deposit scent from their forehead and tear ducts on any branches over the old scrape. It's no surprise, then, that the first scrapes you'll find next fall will be in these areas, and they'll also be some of the most productive to hunt.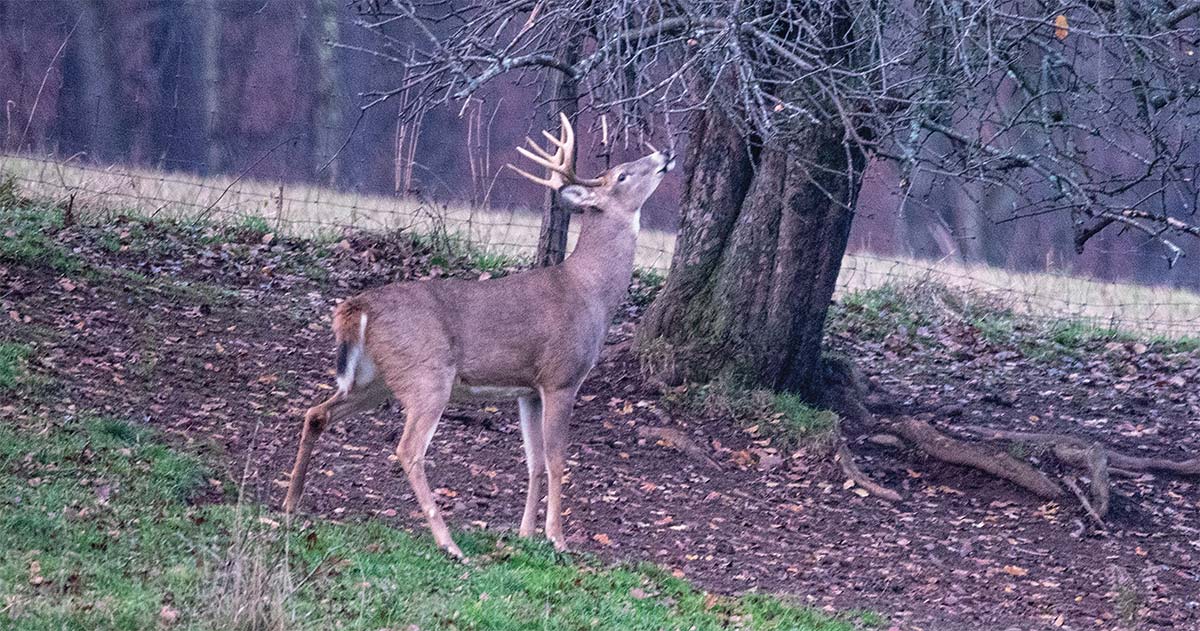 VARIABLES
I'd be remiss if I didn't add one disclaim- er to all of this, and that is to always remember that the woods are constantly changing. Food sources change. Woods can mature from year to year, and cover where deer once felt secure enough to bed can thin out enough that deer will bed elsewhere. Also, timber manage- ment can alter deer patterns from season to season. All of these can impact how deer use an area from one season to the next.
Last fall, I placed a trail camera in the historical staging area along the cut edge mentioned at the beginning of this arti- cle. As predicted, summer activity was excellent, and I got photos of numerous bucks and does, but as fall approached, the movement died off. The first few weeks of the archery season saw very little activity. And then the rut heated up. That edge turned into a verifiable buck highway as they cruised that ridge scent-checking for does in heat.
Although I never arrowed a deer in that location, I certainly had my share of en- counters and opportunities. I may have been foiled by too-narrow shooting lanes and shifts in wind direction, but I still had a lot of fun hunting that stand. That's why I'm a firm believer that finding old rubs and scrapes can provide insights into how deer used the area last season, and also help you predict how they will use it in years to come.