Barnett Outdoors was founded in central England by Bernard Barnett in 1962. After building a large following in the United Kingdom, they continued manufacturing products there until the mid- 2000s at which time they consolidated all of their operations into a facility in the United States, where the company is still head- quartered today. As one of the original pioneers in the crossbow industry, Barnett is responsible for much of the meaningful innovation present in today's crossbows, and they remain one of the top-selling brands on the market. Barnett has grown substantially since 1962 and is currently under the Plano Synergy umbrella which affords it access to a vast array of resources and experts in a variety of fields.
This review was written without bias or paid advertisement from Barnett.  Affiliate links were placed in the article after submission from the author.  If you find this review helpful, and plan on buying one – please use this link or any of the links in the article at no additional cost to you to help support our work.  Thank you!
Per their website statement: "Barnett is the world's number one producer of cross- bows because we scrutinize every aspect of every product. We focus on precision, safety, and performance – taking care of all the details so you can take care of business. Crossbows come in all shapes and sizes. Each has its own set of benefits and drawbacks, but Barnett stands behind all of its crossbows as lethal hunting weapons and effective tools for the sport that get the job done."
OUT OF THE BOX
The Barnett HyperTac 420 is shipped fully assembled in double-encased durable cardboard packaging and is available in Mossy Oak Elements Terra Gila camo. It incorporates a patented integrated string hook system, pre-installed string stop dampeners, micro-adjustable length-of- pull butt stock, and cheek piece, stock integrated crank cocking device with push button handle release, CNC machined aluminum flight track, soft-loc floating bristle arrow retainer, anti-dry fire Triggertech trigger system, and is topped off with a premium 1.5-5×32 illuminated, speed compensating, multi-circled reticle scope, 3-arrow instant detachable quiver, three HyperFlite small diameter arrows with 100-grain field points. The crossbow is ready to shoot right out of the box.
SPECS & PERFORMANCE
I always stress the difference between the advertised specs of an individual cross- bow and its actual "hunt setup" specs. Most of the time manufacturers market bare bow specs which can be misleading. In extremely rare cases, the advertised weight and speed of the crossbow are its true weight and speed when set up in full hunt dress. Because of this, a side-by-side comparison test is completed against the crossbow's marketed specs.
The Barnett HyperTac 420's advertised weight without accessories is 7.9 pounds. My comparison weight with the crossbow set up in full hunt dress with scope, quiver bracket, quiver, and arrows is 12.0 pounds. It is 13.2 inches axle to axle uncocked and 9.2 inches cocked. It sports a draw weight of 215 lbs. with a 15.5-inch power stroke. Its overall adjustable length ranges from 35.9 inches to 38.4 inches. The HyperTac 420 also includes an auto-engaging trigger that automatically moves the safety into the "safe" position when the crossbow is cocked and incorporates three picatinny rails with monopod compatibility.
The scope features a variable speed ring for crossbows that shoot between 250 FPS and 450 FPS, as well as fully multi-coated 1.5-5X optics. Its configuration consist of nine illuminated reticles calibrated in 10 yard increments between 20 and 100 yards. The optics are very clear and illumination very bright.
If you thought crossbows could shoot only standard diameter arrows – think again. Barnett's revolutionary small diameter Hy- perFlite arrows are designed specifically for use with Barnett's Hyper series cross- bows. The power and speed of a crossbow combined with the precision and penetration of a .204" arrow delivers deep penetration. Each HyperFlite arrow has a .001" straightness tolerance for downrange ac- curacy. The HyperFlite carbon arrows are fletched straight with 2.0" Bohning Blazer vanes and include aluminum outserts and aluminum capture style nocks. These arrows are engineered and safe for all Hyper series crossbows. The arrows included with our test package weighed in at 304 grains with no practice points installed. Ten shots were put through a chronograph with the fastest and slowest recorded speeds eliminated from the equation and the average speed being calculated from the remaining eight shots. The HyperTac 420 is advertised at speeds up to 420 FPS (feet per second). Our test bow consistently averaged 408 FPS with the package included HyperFlite arrows.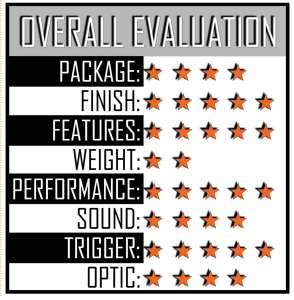 The HyperTac 420 features a metal injection molded TriggerTech trigger assembly. This Frictionless Release Technology creates a free-floating roller between the sear and the trigger – offering a smoother, lighter trigger. Nock sensors and anti-dry fire give the shooter peace of mind for double the safety, and zero-creep release gives you the confidence to make the shot. The frictionless release technologyis a patented free-floating roller that sits between the sear and the latch. The auto engaging safety is ambidextrous with a dry fire inhibitor. My trigger pull analysis data is comprised the same way as my feet-per- second data. Ten shots are gauged with the highest and lowest numbers being re- moved from the equation; the remaining eight shots are calculated to achieve the average. There is absolutely no creep in the HyperTac Pro's trigger. With a very sol- id wall and no creep as you apply pressure, the trigger breaks clean and crisp. The trigger broke cleanly at 3.0 pounds. The HyperTac 420 has an outstanding trigger.
A quote from the Barnett website claims; "A newly designed and ultra-compact ris- er assembly paired with the tactical-style adjustable butt stock renders this bow unbelievably maneuverable in tight quar- ters. The ultra-compact design isn't the only thing downsized on this new model, however. The bow amplifies Barnett's Hy- per™ series crossbow lineup and shoots the small-diameter, extreme penetrating HyperFlite™ .204 diameter arrows. Form follows function on the HyperTac™, but its sharp decoration sweetens the deal."
The HyperTac 420 is loaded with features and has comfort on its side, with every touch point completely customizable: use the flip-down Verti-Grip to shoot AR-style and set the perfect length-of-pull fit with a micro-adjustable butt stock and cheek piece. The traditional front end and narrow back end give all the HyperTac bows an incredibly balanced weight center for peak maneuverability. Hyperflite technology pummels small diameter arrows down range with incredible speed and precision with 25% deeper penetration than the competition.
After spending some serious range time with the crossbow, the HyperTac 420 is a very well-balanced, comfortable, and adjustable crossbow. It has a little weight to it; but if you can handle that, it is a very well thought out ergonomic crossbow de- sign. All Barnett crossbows include soft-lok floating bristle arrow retainers and the HyperTac 420 also includes an integrated step-through foot stirrup directly into its riser assembly to lengthen the power stroke without placing the cocking string beyond arm's length.
The crossbow has an enhanced fit with push button stock comb height adjustment and is finished with rubber over-molded pistol and fore grips which include finger guard protection. The crossbow shoulders and balances very well. The package included HyperFlite arrows out penetrated all other competitors' arrows that I comparison tested by three to four inch- es. The HyperTac 420 recorded average decibel level readings compared to other crossbows that I've tested in the above 400 FPS category. This adds to its appeal.
At the shot, no vibration was felt from the crossbow. For accuracy testing, I shot five groups of three arrows at 30 yards off a bench rest and then repeated the process at 40 and 50 yards. The HyperTac 420 consistently held sub-1-inch groups at these distances. That is outstanding! I was exceptionally pleased with the trig- ger and downrange performance of the crossbow. And again, I reiterate because of the small diameter and design of the HyperFlite arrow, penetration was much greater than that of any other cross- bow arrows that I compared them to.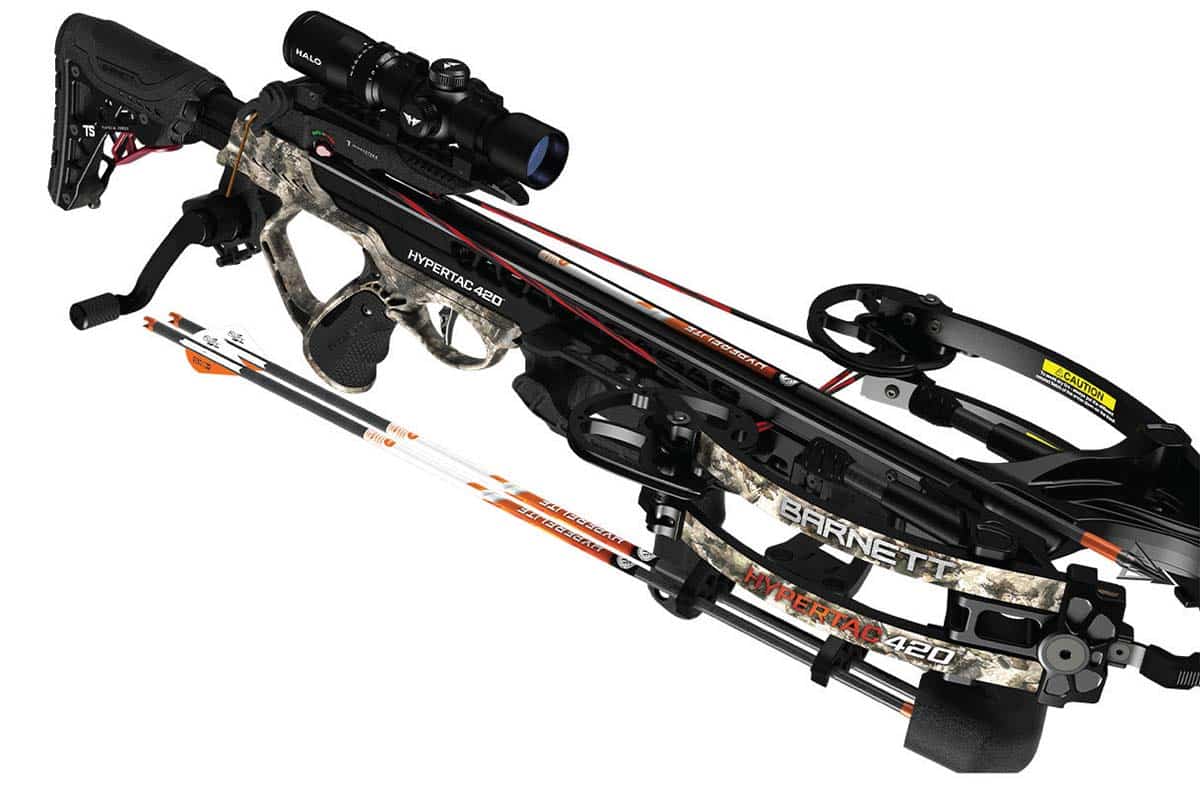 EXPERT TIPS
There are a lot of quality features incorporated into the HyperTac 420. With its Triggertech trigger, built-in string stops, step- through riser foot stirrup, soft-lok bristle arrow retainer, and HyperFlite arrows, there's no need to upgrade any component of the crossbow. If you can handle its weight, it's an exceptionally user-friendly, comfortable, adjustable, and accurate crossbow. Add a sling and broadheads to the package, and it's ready to carry to the field.
BOTTOM LINE
The HyperTac series of crossbows offer a lot of quality features from a company with over 50 years of crossbow innovation.
All of the bows are made of quality com- ponents and nearly mirror one another except for some finer points like speed. Barnett continues to improve their quality and up their game with each passing year. With a price point of $899.99, the Barnett HyperTac 420 is a mid-range priced bow by today's standards and there's no deny- ing this crossbow has a lot to offer at this price point. For additional information go to www.barnettcrossbows.com.