SYKD Hunt is a new brand on the market headquartered in Pennsylvania. With a leadership team of experienced industry professionals, the SYKD Hunt brand is completely dedicated to hunting. According to Joe Haddock, SKYD Hunt's Director of Brand Strategy, "When we set out to create the SYKD Hunt brand, we wanted to make sure that we kept the customer in the forefront of every decision made. We are fully committed to providing products that perform well above their price tag. We wanted to build a crossbow that is a workhorse, one that won't break the bank, but one which hunters can be proud to own. We truly feel we've accomplished this. We are happy to provide a positive experience for any age hunter at any budget. Our products are designed to be tough and to set the hunter up for success. At $499.99 with free shipping, we feel that we have a product that is second to none at that price point. The quality componentry and stability of this crossbow are impressive to even the most seasoned crossbow hunters. To us hunting is more than a hobby, it is a lifestyle!"
OUT OF THE BOX
The forward draw aluminum railed Vindicate XVC has a matte gray rail and is trimmed in black and Next Camo G2. It features a single bolt riser attachment for quick and easy setup which provides a solid riser to rail mount. It includes riser mounted string stops, limb dampeners and string silencers all which reduce noise and vibration. Its adjustable style foregrip allows for a customizable fit for the shooter's preference and impedes the user from placing fingers in the travel path of the string and cables. The adjustable AR style stock provides a custom fit for multiple shooters by the push of a button. Rounding out the package are a rope cocking aid, a 5-arrow single gripper quick detach parallel quiver for secure arrow storage and three 22" 394 grain carbon arrows. A 4X32 illuminated multi crosshaired reticle scope tops off the crossbow.
The Vindicate XVC is the SYKD Hunt brands first crossbow release and comes in at 33 inches in length and 14.5 inches wide cocked. It weighs in at 7.9 pounds and reaches speeds up to 380 feet-persecond with a 394-grain arrow. It offers a lot of adjustability and performance, at a value-packed price point. Its 185-pound draw weight and 15-inch power stroke produce 128-foot pounds of kinetic energy. With its power it's easily capable of bringing down any big game animal in the world while at the same time providing maximum adjustability which allows multiple participants to use the crossbow. The Vindicate XVC incorporates an Auto Engaging Safety and Anti Dry Fire trigger into its design which moves the safety from the "fire" to the "safe" position when the crossbow is cocked and protects the user from moving the safety from the "safe" to "fire" position without an arrow in place. The 7.5-inch water/fog proof package included scope is 4X32mm design with red/ blue illuminated multi cross-haired reticles ranging from 20 to 60 yards. The package includes 3 294-grain weight SYKD Hunt carbon arrows with 100 grain field points (included). They come fletched with a 3.5" offset vanes and are made of durable carbon material with a straightness of .003". The SYKD Hunt carbon arrows are available in 20" and 22" with non-proprietary half-moon nocks.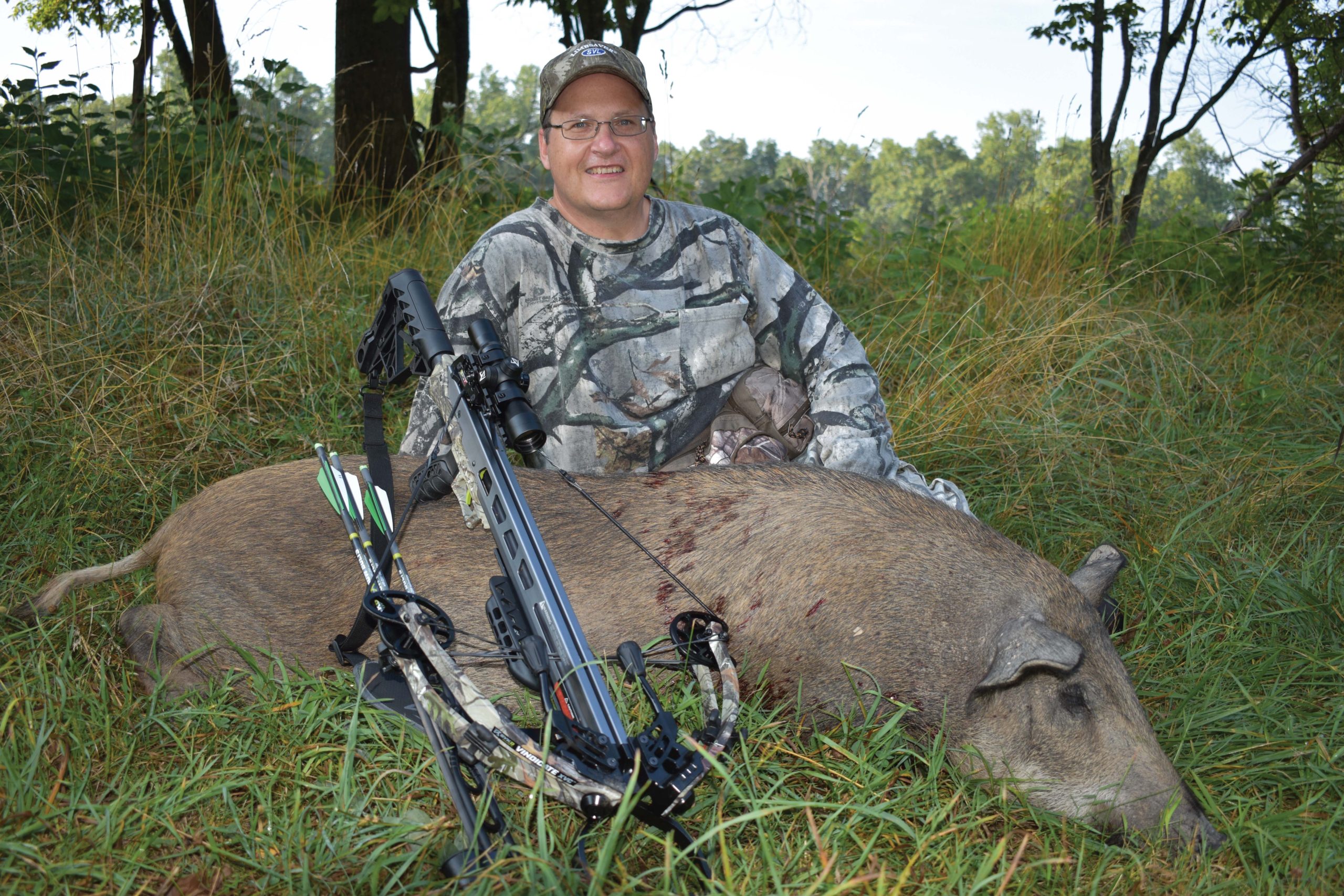 SPECS & PERFORMANCE 
I always stress the difference between the advertised specs of an individual crossbow and its actual "hunt setup" specs. Most of the time manufacturers market bare bow specs which can be misleading. In extremely rare cases, the advertised weight and speed of the crossbow are actually its true weight and speed when set up in full hunt dress. Because of this a side-by-side comparison test is completed against the crossbow's marketed specs. The Vindicate XVC's advertised weight without accessories is 7.9 pounds. My comparison weight with the crossbow set up in full hunt dress with scope, quiver bracket, quiver and arrows is 8.8 pounds.
The SYKD Hunt carbon crossbow arrows are listed at 400 grains. The arrows included in my test package ranged in weight from 394 grains to 396 grains. Ten shots were put through a chronograph with the fastest and slowest recorded speeds eliminated from the equation and the average speed being calculated from the remaining eight shots. The Vindicate XVC consistently shot 390 FPS: ten feet per second over the marketed FPS rating. Kudos to SYKD Hunt for exceeding their FPS rating.
My trigger pull analysis data is comprised the same way as my feet-per-second data. Ten shots are gauged with the highest and lowest numbers being removed from the equation; the remaining eight shots are calculated to achieve the average. There is absolutely no creep with the Vindicate XVC's trigger. With a very solid wall and no creep as you apply pressure, the trigger breaks clean and crisp. Factory specs list the XVC as having a trigger pull of 4.5-pounds. My comparison testing produced a 4.8-pound trigger pull.

SHOOTING THE VINDICATE XVC 
When I received the Vindicate XVC, I already had a fairly good idea what I was going to be dealing with. I'd traveled to their facility a few months earlier and got some hands-on time with the crossbow. I was impressed with their commitment to build a brand that put consumer cost and quality at the forefront, while at the same time bringing a rock-solid product to the market. A lot of thought, time, and energy have gone into this start up; and the SYKD team has striven to get it right the first time.
The first impression one gets when unpacking the Vindicate XVC is that it's not too narrow and it's not too wide. They seemed to have found the perfect blend of width and speed that will most assuredly guarantee longer string and cable life. Using the included rope cocker, the crossbow was not at all difficult to cock. It also incorporates an auto-engaging trigger which automatically moves the safety into the "safe" position when the crossbow is cocked and a Dry-Fire-Inhibitor which makes it impossible for the crossbow to fire without an arrow being nocked.
When shouldering the Vindicate XVC, there is no front-end heavy feel to the crossbow whatsoever. It is very well balanced and with the adjustable stock, you can find the desired LOP (length of pull) that fits you best. There is no trying to settle into this crossbow. When shouldered everything just comfortably aligns in place. Being a left-handed shooter, the ambidextrous safety is a nice feature and it's located in such a place that you can quietly slip it on and off without making sound. There is no trigger creep or takeup whatsoever, but a solid pull is required and the trigger breaks clean. For accuracy testing, I shot five groups of three arrows at 30 yards off a bench rest and then repeated the process at 40 and 50 yards.

As always when I test crossbows that retail at this price point, I typically recommend an aftermarket purchase of better arrows and a higher quality optic. In order to keep package cost to a minimum, it's necessary to trim cost in some areas to meet the price point criteria; this typically occurs with the optics and arrows. However, I have no doubt that the majority of crossbow hunters would be quite content with the package included accessories that accompany the Vindicate XVC. SYKD Hunt also markets their own line of crossbow accessories such as broadheads, slings and crossbow cases designed exclusively for the Vindicate XVC. They are definitely worth checking into and will enhance the crossbow quite nicely.
BOTTOM LINE
In addition to its price point there's a lot to like about the Vindicate XVC. Its aluminum flight rail, adjustability, package included sound dampening system along with its safety features would've cost the consumer an additional several hundred dollars just a few years ago. When they're all attainable at this affordable of price point it's definitely a bargain for anyone on a limited budget, or those just looking for a great deal. The Vindicate XVC retails for $499.99. For additional information go to www.getsykd.com.