The bear's teeth were popping and its breathing, heavy. Guttural grunts and thrashing brush were easy to hear as the enraged black bear was less than 100 yards away. I continued blowing on the handheld predator call, and finally the agitated bear emerged from the dark timber in Southeast Alaska.
My buddy, Mike Jenkins, won the coin toss and was up first. As soon as the bear hit the rocky shoreline, zeroed-in on my calls, put it's ears back and started coming, Mike pulled the trigger. Dropping the bear inside 70 yards was an adrenaline rush for Mike, as this was the first black bear he'd seen, called in. When a bear reacts to a predator call, it's coming in for the kill, and you are the target. It's the danger and uncertainties that create the excitement.
Admiring Mike's bear, one he took with a rifle, I was up next, shooting an Excalibur crossbow. I'd taken many bears over the years, but never with a crossbow. The fact I was hunting on Alaska's Prince of Wales Island–one of the world's premier black bear destinations–made the adventure even more exciting.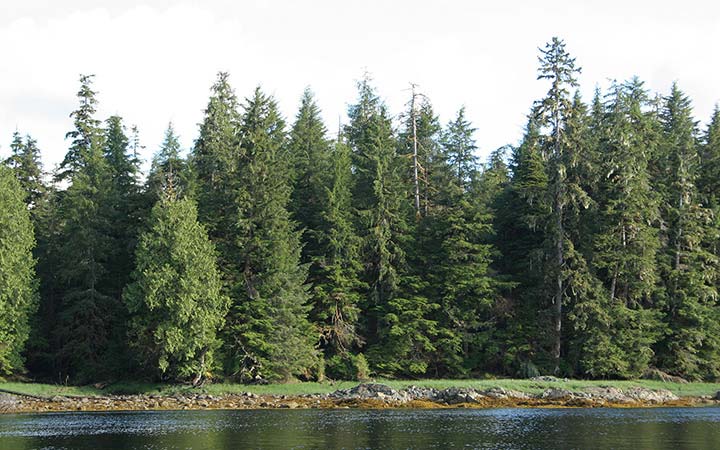 The Journey
It's said that planning a trip is half the fun, and nowhere is this more true than on a hunting adventure to Alaska. In the planning process you envision what might happen, what obstacles you might face, and what bear hunting in the Last Frontier is going to really be like.
Day one found me flying into Ketchikan where I spent the afternoon sightseeing and exploring the historic coastal town. Cruise ships came and went. Folks were friendly, and with all the daylight hours in late spring, the port was abuzz with people, boats and local wildlife.
The next day I boarded an Alaska Inter-Island Ferry which took me to the town of Craig, on Prince of Wales Island. The scenic, three-hour ride is one way to reach the island; a 30 minute bushplane flight is another. There, I was met by Brent Dickinson of Thorne Bay Lodge (www.thornebaylodge.com). Dickinson provided Mike and I with a cabin, truck, and a small boat. This is as easy as self-guided hunts get. We had a place to stay, cook our own food, and a truck and boat to cover as much ground as we wanted to, by land and sea.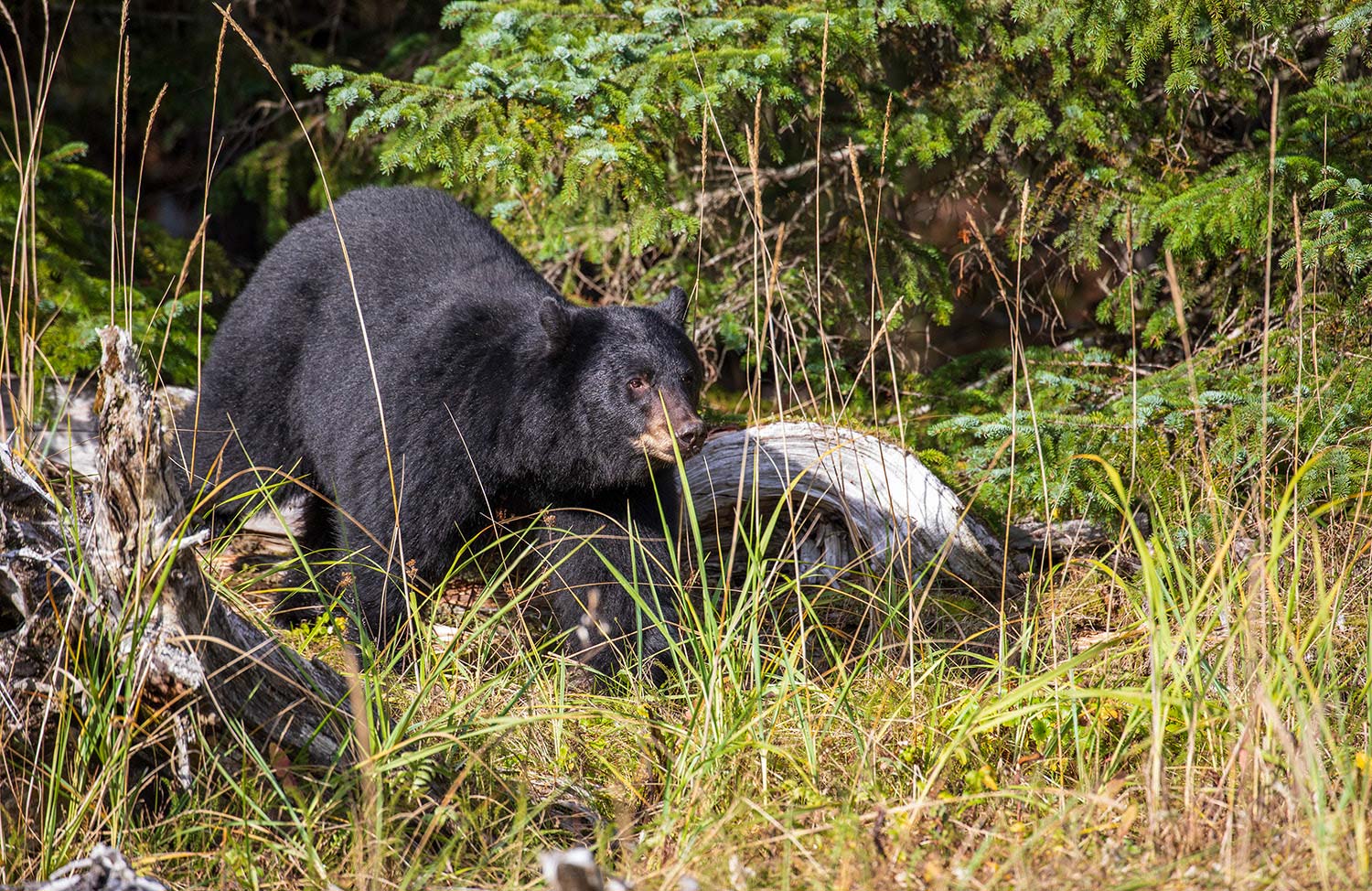 I'd lived a semi-subsistence lifestyle in Alaska's Arctic region for nearly a decade in the 1990s, and Mike had been to Alaska, before. Mike is a big game guide in the Lower 48. There were no apprehensions about our ability to hunt, navigate, and take-on remote Alaska.
Dickinson has been offering hunters and anglers self-guided opportunities for years, and with access to 2,600 square miles of public land within the Tongas National Forest, there's plenty of ground to cover. If looking to go totally on your own, you can drive the road system, hop on a ferry with your truck and camping gear, and hunt the extensive logging road system on the island.
Non-residents now have to draw their black bear tags on Prince of Wales Island, but there's been about a 50% success rate. Nonresident hunters applying for this tag, be sure to start early as Alaska has one of the earliest permit application deadlines and drawings in the country. Check www.adfg.alaska.gov/ for details.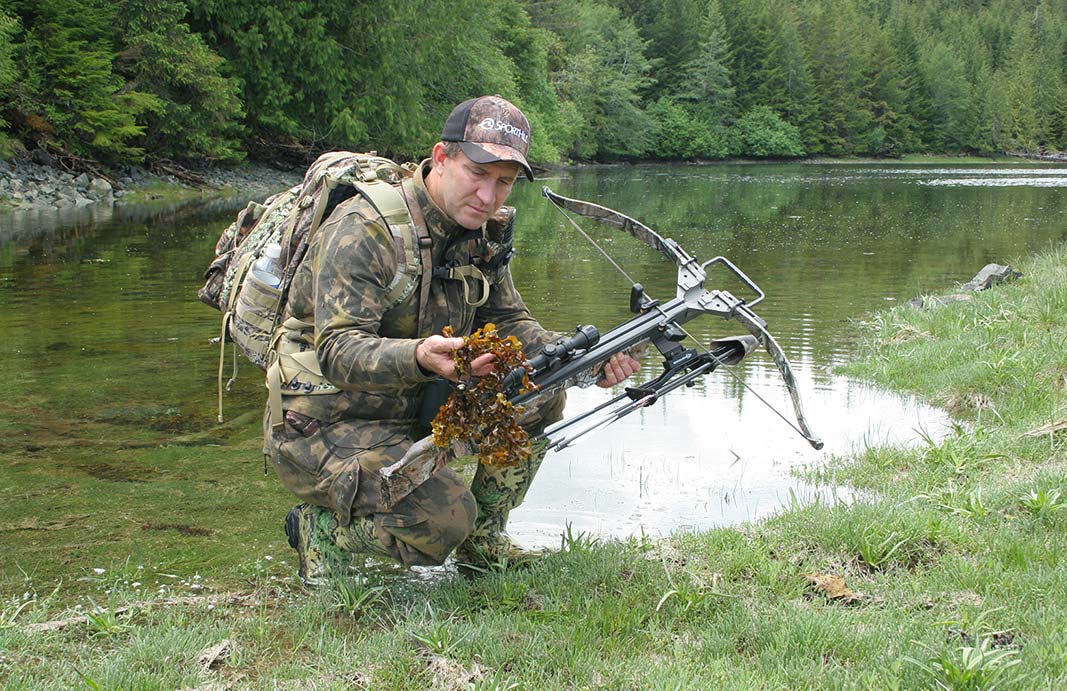 On The Hunt
Dropping my gear at the cabin, I met up with Mike who got there a few days ahead of me. We went for a drive in the rental truck. The first stop wasn't to glass for bears, rather to wet a line. My first cast with a jig into the Thorne River, I latched into a hard-fighting steelhead. Releasing the beautiful fish, I hooked another a few casts later.
Continuing to drive, we stopped and glassed logged units, grassy hillsides, the beaches below and the snow-line above. We saw bears, but none were in a position to make a stalk this late in the day.
The following morning we were back at it, glassing for bears and calling where sign was plentiful. When not seeing a bear to call, I like looking for fresh tracks and droppings prior to calling, to confirm a bear is in the area. On this early June hunt, the Sitka blacktail deer were dropping their fawns. Deer were everywhere and black bears were after them. This meant fawn and doe distress calls were my sounds of choice.
Eager to call in a bear as I did for Mike, I kept at it. Many deer came into the fawn distress calls, but no bears followed. Bear sign was everywhere, so we kept at it. Close inspection of many bear droppings revealed baby crabs and seaweed, making it easy to know we needed to concentrate hunting efforts close to the beach. Mike took his bear from one of the many nameless islands that we accessed by skiff. The bears were gorging themselves on seafood, so that's where we headed the following morning.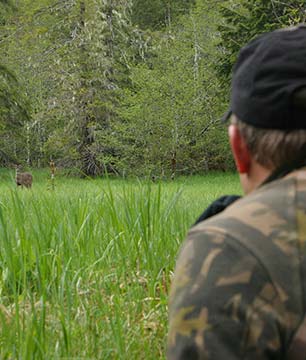 Hopping in the skiff, we motored to a small island, glassing as we went. When the sea is calm, glassing from a boat is a very productive way to search for bears as they graze on green grass and scavenge for seafood. Rounding a point of an island, we spotted a lone bear grazing on lush grass near the ocean's edge.
Mike dropped me off and stayed with the boat. Bolt in place, I commenced a solo stalk. The closer I got to the bear, the more clear it became I'd have to enter the timber and come out where the bear was feeding, due to a lack of cover along the beach. When I got 75 yards from the bruin, the wind changed. Quickly I backed out and hit the beach where the wind was moving another direction.
There was little cover to work with, but knowing the keen sense of smell a bear possesses, I'd rather it see me than smell me. If it saw me, I'd still have a chance. If the bear smelled me, the gig would be up.
When the bear put it's head down, I moved closer. When it lifted its head or turned broadside, I laid down flat and dared not move. When it turned and fed away from me, I kicked it into high gear and quietly covered as much ground as I could.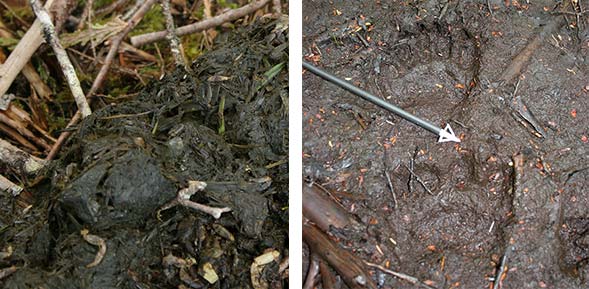 Ranging the bear at just over 50 yards, I felt confident. I steadied myself to take the shot when it turned broadside. Then the bear dropped its head and started feeding away, so I closed the gap even more.
Inside 30 yards the shot was simple, thanks to the scope and accuracy of the crossbow. The bolt smacked the bear with a resounding thud, as it hit bone.
I pulled the trigger when the bear had it's head down, feeding. Both front legs were back, it's head extending forward. The bolt struck the near shoulder blade, passed through both lungs and exited the opposite shoulder blade; that's a lot of bone to penetrate. The bear ran 11 yards and piled-up.
Of all the big game I've taken around the world with a bow, I've never seen an animal expire as quickly as a double-lung hit bear. I've had many bears expire within 15 yards, even inside 10 yards. I was impressed with the killing power of this crossbow. Mike and I searched for the bolt but never found it.
Loading the fat, long-haired bear into the boat, we headed back to camp to skin and butcher it. On the way across the bay we stopped and checked the crab pots we'd dropped earlier in the day, which were full of Dungeness crabs.
That night Mike and I enjoyed fresh crab and bear backstrap. It was the perfect end to an Alaskan adventure I'll never forget.
"Play By The Rules"
Before you go on a crossbow hunt in Alaska, be sure you're prepared to play by the rules.
Crossbow must have at least 100 pounds peak draw weight and be shoulder-mounted.
Bolt must be at least 16" in overall length, tipped with a fixed broadhead, replaceable or mechanical/retractable blade type and not barbed, and weigh at least 300 grains, total.
No electronic devices can be attached to the crossbow except scopes and electronic sights that do not project external light.
All hunters using a crossbow to hunt big game in Alaska must have successfully completed an Alaska Fish & Game approved crossbow certification course, and carry this certificate in the field while hunting.