A look at high-quality crossbow hunting gear for the 2023 season
The 2023 deer season is upon us, and crossbow hunters are gearing up for another successful fall and winter. Opening day is a holiday for most hunters, as it attracts millions of hunters to head afield. Of course, having quality gear can make that outing, and each following outing, more successful. As such, here is the deer season opening day gear guide for crossbow hunters.
CROSSBOWS
TenPoint Nitro 505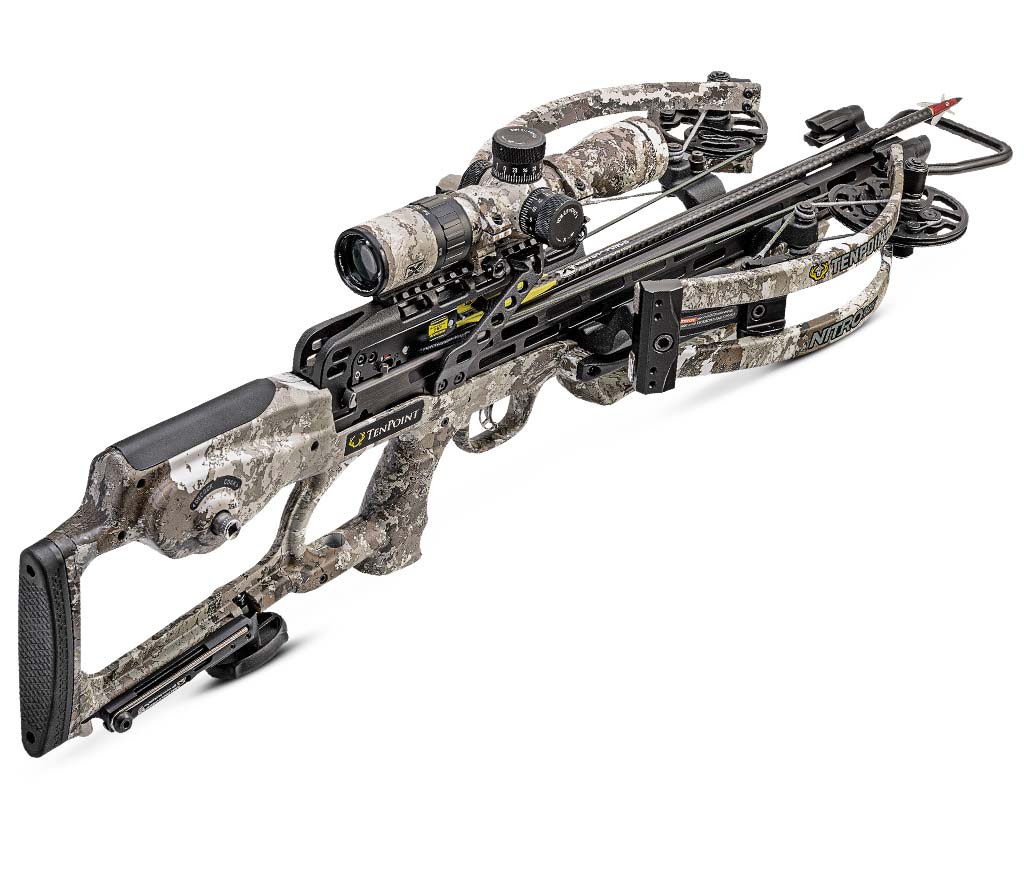 TenPoint Nitro 505 is the fastest crossbow on the market. It launches bolts at 505 fps with 227 foot-pounds of energy (with a 415-grain bolt). This reverse-draw design is accurate, durable, fast, and smoothness. It comes with the RX-8 cam system, 3.5-pound, two-stage, zero-creep trigger, and it's simple to cock and un-cock thanks to the ACUslide. Moving to measurements, it is 30.5 inches long (without foot stirrup), 6.5 inches axle-to-axle when cocked, 12 inches axle-to-axle when un-cocked, has a 17-inch power stroke, and a 300-pound draw weight. It weighs 7.9 pounds without accessories. Learn more at tenpointcrossbows.com.
Ravin R500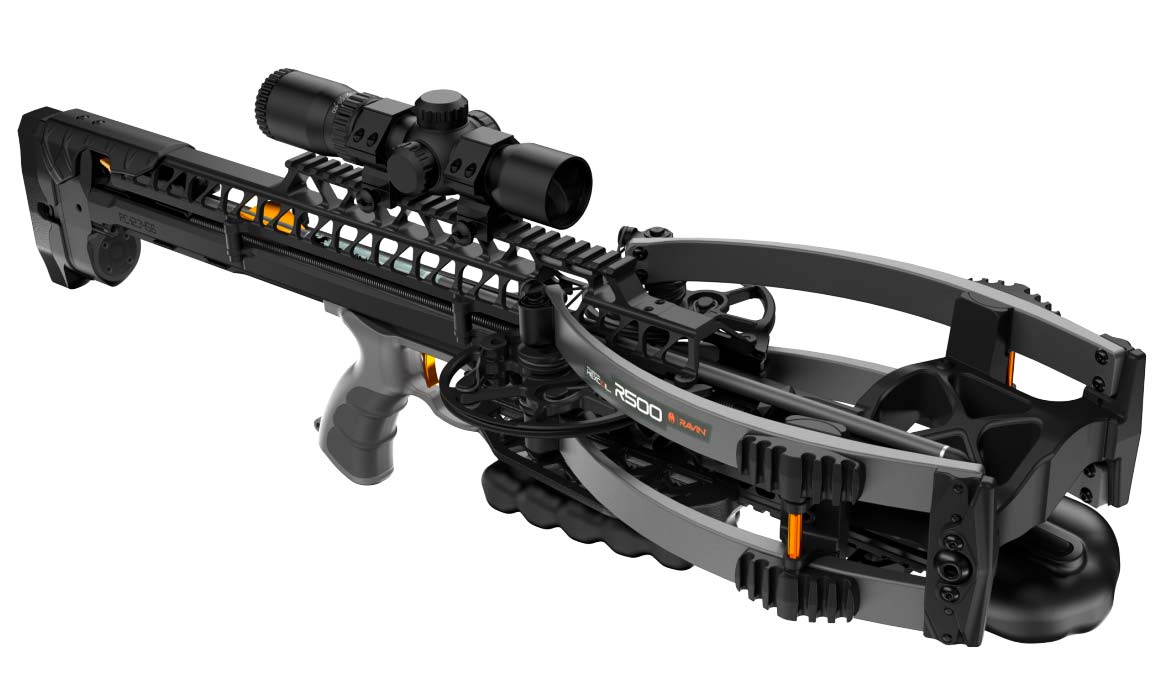 The Ravin R500 shoots 500 fps with 222 foot-pounds of kinetic energy. It's powered by the HeliCoil System, features the VersaDrive system, and more. Plus, the internal clutch prevents over-cocking, and permits stopping and starting of the draw cycle. Furthermore, the Frictionless Flight System is patented technology that allows the arrow and string to free float above the rail, which increases accuracy and crossbow longevity. Furthermore, the Silent Cocking System makes operation much quieter, which is important to most hunters. It even incorporates anti-dry fire technology. Regarding measurements, it's 28.5 inches long and has a 15-inch power stroke. The axle-to-axle length is 7.75 inches when un-cocked and 3.6 inches when cocked. The draw force is 17 pounds. The crossbow weighs 8.4 pounds. Read more at ravincrossbows.com.
Axe Ax440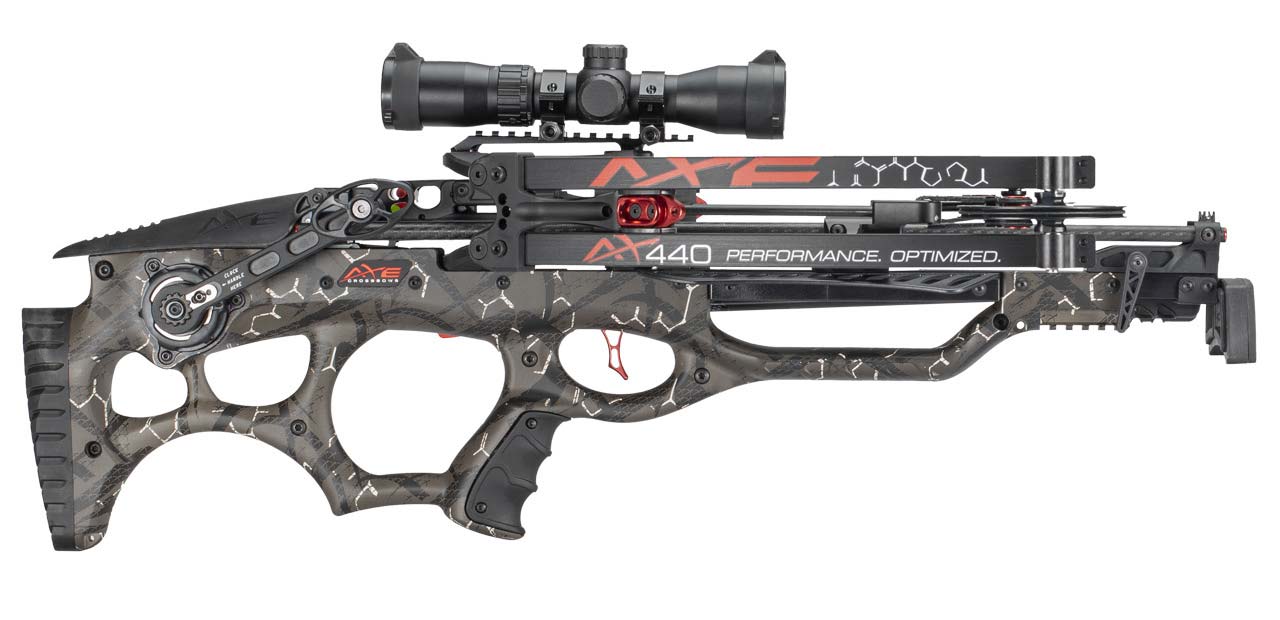 The Axe Ax440 is a solid option available on the 2023 crossbow market. This bow is maneuverable, stable in-hand, and very balanced thanks to a shoot-through stock and riser with reverse limb design. It's split-limb system with 15-inch power stroke slings bolts fast that hit hard. Plus, this bow shuns the traditional aluminum rail system, and instead, utilizes dual carbon guide rods. Paired with a shoot-through riser and tunable roller rest, it produces a free-floating arrow system with minimal contact, friction, and torque. It's also safer to shoot, because the nock capture system creates an audible sound, effectively alerting the shooter that it's fully seated and ready to go. Regarding measurements, this model is 11.5 inches axle-to-axle when cocked, 16.6 inches axle-to-axle when un-cocked, 12.25 inches tall, 30.5 inches long (with foot hold collapsed), 34.75 inches long (with foot hold extended, and weighs 10.5 pounds (without a scope). It sports an adjustable butt stock, cheek comb, integrated crank cocking device with a de-cocking feature, and a trigger that automatically resets to safe with every shot. It even offers 85% cam efficiency. This crossbow includes a 3.5-pound two-stage sliding trigger assembly. Find more info at feradyne.com.
CenterPoint Wrath 430X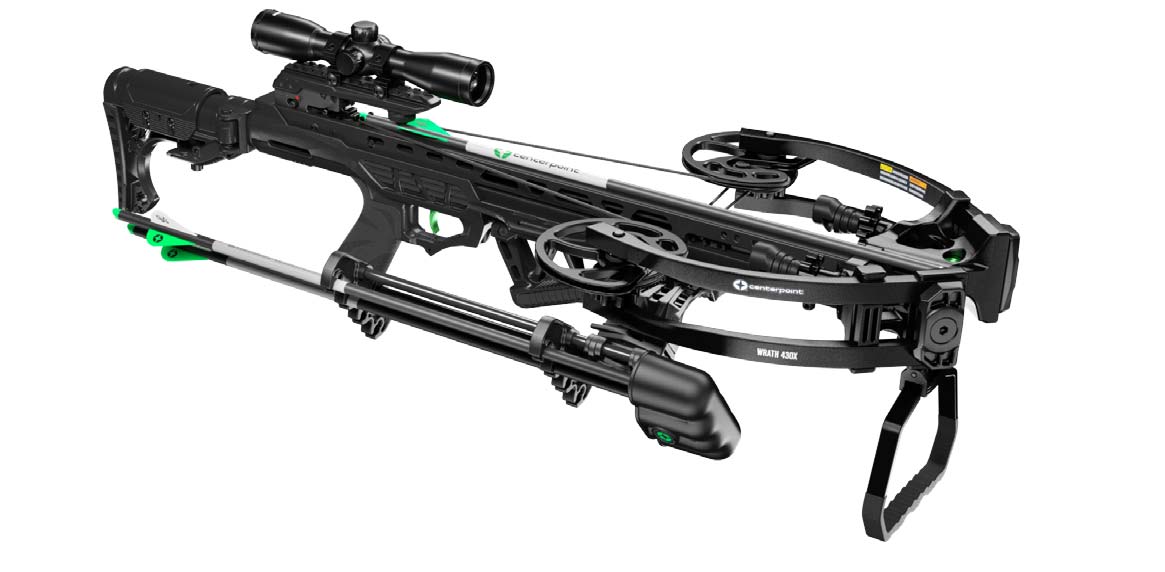 The CenterPoint Wrath 430X shoots 430 fps. This crossbow is compact and fast, which is ideal for those hunting in tighter corridors, such as ground blinds and some treestands. It comes with an inverted cam design, which allows for some of the technologies it packs in. Measuring 9 inches axle-to-axle when fully cocked, and 13 inches axle-to-axle when un-cocked, plus the fold-up stock and stirrup, this thing doesn't take up much space. The 430X also delivers 164 foot-pounds of energy, which is ideal on bigger-sized game. Thanks to the full bearing cam system, this crossbow shoots very smoothly, and doesn't deliver much hand shock. Stability increases further due to the ability of folding down the stirrup into a bipod with three-stage locking. CNC-machined aluminum rails boost durability, ball bearing retention speed keeps nocked arrows in place, and more. This bow is 32 inches long, weighs 9 pounds, and has a 200-pound draw weight. Find more info at centerpointarchery.com.
Barnett HyperTac Pro 430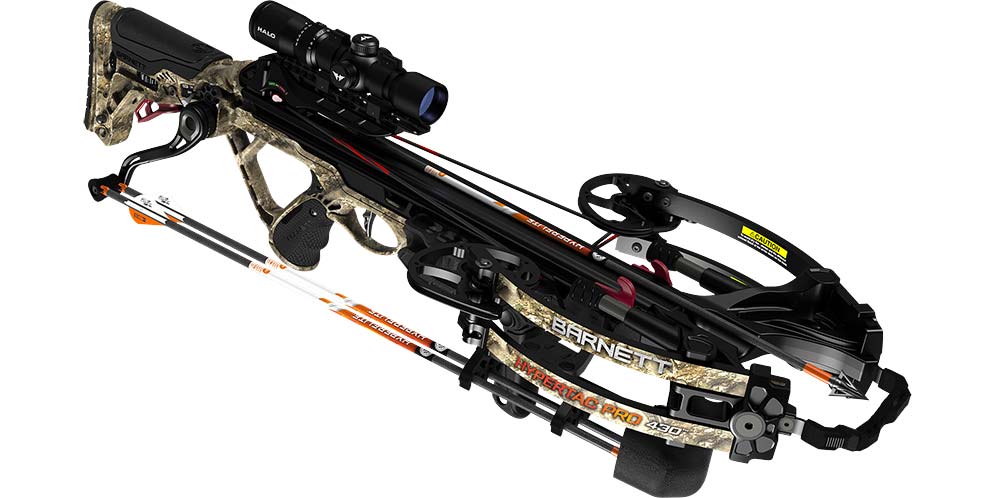 The Barnett HyperTac Pro 430 shoots 430 fps and delivers 156 foot-pounds of kinetic energy. This model features the newly patented string hook system. It also has a quick-detach, integrated crank cocking device, which makes cocking the bow much easier. It also allows for a customizable length-of-pull via an adjustable buttstock and cheek piece that permits micro adjustments. Regarding balance, this bow is designed with a traditional front end and narrow back end, which really enhances balance and feel. Furthermore, the Hyperflite technology boosts downrange speed and energy, which gives it the high fps that it boasts. This option is compatible with .204-inch micro-diameter arrows. It even sports a 3-pound TriggerTech with zero-creep frictionless release technology. Additional features and other things to know include a step-through riser, metal injection molded trigger, anti-dryfire technology, and it comes fully assembled. It even sports a flip-down Verti-Grip, which allows you to shoot AR style. Overall, the Barnett HyperTac Pro 430 is a fast, smooth, and quiet crossbow. It measures 37x17x9.25 inches. The axle-to-axle measurement is 9.125 inches, power stroke is 14.25 inches, and draw weight is 230 pounds. This bow weighs 18 pounds. Learn more at barnettcrossbows.com.
CROSSBOW BOLTS
Gold Tip Superfly Pro Crossbow Bolt

Gold Tip's Superfly Pro Crossbow Bolt has high-modulus carbon and a super-stiff spine. It offers great long-range accuracy, and is intended for crossbows shooting 350-plus fps. It sports Smart Carbon Technology, which is pure carbon and no fillers. Each Superfly Pro bolt features +/- 0.001-inch straightness tolerance and +/- 0.5 grain weight tolerance. Visit goldtip.com to learn more.
Carbon Express D-Stroyer 380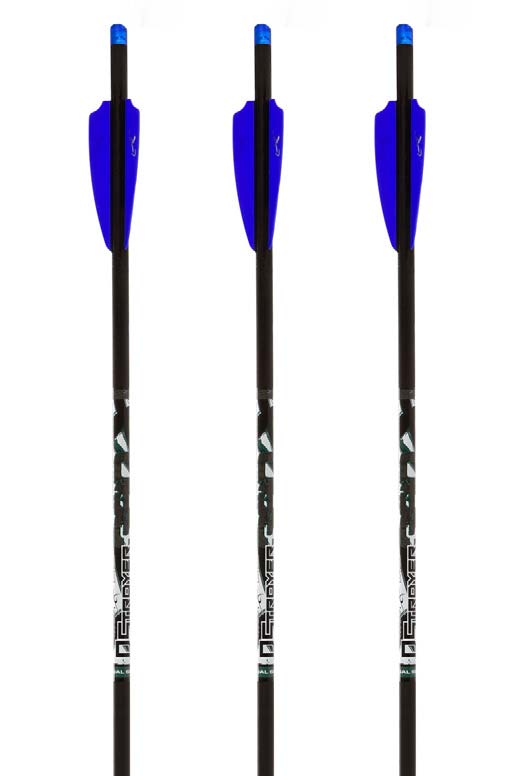 The Carbon Express D-Stroyer 380 features Dual Spine Weight Forward Technology, which reduces oscillation, improves accuracy, and allows for better penetration. The outer layering quietens the arrow, and even makes it easier to remove from targets. It has a 0.284-inch internal diameter and 0.340-inch external diameter. These shafts offer a +/- .003 straightness to 1/10,000th of an inch. The D-Stroyer 380 comes with 3-inch Fusion vanes and includes moon nocks plus C-Nocks that are compatible with crossbows that use Capture or Alpha Nocks. Learn more at feradyne.com.
Victory X Bolt

Victory's X Bolt's Spine Alignment is a great selection. It offers accuracy, durability, knock-down power, and is built to withstand the power and speed of modern crossbows. It also has extreme forward of center (EFOC), which increases stability. Get it with a specialized brass insert and half-moon nock. It comes as a 20-inch shaft length that weighs 325 grains and includes a 110-grain insert. The 22-inch shaft also weighs 325 grains and includes a 92-grain insert. This bolt is available in +/- .001, +/- .003, or +/- .006 and measures 0.344-inch outside diameter. Read more at victoryarchery.com.
Black Eagle Executioner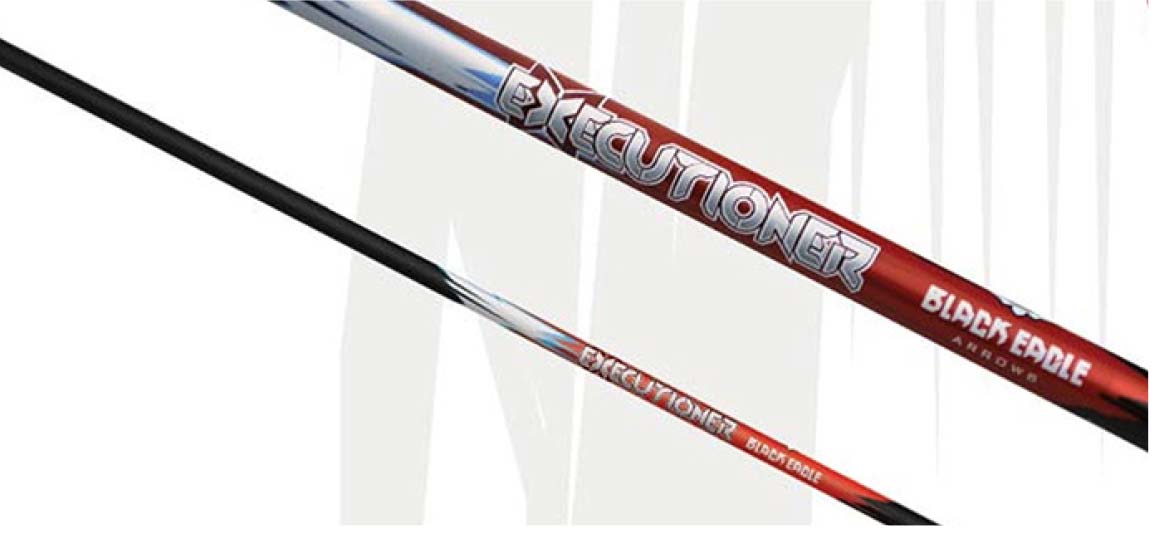 The Black Eagle Executioner is accurate, dependable, and more. It has a 0.300-inch inside diameter and 0.346-inch outside diameter. These fletched bolts come with 2-inch vanes, half-moon nocks, flat nocks, and brass inserts. It's available in 16-inch (294 grains), 18-inch (286 grains), and 20- and 22-inch shafts (323 grains). Get these in +/- .001- and +/- .003-inch straightness. Comes in a pack of six. Get additional info at blackeaglearrows.com.
CROSSBOW BROADHEADS
SWAT Crossbow Magnum X-Mag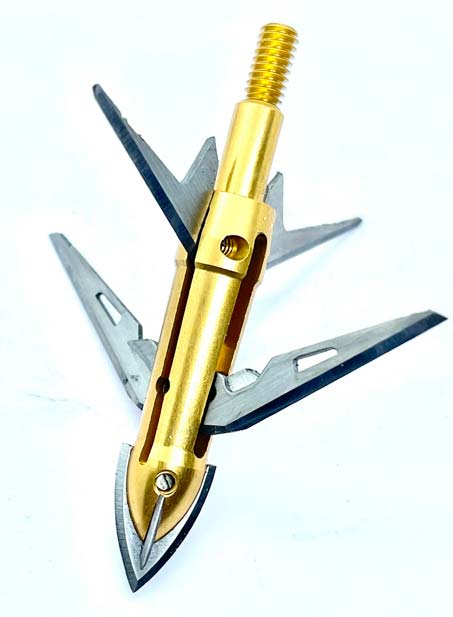 The SWAT Crossbow Magnum X-Mag gets a two-blade entry and four-blade exit. It incorporates an aerospace ferrule design, a 7075-T6 aluminum build, 440C stainless-steel tip blades, blade screws (not pins), and more. It offers .036 420SS mechanical blades and a non-latex blade containment strap. Learn more at swatbroadheads.com.
Rage 2-Blade NC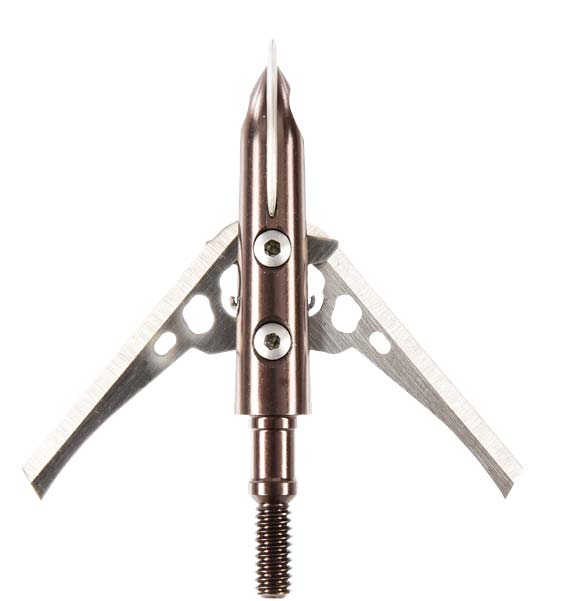 Rage's proven 2-Blade NC (No Collar) comes in both 100- and 125-grain offerings. The integration of NC technology into Rage's classic designs improves reliability and functionality. It offers cutting-edge, finger-like tabs on the blades' pivot point to anchor the blades in place while closed, which eliminates the need for a Shock Collar, dental band, O-ring, etc. Visit feradyne.com for more info.
Wasp SharpShooter 200-Grain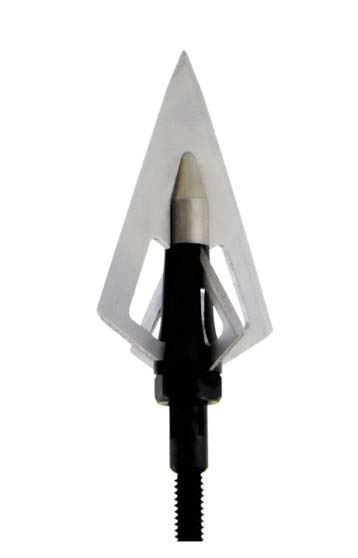 Wasp's SharpShooter is now available in a 200-grain offering. This single bevel has a .040-inch-thick, cut-on-contact main blade. Plus, it includes .027-inch-thick bleeder blades. The design produces higher FOC with better kinetic energy. Additionally, traditional bowhunters can remove the bleeder blades and hunt with a more traditional broadhead. Comes in a three-pack. Get more info at wasparchery.com.
Magnus Black Hornet Ser Razor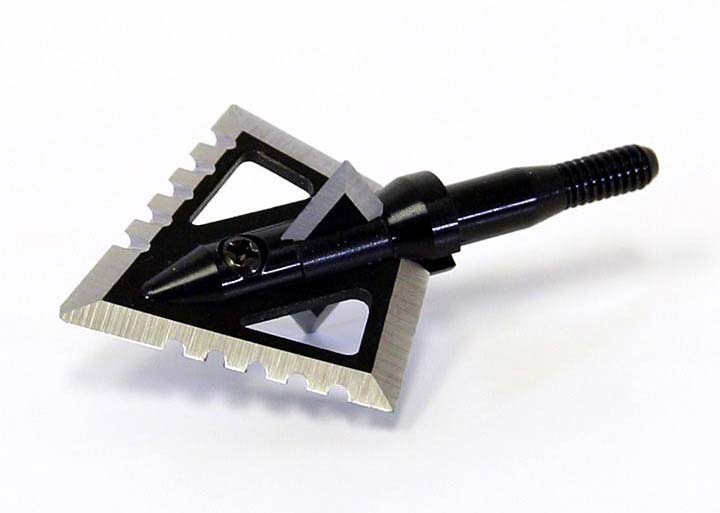 The Magnus Black Hornet Ser Razor is great buy. It comes in both two- and four-blade versions and has a 60-thousandths main blade and a 40-thousands bleeder blade. Each broadhead is dialed in on a dial indicator, so the tip is spinning within .003 thousandths of an inch for better flight. The blades are replaceable, too. And, each broadhead has a Lifetime Replacement Guarantee. Learn more at magnusbroadheads.com.
Dirt Nap ALPHA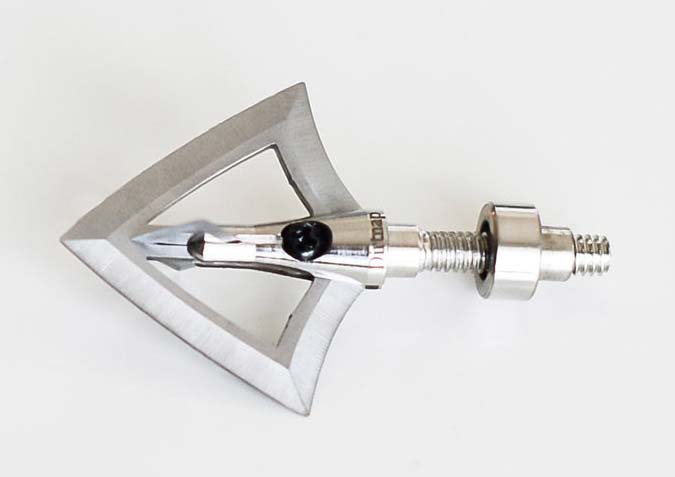 The Dirt Nap ALPHA is an all-steel design in a compact package. It is accurate, durable, and tough. It has a 1 ¼-inch main blade and 5/8-inch bleeder and features the patented Modular Weight System (25 grains). Therefore, these can be shot as 100- or 125-grain broadheads. The blades are made with 420J2 stainless steel. Got to dirtnapgear.com for more info.
Rocky Mountain FirstCut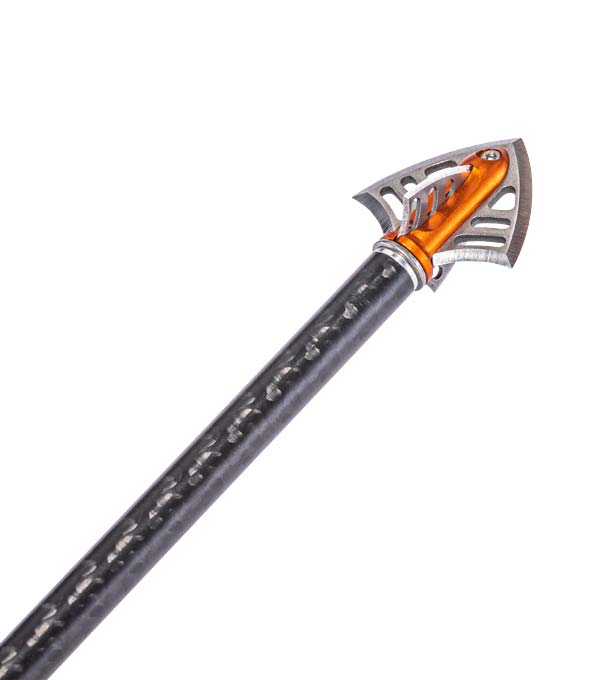 Rocky Mountain's First Cut-X offers a 22/64-inch diameter aluminum ferrule and four blades with a 1 1/8- and ¾-inch cutting diameter. The main blade is .040 inches thick and bleeder blade is .030 inches thick. The First Cut-X is accurate at over 420 fps, making it ideal for most crossbow speeds. It weighs 100 grains. Comes in a pack of three. Go to feradyne.com for more information.
Exodus Broadhead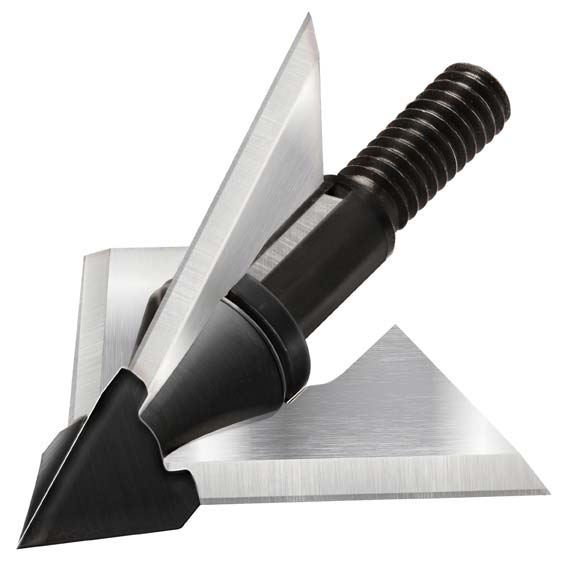 The Exodus Standard, Crossbow, and Deep Six versions are all solid picks. These come in 125, 100, and 85 grains. They are offered in swept and full blade styles. The blades sweep back over the arrow shaft to create a short, compact head. These are crafted with 100% stainless steel. The heads have 1 ¼-inch of cutting diameter. It has a .7-inch ferrule length, and .040-inch-thick, heavy-duty blades. Designed and made in the USA. Learn more at qadinc.com.
MISCELLANEOUS ACCESSORIES
Huskemaw Crossfield 4×40 Crossbow Scope

The Huskemaw Crossfield 4×40 Crossbow Scope is a fixed-power scope that features a calibrated Arrow Drop Compensator (ADC) turret. This allows it to precisely match the trajectory of high-speed crossbows at extended ranges up to 150 yards. It features a high-definition image resolution, fast-focus eyepiece, glass-etched reticle, cement-bedded lenses, multi-coated lenses, and more. It's crafted with a heavy-duty, one-piece aircraft aluminum body for durability. Also, it's fog-proof, shockproof, and waterproof. Learn more at huskemawoptics.com.
Primos Trigger Stick Gen3 Short Bipod Shooting Stick
The Trigger Stick Gen3 Short Bipod Shooting Stick by Primos adjusts to the desired height of the shooter. It's the ideal adjustable shooting stick for height and angle that crossbow hunters will benefit from. Read more about it at primos.com.
BIG SHOT Pro Hunter 18-Inch Target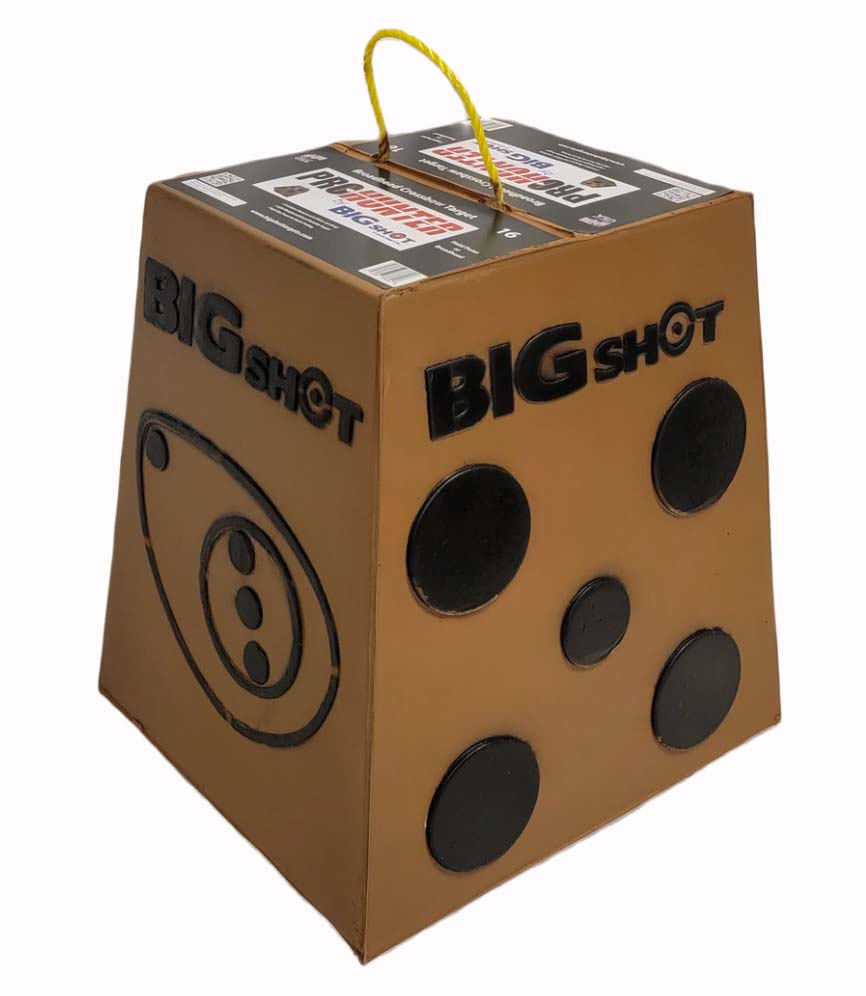 The Pro Hunter 18-Inch Target by BIG SHOT is a solid target for crossbows. This target measures 18" by 18" by 13.5". It's rated up to 425 fps and is compatible with field points or broadheads. Read more about it at bigshottargets.com.
HME Arrow Puller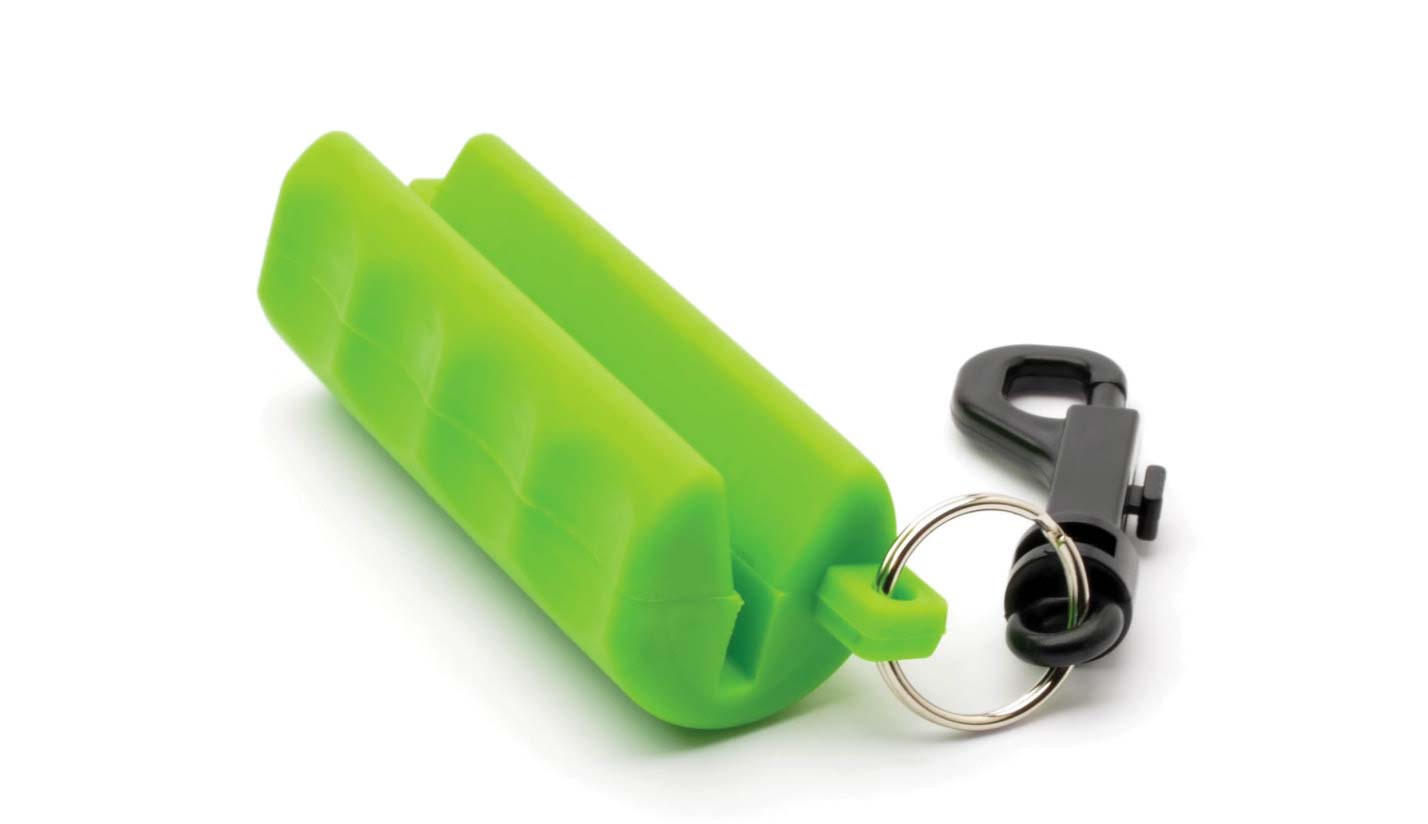 The HME Arrow Puller is great for making the job of arrow removal much easier. The material grips the shaft, which creates friction and reduces the likelihood of hand slippage upon arrow removal. The 100% silicone material helps prevent wear and tear. Learn more at hmeproducts.com.
Bohning Bullet Screw-in Points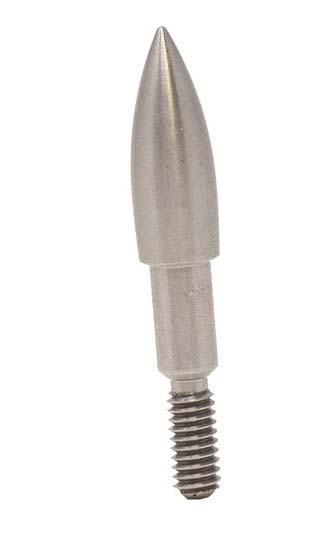 Bohning's Bullet Screw-In Point features a contour making for easy arrow removal. The 17/64-inch and 9/32-inch points typically fit .204 shafts. The 19/64-inch and 5/16-inch points generally fit .246 shafts. The 21/64-inch points usually fit large aluminum 21 series shafts with inserts. The 11/32-inch points generally work with crossbow bolts. Get these in a pack of six, 12, 120, or 1,200. Weights are 85, 100, 125, or 150 grains. Learn more at shop.bohning.com.
High Octane Blackout

GAS Bowstrings' High Octane Blackout Strings are perfect for archers needing a set quickly. These are available in over 150 popular compound and crossbow models. Each Blackout set is a full set of High Octane GAS Bowstrings made of 452X BCY material with black strings, cables, and speed nocks. Powergrip center serving comes standard on all GAS Bowstrings. The company's exclusive TTS (Total Tensioning System) helps eliminate elongation, peep rotation, serving separation. Comes with a one-year warranty. Order before 2 pm EST and these ship out the same day. Read more at gasbowstrings.com.
Mathews Zebra Trophy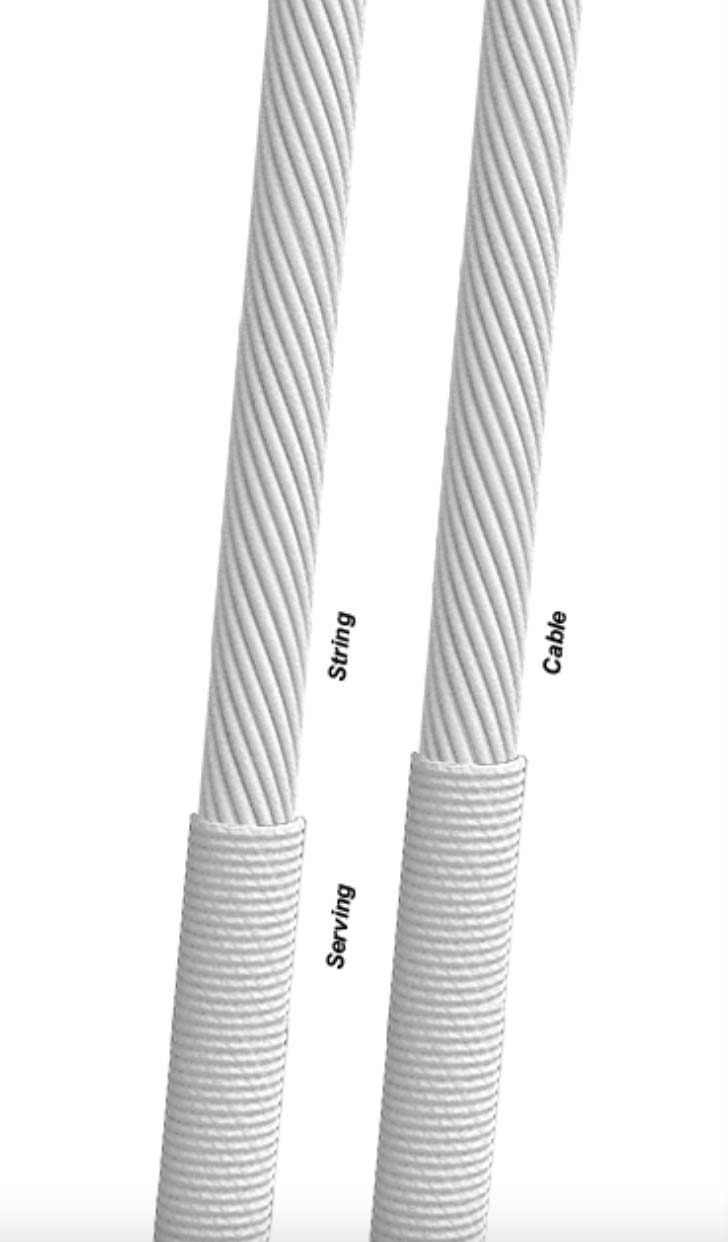 The Mathews Zebra Trophy utilizes a proprietary blend of BCY 452X material that is designed and manufactured to create a top-of-the-line product that is hassle-free. Zebra Trophy Bowstrings and Cables come pre-conditioned to reduce serving separation. Made in the U.S.A. Available in nearly 40 colors. Learn more at mathewsinc.com.