HIT THE APEX OF HUNTING WITH RAVIN'S X FACTOR
Ravin Crossbow Introduces Three New Crossbows With Silent Cocking
Ravin Crossbows is adding some X Factor to three brand new 2022 bows—and that means they're coming with the highly sought after fully-integrated silent cocking. It's Ravin's latest upgrade to these already popular, powerful, cutting-edge cross- bows.
R26X
First out of the gate is the R26X, which is available and shipping now. The R26X takes the compact R26 platform with HeliCoil Technology and adds the highly desired silent cocking feature to give you a whisper quiet draw every single time. The blazing speed and slim frame that makes this bow such a killer stay the same, but the color is new—all black.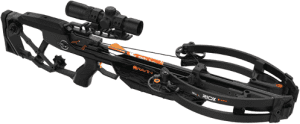 R10X
Next up, the new R10X spices up the best-selling Ravin R10, adding 20 FPS of speed to amp it up to a wicked 420 FPS. The newly designed stock includes an adjustable cheek pad and butt stock, and along with the addition of integrated silent cocking, hunters now have more advantage when targets draw near.
The R10X is expected in Spring 2022 and will also come in all black.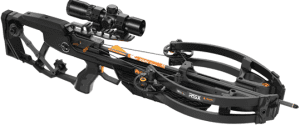 R5X
The final X Factor crossbow, the R5X, features a newly designed stock with an adjustable cheek pad and butt stock and com- bines that with the front end of an R26, melding the standard and bullpup styles. The result is a tactical, all black crossbow that shoots 400 FPS—with fully integrated silent cocking— measuring 31" long utilizing a conventional stock and 5.75" axle-to-axle when fully cocked.
About Ravin Crossbows
Headquartered in Superior, WI, Ravin Crossbows is a leading designer, manufacturer, and innovator of crossbows and acces- sories. Ravin primarily focuses on the higher-end segment of the crossbow market and has developed significant intellectual property related to the advancement of crossbow technolo- gy, quickly establishing a reputation as a manufacturer of the industry's most dependable, durable, accurate and technolog- ically advanced line of crossbow. For more information visit ravincrossbows.com.
WICKED RIDGE RELEASES NEW ARROW, BROADHEAD, AND BOWPACK FOR 2022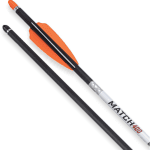 Wicked Ridge Crossbows recently launched a new carbon crossbow arrow, crossbow bowpack, and expandable broad- head to round out their accessory lineup. "We understand our customers want the best hunting or shoot experience possible," said CEO Rick Bednar. "These new Wicked Ridge accessories are designed for performance and durability at a great value for our customers and gives them plenty of options for outfitting their crossbow when they head to the shooting range or field."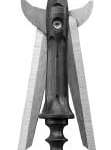 Weighing 400-grains, their NEW Match 400 Carbon Crossbow Arrow provides the highest level of accuracy for Wicked Ridge crossbows at a perfect price tag. The arrow features a Stainless-Steel Insert which creates an improved 14% FOC, generating up to 20% tighter groupings. Their new Impact Broadhead is designed for precision, durability, and performance at a great value. The 100-grain, 2-blade, rear-deploying Impact broadhead features a steel construction and a simple, collarless design that delivers field point accuracy and a devastating 2" cut. Its floating blade design ensure the blades do not open in-flight.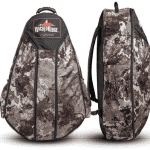 Finally, the NEW Ambush Bowpack is the industry's most affordable crossbow bowpack and is designed to fit Wicked Ridge crossbow models built in 2019 and newer. Perfect to take to your treestand or ground blind, the camouflaged bowpack is equipped with two external zippered pockets for storage of calls, rangefinder, extra clothing, cellphone, etc. The pack also features two side elastic pockets for storing water bottles or a quiver with arrows. A top-mounted rubber grip handle provides easy transportation as well.