Crossbow Magazine came to fruition as a registered Trademark in 2010. One year later our first issue was published in the summer of 2011. In the months leading up to that initial printing, I struggled to visualize the perfect image that would not only grace our inaugural cover but also capture what we hoped to become. This probably doesn't sound like something that one should lose sleep over, but with four other crossbow publications in print at the time, we needed to get it correct right out of the gate if we hoped to compete. Since our inception, the primary objective has been to be the very best in our field. It became abundantly apparent that if we hoped to achieve our goals, we should represent and promote the best the sport has to offer.
After doing considerable research, I tracked down the contact information of the current crossbow world record whitetail holder and set out to make contact. It was a long shot: but if permission could be obtained to have the buck featured on our very first cover along with an in-depth profile of both the buck and the hunter, it would be a massive achievement. By the grace of God, that's exactly what transpired. As they say, "the rest is history."
On November 10, 2004, Brad Jerman sent a crossbow arrow through an Ohio mega-buck that would capture the world record spot with a net score of 204 1/8 inches. After conversing with Brad on several occasions, he took the time to explain to our readers exactly what life is like after killing a world record buck. The Ohio giant was featured on our inaugural cover. I've covered the story of the Jerman buck four different times in the magazine over the past eleven years for various reasons. First and foremost because it's our titleholder and it deserved the recognition. Secondly, ever since Brad killed the buck, I believed it would be knocked from the top spot within a year or two. My thought process was that with the increasing popularity of both crossbows and quality deer management, a perfect storm was brewing for more and more crossbow hunters to start knocking down the top-end bucks across the country. Initially, I would contact Brad occasionally and jokingly tell him this was the year he'd be knocked from the number one spot, but it never happened and the Jerman buck remained the king. Now seventeen years after Brad arrowed that truly magnificent Ohio giant, and eleven years after it was introduced to our readers, the Jerman buck is no longer the top-scoring crossbow killed buck in the world!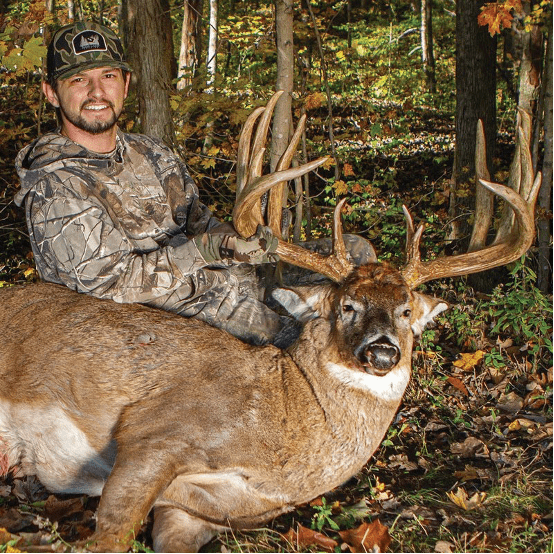 On November 4, 2021, Dustin Huff , while bowhunting in Decatur County, Indiana, arrowed a massive 6×6 buck with his crossbow that is the new crossbow world record, Indiana state record, and number two all-time Boone & Crockett typical. Aft er the Boone & Crockett Club's mandatory 60-day drying period, the buck received a preliminary score of 211 4/8's net typical and at the time of this writing is currently awaiting to be panel scored. The Huff buck is a true Hoosier state giant and will most likely hold the world record title for many years. However, there is the possibility that this will begin the trend of crossbow killed bucks filling the top spots in record books. With more and more crossbow hunters joining our ranks each year, it's not only possible but very probable that crossbow hunters will be the driving force behind future record book archery killed bucks, thus rendering anti -crossbow clubs even more irrelevant than they've become over the past decade. Our sincere congratulations to Mr. Huff on his achievement. As we introduce the new king to our readers, we must bid farewell to the Jerman buck. It was a fine representative of our sport for seventeen years, but as with everything in life, all things must pass.