KILLER INSTINCT, INC. OF FRANKENMUTH, MI KNOWN FOR THE DEADLY ACCURATE CROSSBOWS HAS ALIGNED WITH OMEGA SIGHTS OF MEDINA, OHIO TO OFFER A UNIQUE OPTICS PLATFORM SUBSTANTIALLY DIFFERENT THAN ANY OTHER IN THE INDUSTRY
Killer Instinct will outfit their impressive line of crossbows with the new 2022 Omega III Sight that was launched just this year. The Omega III Sight is more than just an optics device, it's also a rangefinder and HD video camera, all-in-one. "This provides the shooter with a more precise and accurate shot while recording the hunt to be re-lived time and time again," says Jason Fuller, Chief Operating Officer of Killer Crossbows, "something no other crossbow line offers." Omega Sights President & CEO Tim Barber added, "the customer will now have a precision crossbow with an impeccable optics package that will deliver accurate live distance to their target with the ability to instantly review their video to assess their shot placement."
Killer Instinct Crossbows Fuller goes on to say, "Killer Instinct has always provided the right mix of technology, speed, and value. Working with Omega provides the best of both worlds, an all-in- one package at a very affordable price!" Killer Crossbows is coupling the Omega III Sight with several of their models including SWAT X1, Fatal-X Series, and Boss 405.
The crossbow packages include a rechargeable power supply which extends the use up to 12 hours. The rangefinder features continuous on-target ranging and an inclinometer for shooting at different angles. The Omega also offers a 2-button remote control which limits hand and body movement. At under 13 oz., the compact Omega Sight is lighter than most scopes and about half the length.
Killer Crossbows expects the new packages to be available July 2022. Contact your nearest dealer for more information, or email Killer Crossbows at [email protected]
BARNETT'S WHITETAIL HUNTER CROSSBOW SERIES – COMPACT, FAST & DEADLY!
Barnett's popular Whitetail Hunter crossbows equip hunters for success. Two models define the series: the Whitetail Hunter STR with Step-Through Riser (STR) technology and new for 2022, the Whitetail Hunter 400XTR. Both high-performance platforms pack premium features into a compact frame for hunter comfort and safety. Not to mention the deadly down-range results!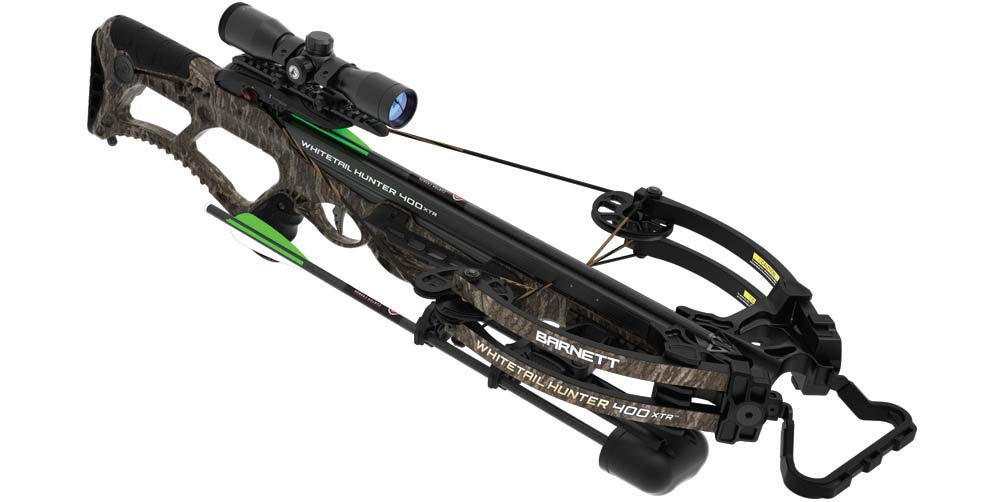 Whitetail Hunter crossbows utilize the advanced technology features hunters have come to expect from Barnett®, like a TriggerTech trigger, step-thru riser, anti-dry fire technology and a metal injection molded trigger. The TriggerTech Frictionless Release Technology is the cornerstone of the crossbow's integral anti-dry fire (ADF) safety which automatically engages upon cocking the crossbow; it cannot fire without loading and securing a bolt under the patented Soft Lok™ floating bristle arrow retainer. Finger safety reminders round out a safe and secure crossbow for use in every hunter's hands.
Barnett's innovative Step-Through Riser (STR) technology shortens the crossbow's overall length by integrating the foot stirrup directly into the riser. The compact design is more maneuverable inside the blind and shifts the crossbow's balance point closer to the shooter for steadier off-hand shooting. The strategically placed Picatinny rail adds placement for optics and accessories without compromising the maneuverability of the crossbow. The Whitetail Hunter series crossbows are also CCD compatible, so whether it's a crank or a rope, this series has a functionality option for everyone.
The Whitetail Hunter STR forms a compact, controllable profile that hunters of all sizes and skills can manage. The short, custom composite laminated limbs provide plenty of power with- out added fore-end weight for a more stable shooting platform. Step-Through Riser (STR) technology reduces its length, and light- weight materials and hollow stock design lighten the mass to 6.6 pounds. The STR hunts light and fast, launching a 380-grain bolt at 375 feet per second! It's dressed to kill in Mossy Oak® Bottom- land camo.
The Whitetail Hunter 400XTR is the newest addition to the series and a big step forward from earlier models. The new 400XTR is 3-inches shorter axle to axle than its predecessor, a compact design that works for hunters of all sizes and skills. It's fast too! The 400XTR shoots 25 feet per second faster than earlier models, an accolade reflected in its name, launching bolts at a blisteringly 400 fps! Clad in Mossy Oak Bottomland camo, the 400XTR is ready to hit the woods this fall.

All Whitetail Hunter crossbows come ready to hunt with a 4x32mm multi-reticle scope, two 22" Headhunter™ arrows, a lightweight quiver, and lubrication wax. The 400XTR and STR standard models include a rope cocking device, while the STR with CCD swaps the rope for a crank cocking device for easier drawing.
As long as hunters chase whitetails through the woods, Barnett will equip them with the best crossbows. The Whitetail Hunter Series covers all the bases for serious whitetail hunters, and it's ready to hunt right out of the box.