When I began exploring the world of crossbows many years ago, their performance was on par with the compound bows of the time. I was achieving 330 fps with my PSE compound bow and its overdraw rest which was all the rage at the time. Even though my Excalibur Vortex crossbow was rated at 330 fps, with hunting arrows, it was only zipping them downrange at 307 fps. Being somewhat on the stubborn side, I kept shooting fixed-blade broadheads out of that crossbow and the others that followed for quite some time even though mechanical-style broadheads were becoming increasingly popular. I saw no reason to switch as I was getting great accuracy and performance on game with the fixed-blade broadheads.
As time went on and crossbow speeds increased, it became more difficult to find fixed-blade broadheads that would satisfy my criteria for hunting accuracy. That necessitated my exploration into mechanical broadheads. One thing I found out right away was that my group sizes shrank immediately and the broadheads of­ ten shot close to the same point of impact as field points. I was impressed and began hunting almost exclusively with mechanical heads-up until recently. As crossbow technology advanced, so did the speeds that we are currently seeing today. Even though I am still seeing great accuracy out of the newer speed bows with mechanical broadheads, I have become increasingly concerned about the durability of these heads at very high speeds. Broken blades, along with bent blades and ferrules have become more common and I have had my share of odd happenings after the arrow hits an animal over the past couple of years. In my mind, the durability of a fixed-style head is hard to beat for many rea­ sons but it can be difficult to find one that flies well at very high speeds. Generally speaking, I have had my best luck with shorter ferruled, low-profile heads with an arrow setup with the front-of­ center balance on the high side.
When I first saw the broadheads from Tooth of The Arrow, I was immediately intrigued. They looked like should fly well at high speeds and they were machined out of solid steel round bar stock. There were no welds to fail, no aluminum to bend and no flimsy replaceable blades to worry about breaking. I thought that maybe these were the fixed-blade broadheads that I'd been looking for to send downrange with my higher-performance crossbows so I ordered their newest design, which is the V-Series, to put through their paces. Tooth of The Arrow not only manufactures its broadheads in the United States, but they also source all of their materials from within its borders. This also includes the packaging. This is a very rare trait to find in a company associated with the outdoor industry. By sourcing all of the materials domestically and manufacturing their products in-house, Tooth of The Arrow can control every aspect of the process to ensure the highest quality possible. This ultimately translates into exceptional performance for the end user at the range and in the field.
Since I prefer a heavier front-of-center balance, I opted for the 1-inch cut 125-grain version of the V-Series from Tooth of The Arrow. This vented broadhead is a one-piece design machined from solid 11L41 steel which is noted for its high carbon content and ability to achieve a hardness that provides durability and impact resistance. As I mentioned before, the Tooth of The Arrow is a solid chunk of steel that has no moving parts and is plated in a back oxide finish. A chisel-style tip leads the way which then transitions into four swept-back blades that are each sharpened at 45 degrees angles. Even though the cutting diameter is only 1 inch, the four blades combine to produce 2 full inches of cutting sur­ face which is pretty common among broadheads today. A broad­ head wrench is also included with the three V-Series heads. After my initial inspection, I check the sharpness of the blades and they easily passed my stretched rubber band cutting test which is a good substitute for soft tissue. Each broadhead spun true as expected from their computer-aided machining process. To gauge consistency, I weighed each broadhead and was very impressed with the lack of variance on my grain scale. When I see a variance of fewer than .5 grains for a 125-grain head, I know that the attention to detail is high and the quality control is tight within the manufacturing process. An important part to note about the weight is how this weight is distributed through the broadhead. Over 90% of the weight is contained within the diameter of the arrow shaft.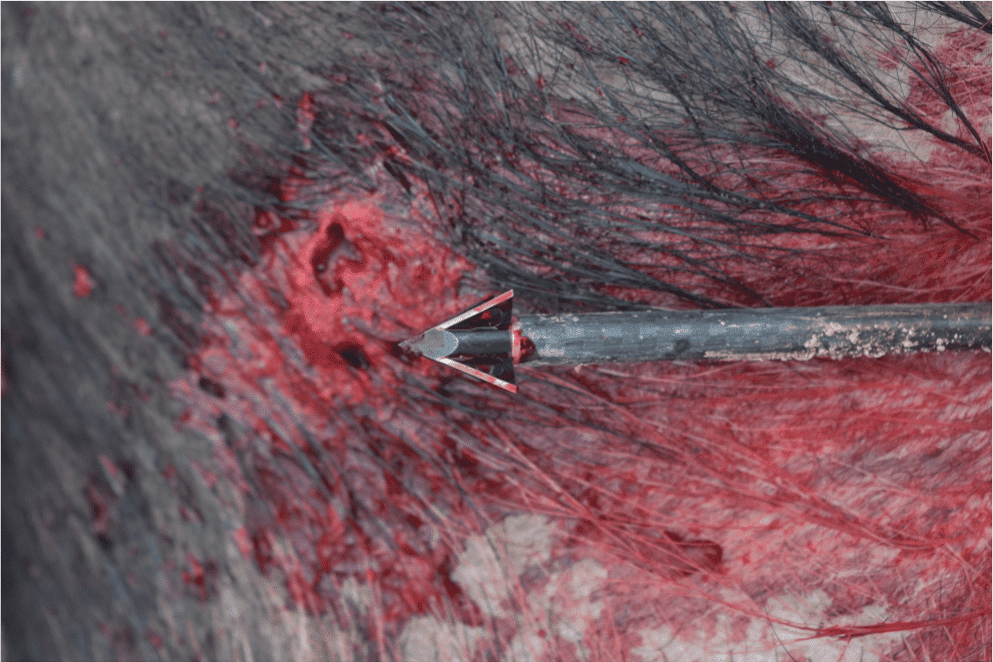 I was looking forward to sending some arrows downrange with the Tooth of The Arrow leading the way. My test bow was a Mission Sub-1 XR which is a very smooth and accurate high-speed crossbow. To keep everything as consistent as possible, I pulled out my spine-matched and indexed Gold Tip Ballistic Pro arrows with aluminum moon nocks. This crossbow and arrow combi­ nation has been extremely accurate for me making this testing platform ideal. My first group at thirty yards with field points was .86 inches. Knowing I could do better, I sent another three arrows downrange and was pleased with the .74-inch group I got at the target. Surely these fixed-blade broadheads would not be able to hold that level of accuracy, I thought. I thought wrong! My first three-shot group with the V-Series measured .82 inch­ es. With the 4 blades cutting a lot of paper, it was quite difficult to find the center of the second and third arrows to accurately measure the group. After several more strings of three arrows at thirty yards, my best broadhead group was .80 inches and my worst was .98 inches. That is not too shabby at all for broadheads at any speed.
From there, I backed up to sixty yards and did some more shooting. As expected, my group sizes opened up some but remained very tight for both field points and broadheads. My best three­ shot group at that long distance was 1.47 inches and my worst was 2.25 inches with the broadheads. Tooth of The Arrow makes the same claim that most other broadhead manufacturers do. That being that their broadheads will fly the same as field points. Oftentimes, what is usually the case is that either the group sizes are similar or the point of impact is similar between field points and broadheads. Rarely do both of those occur. Somehow Tooth of The Arrow was able to achieve both with their V-Series broad­ head. Not only were the group sizes tiny, but the consistency between field points and broadheads was also exceptional.
If any broadhead held a lot of promise in my mind, the V-Series did, just based on its design. I was very pleased to see it deliver above my expectations. I believe my search for a fixed blade broadhead that flies well at all speeds and that I can trust 100% on any game due to its one-piece design is over. Tooth of The Arrow manufactures the V-Series in 85, 100, and 125-grain weights for any application. They also manufacture non-vented one-piece broadheads for the ultimate in durability along with sharpeners and other accessories.
Please visit www.toothofthearrowbroadheads.com for their entire product inventory and other customer reviews. In today's world of manufacturing being largely done overseas, it is refreshing to see an American company employing American workers that are utilizing locally sourced materials. There is a lot to be said for companies that proudly stamp their products made in the USA and Tooth of The Arrow is one of those great American manufacturers. To receive a 10% discount on all Tooth of the Arrow products use discount code http://toothofthearrowbro.refr.cc/crossbowmagazine