Meet the 460 feet-per-second, 26.5″ flatline
Mogadore, OH. TenPoint Crossbows continues its dominance in crossbow speed, accuracy, and shoot-ability with the fastest compact crossbow the world has ever seen – the NEW Flatline 460. Designed to deliver elite performance from the smallest footprint possible, the Flatline shoots a blistering 460 feet-per-second, measures only 26.5″ short, and is equipped with all-new Scope Struts that provide rock solid mounting for the scope – delivering unrivaled durability and accuracy.
"The Flatline 460 is designed for the hardcore hunter – the hunter who walks a little further, sits a little longer, and needs to make the most of that split second opportunity when it presents itself," said Phil Bednar, CEO. "With its micro footprint – including shorter 16-inch arrows – it provides all the advantages of a low profile without sacrificing speed or accuracy. At the heart of the Flatline's speed and power is a patented reverse draw bow assembly and 14-inch power stroke. By reversing the bow assembly and changing the riser mounting position, the string's resting position is extended farther down the rail which creates a 47% longer power stroke than a forward draw crossbow measuring the same length. This increased power stroke provides many advantages over forward draw crossbows:
Generates top-end speeds that no forward draw crossbow can match
Generates more speed with less draw weight – creating a smoother, quieter shot, with less shock and vibration
Creates a longer nock-to-string engagement time during the shot – leading to greater accuracy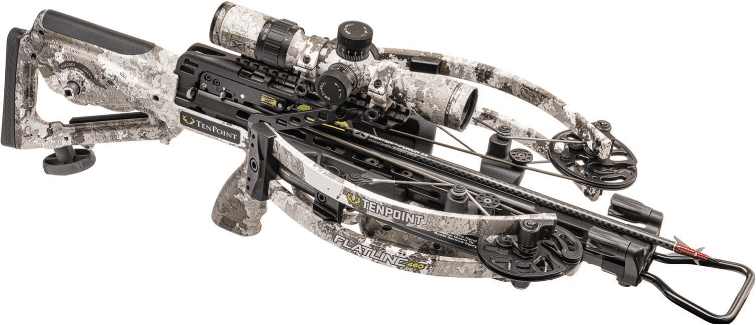 In addition, the center-mounted riser provides superior balance, eliminating the "nose heavy" feel of traditional crossbows and making it easier to hold steady, increasing the shooters accuracy. The RX8-Cam™ system allows for maximum rotation to produce speeds of 460 feet-per-second with the included 400-grain arrow. The crossbow's revolutionary Vector-Quad™ cable technology utilizes four cables instead of the traditional two which eliminates cam lean and generates straight-nock travel leading to same-hole downrange accuracy.
The 16-inch MICRO-TRAC barrel reduces string-to-barrel contact by 50% to provide increased accuracy and the longest string life in the industry – surpassing competitor crossbows by hundreds of shots. The Flatline 460's ultra-light, two-piece TEC-TACTICAL™ stock is built for comfort for shooters of all sizes and includes an adjustable butt plate that adjusts 1″ to provide ideal fit. To complete the compact footprint, the Flatline 460 uses shorter, 16-inch EVO-X CenterPunch carbon arrows. The advantages of this arrow extend beyond its compact footprint in the quiver and lack of overhang on the crossbow- the shorter arrow provides a flatter trajectory and reduced wind drift at longer ranges as compared to a 20-inch arrow. EVO-X CenterPunch 16 arrows weigh 400-grains and feature 17.5% FOC. Each arrow is inspected for straightness to within .001-inch and each package is weight matched to within 1-grain per arrow.
The NEW, longer dovetail (+1.5″) and NEW Scope Struts provide a rock-solid foundation for scope mounting – leading to enhanced durability and long-range accuracy. The dual aluminum Scope Struts increase strength and rigidity by 80%. In addition, the dovetail allows for more scope adjustments, heavier scope options, and provides the strength of a full-length rail without the added weight. Capable of precision downrange accuracy out to 100-yards, the included EVO-X Marksman Elite Scope decorated in matching Veil Alpine camo is a 2-8X, variable speed scope compatible with crossbows shooting up to 500 FPS. The scope's external Target Turrets provide easy windage & elevation adjustment and drive unmatched long-range accuracy.
The ACUslide Cocking and De-Cocking System features the Auto-Brake Gear System that separates TenPoint from all other de-cocking crossbows on the market. The Auto-Brake eliminates the potential of losing control during de-cocking which can lead to injury or costly bow damage. While cocking and de-cocking with the ACUslide, the user can remove their hand from the handle at any point, with no other action required – and the handle will stop in place. In addition, while most crossbow crank cocking devices require 15+ lbs. of force to operate, the ACUslide requires only 5 lbs. of force, making it easy for people of all ages and abilities to cock the crossbow.
The Flatline 460 features the Sl™ trigger. This 2-stage, zero-creep design features an advanced roller-sear system that delivers a consistent crisp, 3.5-pound pull. The trigger is equipped with a DFI™ (Dry-Fire-Inhibitor) and is fitted with a nylon-filament arrow retention brush that improves arrow grip and alignment to reduce noise and vibration. An integrated string stop system is also included to further reduce noise and vibration.
The Flatline 460 is equipped with our Sentry Bowhanger that allows you to easily hang your bow in the stand or protect your broadhead from dirt and grit in the ground blind.
Decorated in Veil Alpine®camo, the Flatline 460 ships completely assembled and includes a Ready-To-Hunt package
ACUslide™ cocking and de-cocking system
Evo-X Marksman™Elite Camo Precision Scope
3-pack of EVO-X CenterPunch™ 16 Premium Carbon Crossbow Arrows (.001″ straightness, 400-grains)
Integrated String Stop System
6-arrow Tech Quiver
Sentry Bowhanger Flatline 460 Specs:
460 FPS (w/400-grain arrow)
26.5″ Short (w/o stirrup)
7.5″ Narrow
5-pounds (w/o accessories) Flatline 460 MAP:
$2,599.99 – Veil Alpine®Camo
TenPoint Crossbow Technologies is 100% American owned, operated, and all of their crossbow models are manufactured in Mogadore, OH.

FLATLINE IN THE FIELD
Daybreak was still several hours away as I made my way across the recently harvested soybean field toward the familiar hemlock ridge several hundred yards beyond. It was October 29th and if forecasted correctly the day was to dawn clear and crisp. I was quite familiar with this particular parcel having arrowed dozens of turkeys from it over the years. I was hoping today would be no different but with decreasing flock numbers locally, and across the state, I'd put a gobbler-only restriction on my fall hunt. I knew this was going to up the challenge, but I was OK ending the season without punching a tag if it meant possibly increasing the turkey population.
My fall schedule was booked solid and I'd spent the previous three weeks perched in a treestand somewhere in the United
States attempting to put an arrow through some kind of critter. Therefore, suffice it to say, when the alarm went off at 2:00 AM this morning, I didn't hit the floor running but the anticipation of the opener had me moving with a purpose. I'd also just set up and spent some considerable range time with the new TenPoint Flatline 460 two days prior and carrying a new crossbow on its first hunt always puts a little skip in my step. I've carried TenPoint crossbows around the world and have more faith in them than I do in most people so the Flatline felt like an old friend right out of the box. It's built on the same RDX platform that has made TenPoint the worldwide leader in reverse draw technology and one I'm quite familiar with. Its low profile and small footprint fit my style of hunting perfectly and within minutes, I was sending the 16″ broadhead-tipped arrows downrange into 1″ groups. Nothing more needed to be done with this crossbow. I was ready to rock and roll.
As I tarried up the ridge, I appreciated the weight and compactness of the Flatline. I carried it with one hand and a flashlight in the other. Following my pre-placed trail eyes, I hoped the blind was still where I'd set it two weeks prior. I've had trouble with vandals and thieves on this property in the past and I'm always a bit anxious about pre-setting or leaving things behind. I breathed a sigh of relief when the flashlight's beam revealed the blind 20 feet ahead. I crawled in, cocked the Flatline, and settled in for the two-hour wait for daybreak.
As if on cue, the hen talk began as soon as the first streaks of light pierced the eastern sky. Unfortunately, they were 100 yards out the ridge further than I expected. I knew this was not a good scenario but I held my position and calling, hoping the gobblers were roosting closer and just not talking. As daylight flooded the ridge, I heard the birds start to fly down and they weren't getting any closer on their own.
Twenty minutes had passed and I could still faintly hear the hens talking. Knowing there were other turkey hunters in the area, I hesitated to abandon the blind but felt if I could just get 50 yards closer to them, I'd be in a better position to call. With the Flatline in hand, I exited the blind and crept forward to a large, pre-selected beach tree. I was elated when I reached its base without spooking the flock or getting shot. I quickly cleared the debris from around it and sat down with my back against it, knees up, and crossbow pointed in the direction I'd last heard the birds.
Several tense minutes passed but I didn't want to call until I heard them talking on their own again. Bingo! Just what I was waiting for as some kee kee's reverberated across the ridge just out of sight. With that, I let out a series of non-aggressive clucks with my Gizzo diaphragm. Instantly, I spotted movement 75 yards out coming down the ridge towards me. I don't know exactly what I said to these four birds with my series of clucks, but they were coming on a string, and they were coming fast. Too fast! My heart was in my throat and the Flatline was pointed just to the right of where they were headed.
At 30 yards, I realized two things. One, they were all gobblers. Two, I was not going to be able to move. My brain screamed; Idiot! As the birds continued their single-file march into my lap. At 15 yards, I caught a break and they hung up behind a large beach tree giving me just a split second to slightly adjust the Flatline. Finally! I only needed one gobbler to step out from the right side of the tree and I'd be able to loose an arrow. After what seemed like an eternity, I got my wish and the Flatline devoured its prey. The Tooth of the Arrow broadhead caught the gobbler a little high breaking its spine and dropping it in its tracks. Having to pull off that move, I was very appreciative to have such a compact crossbow with eight beady turkey eyes standing 15 yards away. The Flatline prevailed and saved Thanksgiving.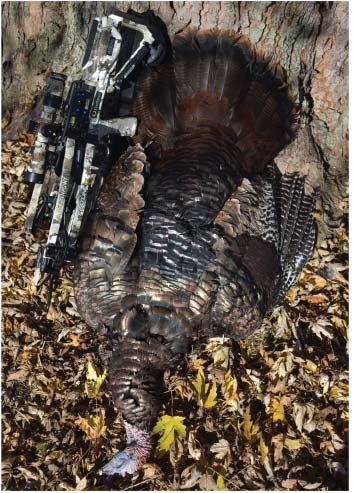 With my one-and-done turkey season completed, I spent another day on the range with the Flatline just to spend some additional time with the crossbow and throwing different setups at it for no reason more than to experiment. I had every intention of going back to the factory arrow and Tooth of the Arrow broadhead once I resumed hunting the following day. As previously stated, the Flatline 460 is very compact but with its adjustable Length of Pull and ergonomic-friendly balance, the crossbow shoots much larger than it actually is. It has everything you want and need in a crossbow package and comes fully assembled.
TenPoint has this RDX platform so dialed in that at this point they're just micro-perfecting it. Although I've never personally had a problem with any TenPoint scope rail, they've extended the rail and added scope struts to the Flatline model to give it a more rock-solid foundation. The EVO-X Marksman Elite Scope, MICRO TRAC barrel, ACUslide, and Sl trigger have already proven themselves in the field time after time. Once the crossbow is in your hands the only thing left to do is get killing with it.
I went into the 2022 season with three different bucks on my hit list on three different properties. With sweet November now upon us, trail camera activity revealed that one of my shooters was daylighting. I threw a few evening sits at him but never laid an eye on the buck. I knew he wasn't locked down with a doe yet but also knew I was on borrowed time and if I didn't get an arrow into him immediately, it was about to get a whole lot more difficult. A morning hunt was in order and tomorrow had the perfect conditions forecasted minus the warm temperatures.
Typically, when I do a morning hunt, I like to go in well after daylight, about 9:00. However, on this November 5th morning the temperature was already pushing 60 at daybreak and only headed up as the day progressed. Assuming my best chance for success was sooner in the day rather than later, I made my way towards my pre-hung stand wearing nothing more than lightweight camo pants and a t-shirt. With the Flatline cocked, arrow nocked and hanging from its Sentry bow hanger, I put on my lightweight snow camo overlayer, shook my head at the disgustingly warm temperature, said a prayer to God thanking him for this blessing, and then shifted my focus to the direction that I expected the deer to come from.
Fifteen minutes into my vigil, I caught movement coming down the trail. At first, I couldn't make out its head, but I could tell immediately by its gait and movement that it was a buck. I slowly reached for the hanging Flatline never taking my eyes off of the buck. Just as I secured the crossbow with both hands, the buck stepped into a small opening revealing its spike rack and then proceeded on past at 17 yards without a care in the world. I let out a deep breath and figured I'd better keep the Flatline in the ready position for the remainder of the hunt.
I've never had the luxury of hunting big mature whitetails in the open forest or Ag fields so often portrayed on outdoor shows and the internet. The bucks that I hunt are always in, or very near, the snarliest cover you can find. Rare is the occasion when I can see for more than 30 yards and this setup was no different. Last year, I watched my buck fall over from the stand and realized what a true perk that is when it happens. I wasn't holding my breath that it would ever happen again, though.
Ten minutes after the spike had passed I once again caught movement coming from the same direction headed down the same trail. This time there was no mistaking what was headed in my direction. The small button buck appeared to be barely out of its spots and most likely recently run off by its mother. I steadied the Flatline's EVO-X scope behind its shoulder as it passed, never intending to take the shot, but welcoming the opportunity to practice maneuvering the crossbow into position in one effortless and fluid motion. I did not doubt that the Flatline would be bad medicine on the right caliber of buck should one follow the script.
Another 15 minutes passed as I watched the sun climb higher into the sky. Man, it was hot. I was contemplating at what time I should pull the plug this morning when I heard the steady cadence of hoof beats coming down the trail again. Tall tines greeted my gaze this time and I knew instantly that this could be my buck. I focused intently on the brow tines because there was another buck on this property nearly identical to this one that I didn't want to shoot. It had a very short brow tine on its left side and was a full year younger than my target buck. I was hoping that buck would make it another year and that this buck did in fact sport 10 tines.
Brow tines confirmed, I maneuvered my feet in the stand to let the buck slightly pass me by, and then I'd put an arrow through him as he was slightly quartering away. At 20 yards, I was cocked locked, and ready to rock. When the buck hit the 17-yard mark, I sent the Tooth of the Arrow tipped 17″ CenterPunch arrow through him. One mule kick and three bounds later the buck was out of sight and all was quiet. Man, that was odd, I thought. Nothing but dead silence after I could no longer see the buck. No death run, no crashing, no nothing, and it was dry. However, my only real concern was with the heat. I had no doubts that I'd crushed the buck. Although, I've long since given up seeing the flight of the arrow out of these top-end crossbows. Even with lighted nocks. The shot felt right and the bucks' reaction was textbook. I hung the Flatline of the hanger, stripped off my snow camo, thanked the good Lord for another blessed hunt, and sat down for the 30-minute wait.
Approaching the arrow, I could tell that it was coated with bright red blood. I bypassed it and walked another 15 yards to where I'd last seen the buck enter the thick stuff. There were a few drops of blood and from there, I could see more every 2-3-yards. There was no need to mark the trail and after only going another 15 yards there lie the buck. I was more than a bit surprised. Only a 30-yards death run from the time of arrow impact yet I'd never seen or heard the buck expire. I wasn't complaining though. I slung the Flatline over my shoulder, took down my stand, and headed back to my Jeep to unload my gear and retrieve my deer sled. There wasn't much time to waste because of the heat. A few pictures were snapped back at home and then off to the processor. It was a pretty good week for the Flatline 460 and the crossbow performed as anticipated. Flawlessly.