Get the most out of your crossbow by understanding its math and science.
I cocked my crossbow, slid an arrow down the rail, and drilled the bull's eye at 30 yards. The ac curacy was impressive, but when I looked at the chronograph reading, I felt a tingle of excitement run down my spine. A second and third arrow were launched, and all read 509 fps. Not only was the TenPoint Nitro 505 fast, but it was deadly accurate and consistent.
Harnessing the energy of a crossbow to produce consistent and remarkable results is a science that utilizes new technologies. Pick up any premium crossbow today, and you will be impressed with the speed and accuracy. Manufacturers are continually working on research and development to build a better crossbow, and it is working.
Speed is a magical marketing tool for crossbow manufacturers to grab the attention of hunters. Advertisements boast speed as the number one selling point of any new rig. Speed makes most hunters look good, as it reduces the arch in an arrow's trajectory. In other words, it flattens the arrow's flight over distance. A flat shooting arrow is forgiving if the shooter misjudges distance by a bit. Speed and flat trajectory help ensure a broadhead finds vitals and avoids obstacles in its path. However, speed isn't everything.
A lightweight arrow will fly extremely fast from a bow. Unfortunately, it will also lose momentum quickly. A heavy arrow will fly slower out of the same bow but maintain better speed over time. It wasn't many decades ago that archers shot with less speed and heavier arrows. The arrow arched in flight but was deadly when it found a target. Practice was essential, and judging distance to within five yards was critical. Combining what we know from the past and what we experience in the present provides insight into getting more down-range performance out of a speedy crossbow.
| | |
| --- | --- |
| All components of an arrow can add weight. | Smaller diameter arrows were cut and inserted into crossbow arrows for hunting. |
MORE WEIGHT, MORE PENETRATION
Understanding how a heavy arrow can benefit a hunter can be challenging. The balance between speed and weight is part of the energy equation that everyone should know and understand. Let us go to math class to better understand how to harness your crossbow's energy and convert it into venison steaks.
Start by figuring out the total weight of your arrow, including the shaft, nock, insert, vanes, and field point or broadhead. Arrow boxes on the store shelf list the weight of an arrow in grains per inch of shaft, and to calculate the weight of your arrow, multiply the arrow length by the grains per inch. A 22-inch arrow that weighs 13 grains per inch is calculated as 22 inches x 13 grains/inch = 286 grains. Next, add the weight of the nock, fletching, insert, and point. For example, the nock is 15 grains, the fletch is 12 grains each for a total of 36 grains, the insert is 90 grains, and the point is 100 grains (286 + 15 + 36 + 90 + 100 = 527 grains).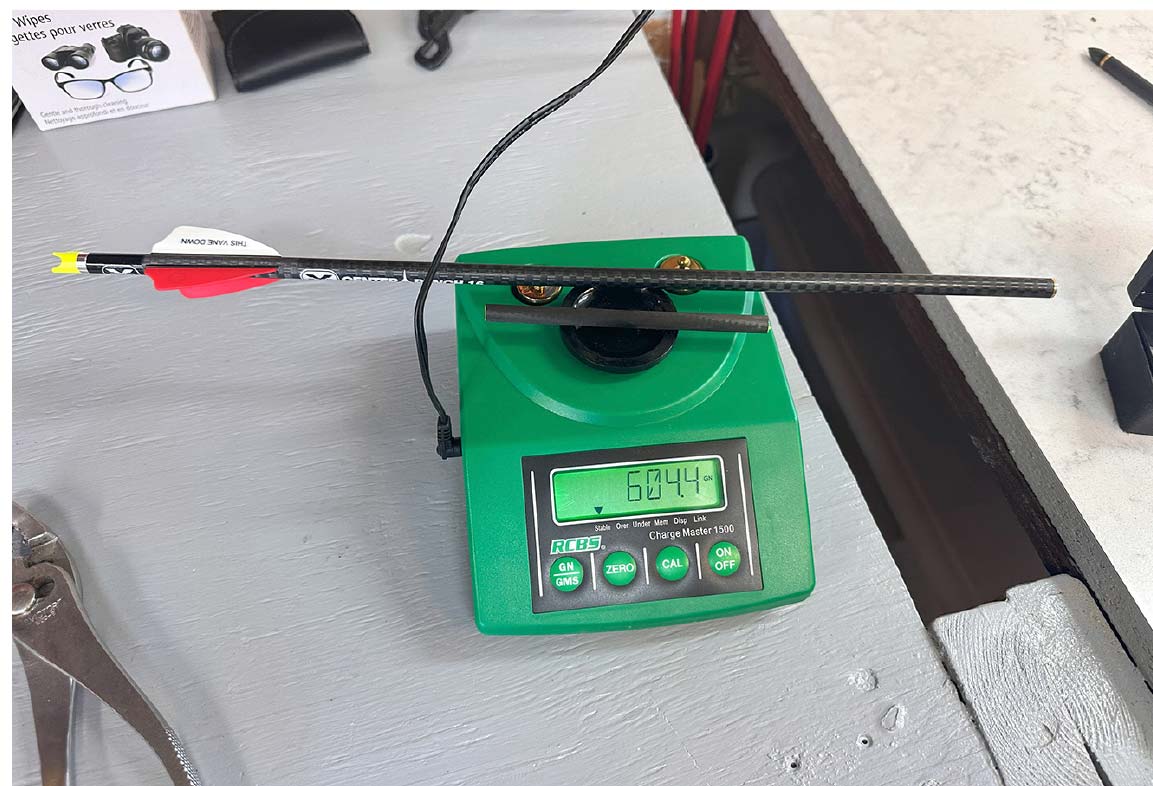 WHY IS ARROW WEIGHT IMPORTANT?
The weight of an arrow is a major part of the equation to calculate kinetic energy. Kinetic energy is directly correlated to the penetration of a projectile, like an arrow. If you watch outdoor television or YouTube videos, pay attention to hunters who are using spears. A hand-thrown spear is not moving fast, but the weight of a large, steel projectile is insane. The weight of a spear can penetrate an entire black bear, wildebeest, or other big game animal that is pursued. It has limitations, and the hunter must be extremely stealthy and close to the animal. If the spear were made from wood or aluminum, it would not be as devastating or lethal. If someone grabbed a bundle of socks and a rock of the same size, which one would you not want to get hit with?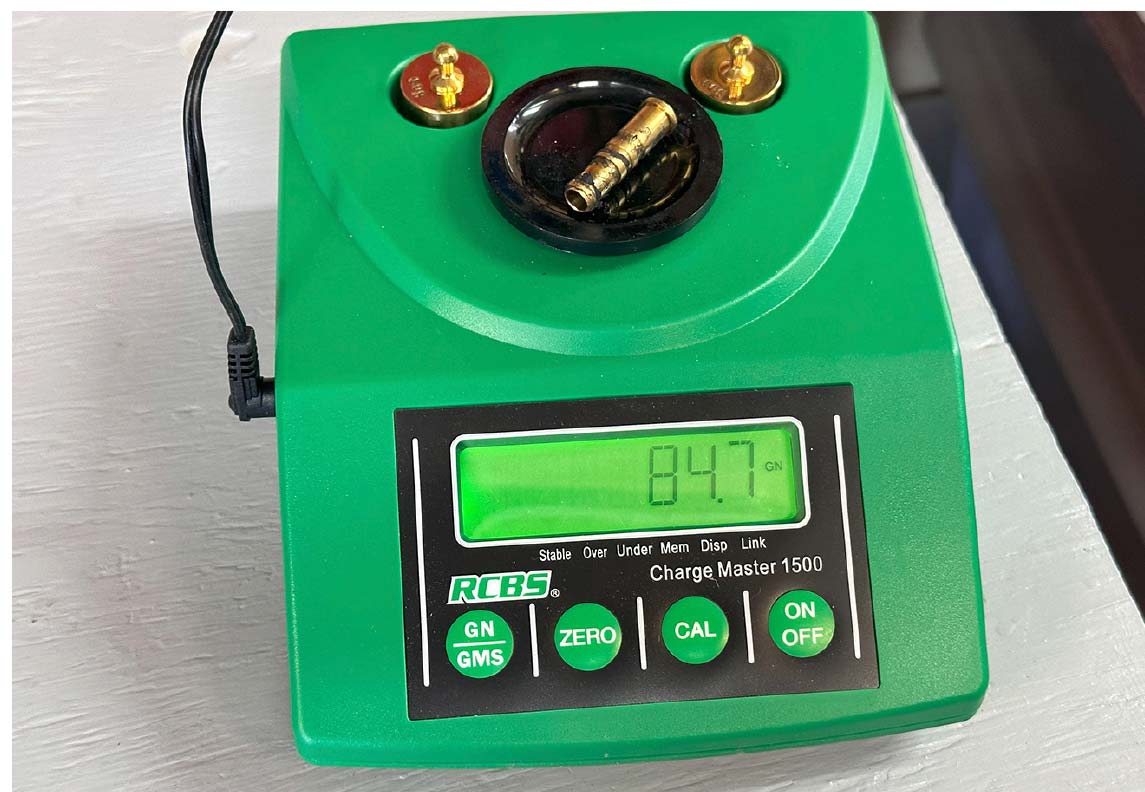 BENEFITS
There are more benefits to a heavy arrow than meet the eye, but your ear might pick up on them. A heavy arrow draws all energy from the crossbow string, limbs, and components, reducing vibration and quieting the bow. Running a decibel meter will provide insight, and downloading an app on your smartphone will allow you to play with different arrows and see and hear the results.
Like a spear, a heavy crossbow arrow or bolt will be stable in flight. Kinetic energy, penetration, flight stability, and noise generated from a crossbow can be a benefit of the increased total weight of a hunting arrow.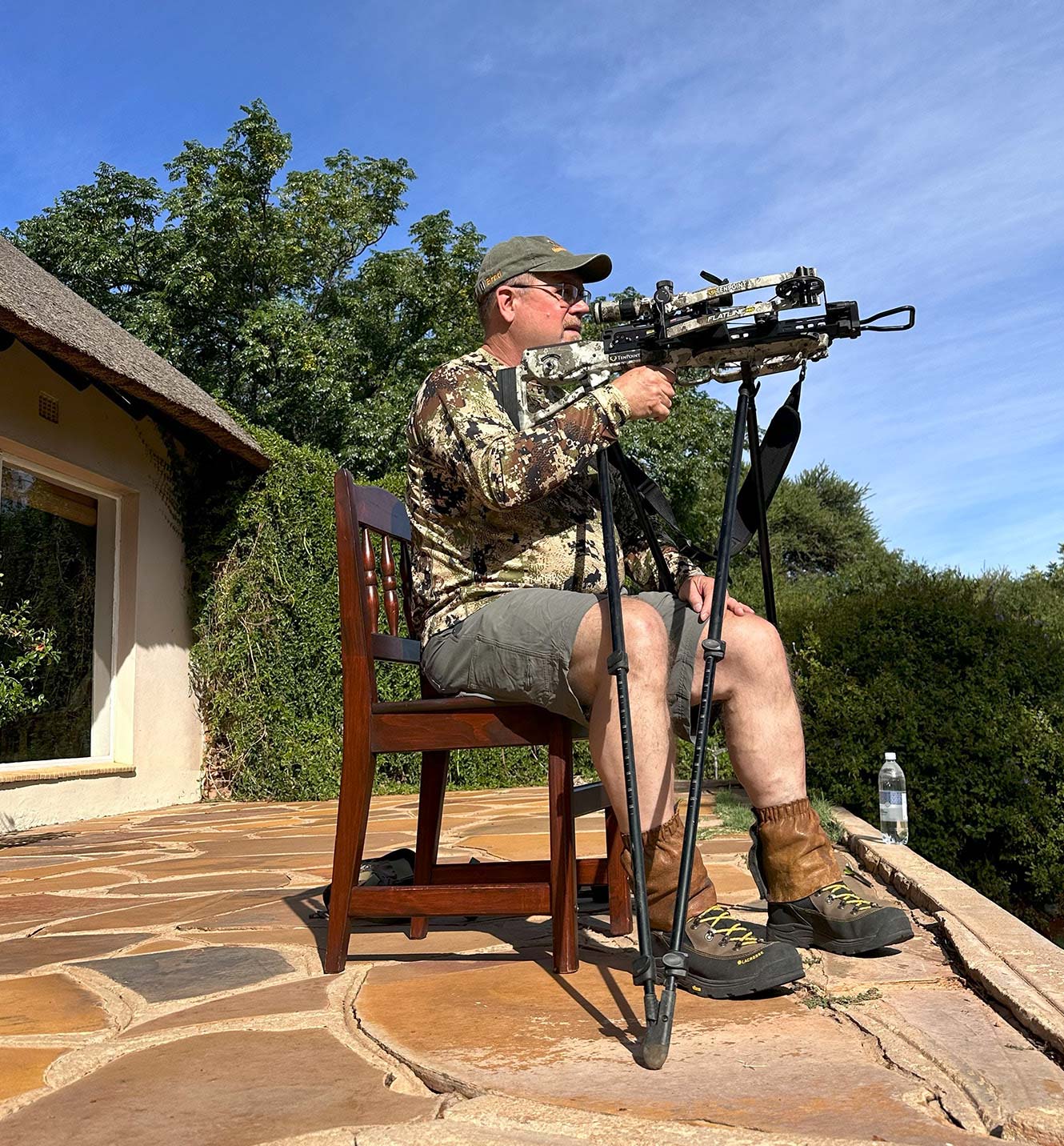 LESS WEAR ON THE BOW—MORE EFFICIENT
High-performance crossbows today are highly sophisticated machines. Components are used to maximize performance, which can shorten their lifespan. Not only does a heavy arrow quiet a crossbow, but it allows the components to be more efficient, with reduced stress. It can be challenging to wrap your head around, but I recall pitching at a baseball game as a youngster and throwing my arm out by trying to generate an extreme fastball. I also participated in track and field and enjoyed the shot put. The heavy spherical ball is shot as far as possible but never creates muscle or joint pain like throwing a fastball.
Gary Cornum, Director of Marketing at Easton Archery, says, "A heavy arrow quiets your bow and provides more energy transfer through your projectile. The heavier arrow lets you utilize what the bow can produce." If you are not using more weight, you leave something on the table in terms of performance. Hunters shooting hogs and whitetails over 30 yards would see improved performance and more energy used with arrows like an FMJ."
The easiest way to understand energy transfer is to consider that a dry fire uses zero energy from a bow, and capturing that energy from the bow is achieved with more weight to allow an efficient energy transfer. Cornum pointed out that a crowbar would use 100% of the energy transfer but would come off the rest and hit the ground. There is always a balance, and manufacturers recommend arrow weight and spine based on their tests, saving hunters the trouble of experimenting with options before finding the balance.
KNOW YOUR ARROW
Arrow manufacturing has come a long way in re- cent decades. Arrows are precision instruments that can benefit accuracy, speed, penetration, and strength. Start by understanding the qualities of a bolt or arrow. Pay attention to the arrow's spine, which measures the arrow's stiffness and resistance to bending. The flexibility is an important consideration, as it helps to harness the amount of energy transferred from a crossbow. An arrow with a stiff spin will not flex significantly but, more importantly, will not break or deviate from where it is aimed as it handles the energy transfer from the bow. An arrow with an inadequate spine will over-flex and could blow up when receiving an energy overload from the crossbow. Never play with light under spined arrows to increase speed.
An arrow's flexibility plays a significant role in ac- curacy and consistency. Here comes another science lesson–dynamic spine measures how much an arrow bends when fired from a crossbow, which is influenced by the static spine. Of course, string force and arrow weight play a role, and hopefully, it is understood. Re-fer to the chart on an arrow box or information in the crossbow manual to know an arrow's required spine or stiffness for specific draw weights with a given cross- bow. A crossbow's draw weight will determine the spine required, meaning not all arrows are transferable be- tween bows. The good news is that arrow manufacturers are keeping up with crossbow technology and producing arrows to perform with the extreme speeds and draw weights of modern crossbows shooting over 500 fps. The attention to detail ensures performance and safety.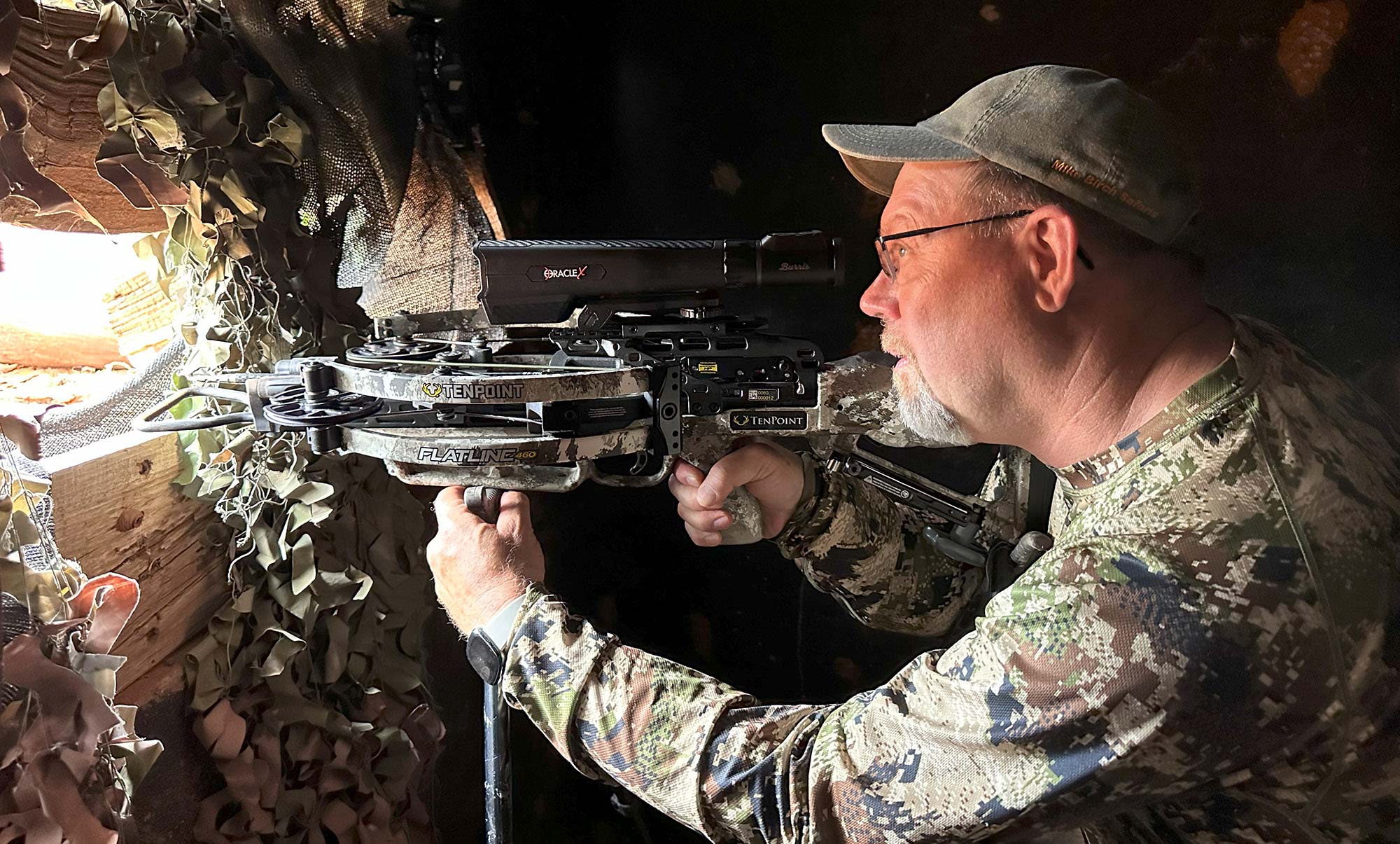 INCREASE WEIGH
By now, you should understand why a heavy projectile is beneficial. There are several ways to increase the weight of your projectile. Consider wrapping the arrow, heavier fletching, brass inserts, or a beefy broadhead. I played with arrow weight when planning a trip to Africa with Hunt the Sun outfitters, hoping to pursue plains and dangerous game. Being an avid vertical and horizontal bow shooter, I had several options for inserting small-diameter arrows into a larger arrow. Segments of arrows were cut, weighed, and glued into the shafts of my crossbow arrows that would be used for hunting. The cut arrow segments were all the same length and weight to ensure consistency. They were glued into the insert end of the arrow to maintain front-of-center (FOC) weight. The inserts pushed the arrow pieces into place to ensure quality control for all projectiles being produced. The results were impressive, and when tested on the range, the new arrow blew right through a crossbow target that has always stopped any arrow.
The broadhead is one of the quickest ways to add weight to a projectile; again, it is FOC. My go-to heavy- weight is the SEVR Robusto, weighing in at 150 grams. Weight up front means better arrow flight and increased penetration. I first used the Robusto on a black bear hunt in Alberta. The first night of a week-long adventure saw a massive old boar come to within 22 yards. The bear was shot at an angle, and the arrow zipped through the beast so fast that it did not know what happened. The bear made it nine yards and piled up. The experience made me believe in increased weight for maximum penetration and quick kills.
EQUATION
Kinetic energy is the energy an object has owing to its motion. Kinetic energy (KE) equals half of an object's mass multiplied by the velocity squared. An arrow with a mass of 370 grains was chronographed with a velocity of 430 feet per second, generating kinetic energy of 205 Joules. The heavyweight arrows made for my African adventure shot at 380 fps with a 682-grain arrow, producing 296.4 Joules. The increased energy was easy to note, and the arrow still flew at exceptional speed.
APPLYING KNOWLEDGE
The math and science lessons are important to understand for any hunter. If a deer has ever jumped the string on you, quieting your bow is easy to understand. Not all shots end up as planned, and hitting bone can rob a crossbow hunter of a trophy. Increasing the weight of your arrow to increase penetration can make a difference when the unexpected occurs. The first animal I shot with my crossbow in Africa was a blue wildebeest, and my arrow passed clean through the animal, hitting and penetrating both shoulder blades. Going prepared was worth all of the time on the range.
The more intimate you become with your equipment, the more successful you will be as a hunter. Take the time to experiment and shoot different weights of arrows and broadheads. Pay attention to crossbow manufacturers' recommendations to keep the experiments safe and productive.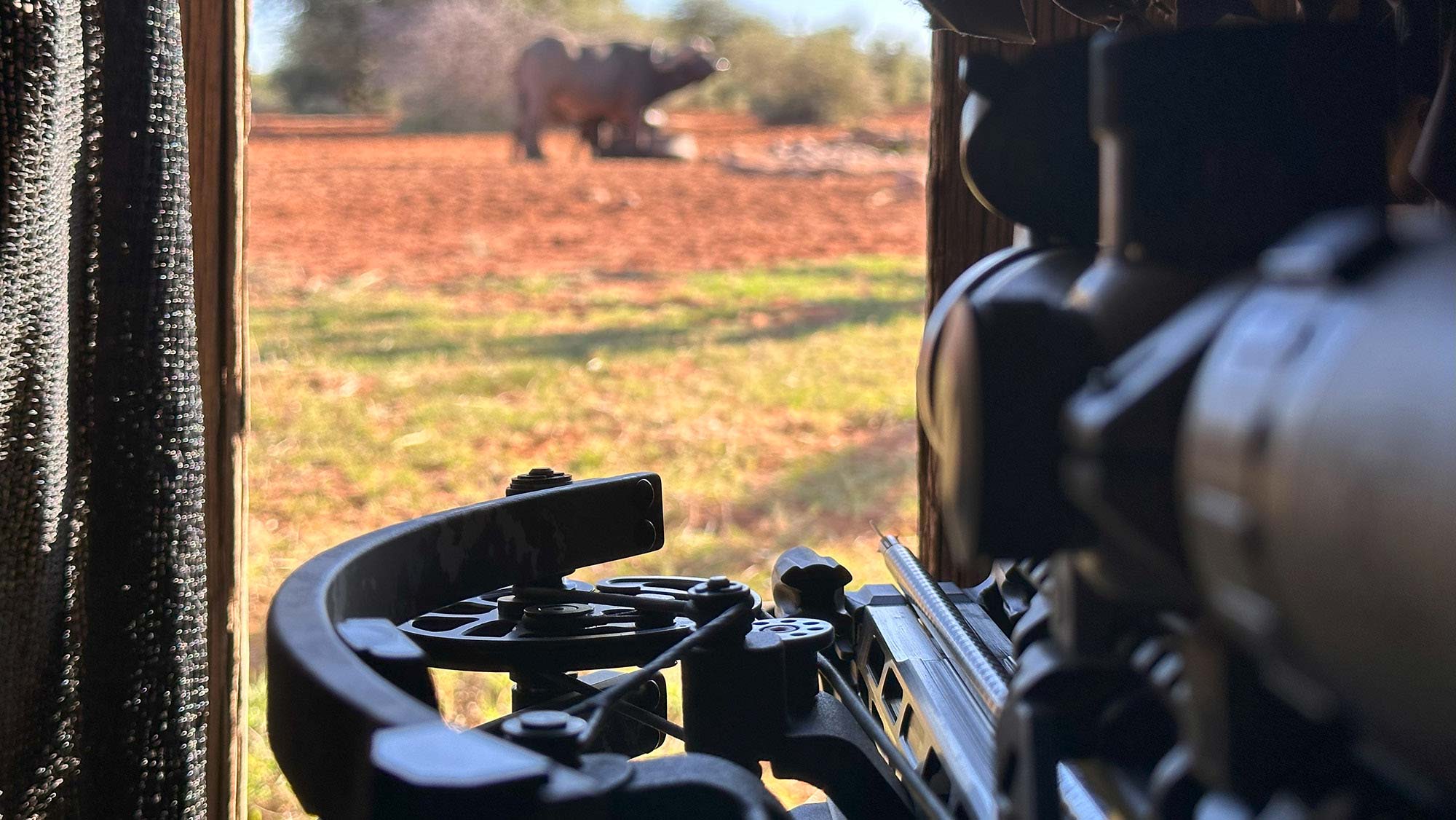 HEAVYWEIGHTS
Easton FMJ bolts are available in 20, and 22-inch models weighing 13.7 grains per inch and have brass insert options weighing 120 grains. I used an XX75 Cross- bow with a Wicked Ridge crossbow to shoot a bear, and the old, weighty aluminum bolt at 13.8 grains per inch did not disappoint.
Kill'n Stix is a Canadian-based company that makes a Karnage crossbow bolt weighing 440 grains, including the 125-grain field point and the 80-grain brass insert.
Mechanical broadheads traveling over 500 FPS are now made to provide consistent and devastating results. The broadhead blades fold into the ferrule and use the speed and acceleration to keep the blades contained, and an "O" ring is added to ensure centrifugal force for fletch and spin do not have an opportunity to accidentally deploy the blades. The rear-deploying blades open on impact and lock in place with no lost energy on a pivot. The blades provide an immediate slap-cut and steer their way around any bone as they cut.
SEVR broadheads are available in 100-grain heads with a 1.5, 1.75. and 2.0 inch cutting diameter. The Robusto 150 grain will help quiet the bow and increase kinetic energy and penetration. Another consideration is that SEVR broadheads have field-point accuracy that can be tested by using a lock screw in the head you intend to hunt with – shoot it, remove the lock screw, and go hunt..
The Nitro 505 crossbow was released in 2022 and is still one of the fastest options on the market. The reverse-draw Nitro 505 has an fps rating of 505 but is actually faster. It features a 17-inch power stroke, cams that rotate 404 degrees, and a micro rail to minimize contact with the string. Weighing 7.9 pounds and measuring 30.7 inches in length and 6½ inches wide when cocked, this bow comes packaged ready to hunt, complete with a variable-speed scope.
WILDLIFE RESEARCH CENTER SCENT KILLER GOLD FIELD WIPES
Staying scent-free while hunting is critical to success. Scent Killer Gold Field Wipes are in my pack for every adventure. Not only are they excellent for cleaning in the field, but they are good for your skin. Their gentle nature means they can also be used on archery gear. Cleaning bows, arrows, and even broadheads is easy and efficient and help maintain gear for hunting the next day. The wipes are versatile; once you start using them, it is easy to find new applications.