Unleashing Precision and Power
We took to the range to look at 4 of Killer Instincts most popular crossbows.  The full-sized Diesel X, Fatal X, and Vital X which shipped from the factory ready to use, and the compact bullpup sized Swat X1, that came needing to have the scope mounted.  I would suggest as you take them out of the shipping package and inspect them while new, you check the scope mounts for proper torque and adjust the eye relief.  Lube the rails with the supplied rail lube as this is the protection from the string abrasion against the rails.  Reapply as necessary, and at least after every 20 or so shots.  More often if the weather is very hot.
Dialing in the scopes on all the crossbows was easy.  Choice of target is important, as I quickly learned when first I used my regular archery target that was listed as approved for both compound and crossbows up to 380 FPS.  When I fired the first arrow from one of the 405 FPS rated crossbows, it was so fast that it fused the arrow to the foam of my target, and I had to get an arrow puller out to extract the arrow from the target.  Start at 20 yards and fire 3 arrows at a 400+ FPS approved crossbow target and establish a group.  Remember that to move the point of impact approximately 1 inch you will need about 16-20 clicks on the scope windage and elevation adjustments.  If in doubt, move the dials 1 inch at a time, fire another set of arrows, and adjust the group from there.  Once I got the scope sighted in at 20 yards, I was easily able to shoot groups of less than 2 inches.  When I adjusted the speed ring on the scope to the rated velocity of the arrows, I found the reticles in the scope were right on target at 30 and 40 yards.  All crossbows come with the Killer Instinct Pro Package, which includes scope, 390 grain arrows, quiver, draw rope, rail lube and 100 grain field tips, making them ready to shoot right out of the package.  You can make them hunt ready by choosing a 100 grain broadhead.  See the quide at the end of the article.
The Killer Instinct Fatal X Crossbow has been generating buzz among hunting enthusiasts and archery aficionados alike since 2021. Combining new technology with rugged design, this crossbow promises to elevate your hunting experience to new heights. In this review, we'll delve into the features, performance, and overall quality of the Fatal X to determine if it lives up to the hype.
Design and Build Quality
The first impression of the Killer Instinct Fatal X Crossbow is its rugged design and robust build quality. Coming in at a little over 7 pounds, I found it was the better balanced unit of the two full-sized crossbows.  When you first hold it, you can see this is crafted with precision and durability in mind.  This crossbow boasts an ergonomic stock that is adjustable for length of pull and has a well-balanced frame, allowing for comfortable handling and improved accuracy. The forward grip is also user-adjustable along a picatinny rail to further improve the balance point, and it has a forward sling mount that could be used with a mono/bi/tripod support system.  The sleek black finish and aggressive aesthetics further add to its allure.
Features and Technology
The Fatal X is loaded with innovative features, ensuring a user-friendly and high-performance hunting tool. One of the standout features is the Micro-Lite aluminum barrel, which not only reduces weight but also enhances accuracy. Additionally, the included 4×32 fixed 4 power scope with multiple reticle options provides clear optics and quick target acquisition.  I mentioned earlier that the reticle was quick to zero and was consistent in the 20/30/40-yard range.
The crossbow is equipped with the Pro-Level Zero Creep Trigger, offering a crisp and consistent pull of approximately 3 pounds. I found it to break easily, when I expected it, resulting in accurate shots with every release. The anti-dry fire mechanism adds a layer of safety, preventing accidental firing when the bow is not loaded correctly.
Performance and Power
When it comes to performance, the Killer Instinct Fatal X truly shines. Generating an impressive 405 feet per second (FPS) arrow speed, this crossbow delivers solid power and kinetic energy, making it suitable for taking down large game with ease. The 195-pound draw weight may seem hefty, but the included Rope Cocker assists in reducing the effort required to cock the bow, and the X-CAM system provides a 50% let off and a quieter release on the shot, making cocking it easily manageable for most shooters.
The crossbow has an optional RDC Crank available to assist in cocking the crossbow.  I found it unnecessary as the rope cocker and the X-CAM design made it very easy to cock.
The combination of speed and power ensures excellent arrow penetration.  Providing a solid 142 Ft-Lbs of kinetic energy, this crossbow gives you the confidence to take shots at longer distances while maintaining deadly accuracy.
Quiet and Compact
The Fatal X is surprisingly quiet, thanks to the advanced X-CAM System. This integrated technology effectively suppresses vibrations and noise, allowing for stealthy hunting experiences without alarming nearby game.
Furthermore, this crossbow's compact size makes it ideal for tight spaces, such as tree stands or ground blinds. Measuring just under 6 ¼  inches when cocked and 9 ¾  inches when uncocked, the Fatal X is easy to carry and maneuver, ensuring optimal performance in any hunting situation.
Price and Value
While the Killer Instinct Fatal X Crossbow falls within the medium price range, the features, power, and performance it offers make it a worthy investment for serious hunters.
Specifications
Speed:                         405 FPS
Kinetic Energy:           142 Ft-lbs
Trigger:                       3.5 lb
Width (Cocked):         6.25 inches
Width (Uncocked):     9.75 inches
Length:                        30 inches
Weight:                       7.2 lbs (Crossbow only)
Draw Weight:             195 lbs
Power Stroke:             13.5 inches
Final Thoughts
The Killer Instinct Fatal X Crossbow lives up to its name by delivering fatal precision, power, and performance. Its well-thought-out design, solid features, and user-friendly operation make it a great choice for both seasoned hunters and novices.
Consider adding a bow case to the package – Slayer Crossbow Case – $99.99
The world of crossbows has seen tremendous advancements in recent years, and the Killer Instinct Diesel X Crossbow, launched in 2023, is a testament to the new technology and innovation within this industry.  I had the opportunity to thoroughly test and review the Diesel X Elite Package on the range, supplied complete and (almost) ready to hunt with a Lumix Speed-ring adjustable 1.5-5X illuminated scope, Rope Cocker, Quiver and 3 arrows with 100 gr. field tips, and rail lube.  You'll need to select a broadhead to be hunt-ready.  See the guide in the resource section to assist in selecting a broadhead for hunting.  This product review will delve into its design, performance, accuracy, and overall value for money.
Design and Build Quality
The Killer Instinct Diesel X boasts a robust and sleek design that immediately catches the eye. It features a relatively compact frame made of durable materials, making it both lightweight and sturdy. The overall feel is rugged, ensuring it can withstand rough handling during hunts without compromising its performance.
The crossbow comes with an adjustable buttstock and foregrip, allowing users to customize it according to their preferences and shooting style. The inclusion of an adjustable stock is a significant advantage for shooters of various sizes, allowing for adjustment due to thicker hunting clothes as the weather gets colder, while still maintaining eye relief with the scope.
It's overall length is a bit longer at nearly 33 inches, which I found made it slightly harder to balance and shoot offhanded.  I would adjust the handle and consider using some form of rest.  This could be a simple tripod rest, the shooting rail of a treestand, or any of the available rests made specifically for Crossbows.  See Crossbow Shooting Rests
Performance and Power
The Killer Instinct Diesel X is designed to pack a punch, and it does not disappoint in terms of power. With a draw weight of 180 pounds, this crossbow can reach arrow speeds of up to 405 feet per second (FPS) with over 140 pounds of kinetic energy. This helps ensure a flat trajectory and increased accuracy, especially over longer distances.
During my testing, I found the Diesel X to be consistent in performance, delivering powerful and accurate shots with consistent grouping of arrows. The included illuminated scope provided clear and bright sight images, even in low-light conditions. The reticle, when zeroed for 20 yards, provided good grouping at 30 and 40 yards.
Moreover, the crossbow's advanced X Cam system and well-engineered limbs contribute to a smooth and quiet shot release.  The X-Cam design seems to help with the cocking force needed by providing a 50% let off and delivers a quieter release.
Accuracy and Range
Accuracy is undoubtedly one of the essential aspects of any crossbow, and the Killer Instinct Diesel X excels in this regard. The combination of a well-balanced design, exceptional arrow speed, and a speed-rated scope with yardage reticles, I achieved tight groupings consistently during my target practice sessions.  The trigger broke cleanly at just over 3 pounds, which I found to be very predictable, and helped with accurate arrow grouping.
The crossbow's performance remains consistent even at extended ranges, making it an excellent choice for both beginner and seasoned hunters alike. Whether shooting at 20 yards or pushing the boundaries to 40 yards, the Diesel X consistently delivered accurate shots.
Safety Features
The Diesel X comes equipped with an array of safety features, prioritizing the shooter's well-being during use. The ambidextrous safety switch is easy to engage and disengage, providing a user-friendly experience for both left and right-handed shooters.  Although I found the safety to be a bit loud, if you practice with it a bit you can muffle the "click".
Additionally, the anti-dry fire mechanism prevents accidental firing when there is no arrow loaded, ensuring the crossbow remains undamaged. This crucial safety feature further enhances the overall value and reliability of the Killer Instinct Diesel X.
Value for Money
While the Diesel X sits at a slightly higher price point compared to entry-level crossbows, its performance, build quality, and accuracy more than justify the investment. With the Diesel X, you get a feature-packed crossbow that delivers impressive power and precision, ensuring a successful hunting experience.
Specifications
Speed:                         405 FPS
Kinetic Energy:           142 Ft-lbs
Trigger:                       3.5 lb
Width (Cocked):         6.25 inches
Width (Uncocked):     10.5 inches
Length:                        33 inches
Weight:                       7.4 lbs (Crossbow only)
Draw Weight:             180 lbs
Power Stroke: 15 inches
Final Thoughts
The Diesel X blend of precision, power, and performance at a very attractive price point places it among the top contenders for anyone looking to get into crossbow hunting or target shooting.  With its robust construction, fast and flat arrow trajectory, and accuracy, the Diesel X will prove to be a reliable companion for any adventure.
Whether you are a seasoned hunter or a newcomer to the sport, the Killer Instinct Diesel X offers a great shooting experience that will undoubtedly elevate your game. If you are seeking a high-performing crossbow that will perform under varying conditions and on a variety of game, look no further than the Diesel X.
In the rapidly evolving world of crossbow technology, manufacturers strive to strike the right balance between power, accuracy, and user-friendliness. The Killer Instinct Vital X Crossbow emerges as a player in the mid-tier segment, aiming to cater to both seasoned hunters and enthusiasts. With its compelling features and reliable performance, it's worth taking an in-depth look at what Vital X offers.
Design & Build
From the outset, it's evident that Killer Instinct prioritized robust construction with the Vital X. The crossbow boasts a tactical and ergonomic design that feels both solid and lightweight. The body is predominantly made of a high-grade polymer, which ensures durability while keeping the weight at bay. Weighing in at slightly under 8 pounds without the scope and quiver with arrows, it's nimble enough for extended use without causing fatigue.
Performance & Power
Touted as a "ready-to-hunt" crossbow, the Vital X doesn't disappoint in terms of power. With a speed rating of up to 405 feet per second (FPS), it delivers arrows with a devastating force of 142 Ft-Lb of energy, ensuring optimal penetration. For the price point, this kind of speed and energy is commendable.
Accuracy & Precision
One of the most crucial aspects of any crossbow is its accuracy, and the Vital X shines in this department. It offers a consistent and tight shot grouping even at distances of 40-50 yards. Much of this accuracy can be attributed to the enhanced trigger system, which ensures minimal creep and a crisp release. The supplied Lumix 4×32 scope further aids in precision, offering clear visuals.
User Experience & Safety
For novices and experienced users alike, the Killer Instinct Vital X is remarkably user-friendly. The crossbow's design incorporates a comfortable grip, a well-balanced body, and an easily adjustable stock. This adjustability caters to shooters of all sizes and preferences.
Safety, of course, is paramount. The Vital X is embedded with a series of safety mechanisms, including an anti-dry fire system and an ambidextrous safety switch. These features collectively ensure that the crossbow won't fire unintentionally, providing peace of mind during both handling and shooting.
Assembly & Accessories
For those apprehensive about the initial setup, the Vital X offers a relatively straightforward assembly process. The package typically comes with a detailed instruction manual. In addition to the crossbow, the kit includes their PRO Package including a 4×32 scope, quiver, and three 20 inch HYPR Lite 390 grain bolts with field tips and a tube of rail lube.  This is essentially everything you need to start hunting right out of the box, with the exception of a broadhead.  See below for options.
Price Point
Considering its robust set of features and reliable performance, the Killer Instinct Vital X offers substantial value for its price. While there are certainly cheaper options on the market, they often compromise on quality or accuracy. Conversely, while there are more premium models available, they might not offer a significantly better experience to justify the substantial price difference.
Specifications
Speed:                         405 FPS
Kinetic Energy:           142 FT-LB
Trigger:                       3.5 LB
Width (Cocked):         6.75 inches
Width (Uncocked):     10.375 inches
Length:                        31.5"
Weight:                       7.8 LB without Scope & Quiver
Draw Weight:             185 LB
Power Stroke:             14.25"
Final Thoughts
The Killer Instinct Vital X Crossbow makes a strong case for itself as a reliable and efficient hunting tool. With a potent blend of power, precision, and user-centric design, it stands out in the crowded mid-tier crossbow market. It's an ideal choice for those seeking a dependable crossbow without breaking the bank.
While it may not boast the top-tier specs that some elite models do, the Vital X remains a formidable contender for its segment. In essence, it encapsulates what many hunters and enthusiasts seek – a reliable, efficient, and reasonably priced crossbow that doesn't compromise on essential features.
In conclusion, if you're in the market for a new crossbow, the Killer Instinct Vital X deserves consideration on your shortlist.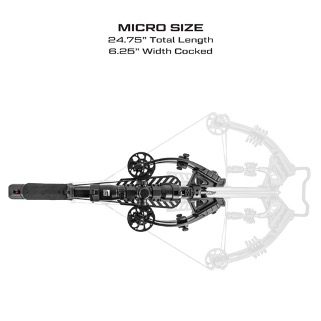 Crossbows have undergone a significant evolution over the years, with design improvements aimed at optimizing user experience and maximizing performance. The Killer Instinct SWAT X1 Crossbow stands as a testament to this evolution. By incorporating state-of-the-art technology, this crossbow has made waves in the archery community, and for good reason.
Design & Aesthetics
Immediately noticeable is the SWAT X1's compact and sleek design. Killer Instinct has managed to integrate the power of a full-length crossbow into a shorter, more maneuverable bullpup style frame. The front limbs encase a broadhead cage, which is an innovative Killer Instinct design feature, ensuring the broadheads remain enclosed.  This keeps the broadhead from protruding out the front past the limbs where it can get hung up.  This provides additional convenience and safety, while reducing the risk of injury. Its matte black finish exudes an air of stealth and professionalism.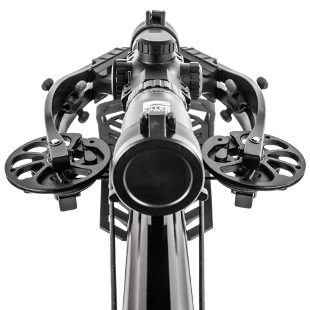 Performance Dynamics
The SWAT X1 is no slouch in the performance department. With its ability to shoot arrows at a blistering speed of up to 405 FPS, with a powerful 142 Ft-Ls of energy, it ranks amongst the more powerful in its class. This power translates to efficient game takedowns and a broader hunting range.
Specifications
Speed:                        405 FPS
Kinetic Energy:          142 FT-LB
Trigger:                       3.0-LB
Width (Cocked):         6.25 inches
Width (Uncocked):     9.75 inches
Length:                       24.75" (without riser pads)
Weight:                       7.2 LB
Draw Weight:              195-LB
Power Stroke:            13.25"
Precision & Accuracy
Performance is meaningless without accuracy, and the SWAT X1 excels here. The Accutac™ Barrel System works wonders in enhancing accuracy by guiding the arrow and bolt with precision from the moment it's shot until it leaves the crossbow. This ensures tighter shot groups and consistent hits, even from a distance.  By using the entire length of the barrel to hold the arrow, the Accutac™ Barrell design helps to make the crossbow size much more compact.
User Experience
One of the SWAT X1's most endearing features is its user-friendliness. The compact design weighs in at a mere 7 lbs, making it a very lightweight crossbow, ideal for prolonged hunting expeditions. The bullpup design produces a balanced weight distribution with minimal user fatigue. Killer Instinct has made their patented X-Cam even smaller for this unit, which makes for an easier cocking experience with a 50% let off in draw weight, and a smooth, quiet release of the arrow.  Its compact design is particularly beneficial in tight spaces, allowing hunters to take aim without hindrance of hitting the sides of a ground blind or adjacent limbs of a tree while sitting in a treestand.
Safety Features
Safety is paramount when handling powerful equipment like crossbows. Killer Instinct has integrated several safety mechanisms into the SWAT X1, such as the anti-dry fire system. The latter prevents the crossbow from firing without a bolt properly in place, preventing potential damage to the crossbow and ensuring user safety.
Assembly & Accessories
Straight out of the box, the SWAT X1 is relatively easy to assemble, even for those new to crossbows. The package comes with a comprehensive manual that provides step-by-step assembly instructions. In terms of accessories, the crossbow kit is replete with a Lumix speed ring scope, adjustable to various arrow speeds, a rope cocker, string & limb suppressors, and three 20″ 390 gr Hypr Bolts. Essentially, it offers everything needed to start your hunting expedition immediately.
Value for Money
Considering its suite of high-end features and impeccable performance, the SWAT X1 offers significant bang for your buck. While it might seem like a considerable investment initially, its durability, precision, and power ensure that it offers value for money in the long run.  The combination of compact, lightweight design, with the performance of a full-size crossbow made this our favorite model.  It also seemed to be the smoothest and quietest crossbow to shoot.
Versatility
Another commendable aspect of the SWAT X1 is its versatility. Whether you're a novice looking for an easy-to-use crossbow or a seasoned hunter seeking a powerful and precise weapon, the SWAT X1 caters to a broad spectrum of users. Its adaptability to various hunting scenarios, be it in open terrains or dense forests, further elevates its standing in the crossbow community.
Final Thoughts
The Killer Instinct SWAT X1 Crossbow effortlessly incorporates power, precision, and design into a compact package. Its user-friendly features, combined with its top-tier performance metrics, make it a highly sought-after product in the archery market. For those who seek to elevate their hunting experiences and demand nothing but the best from their equipment, the SWAT X1 is a formidable contender.
In a world inundated with crossbow options, the SWAT X1 differentiates itself by offering a unique blend of power and precision, all wrapped up in a sleek and compact design. It is, without a doubt, a worthy investment for those passionate about archery and hunting.
Assembly, Maintenance, and Accessories for Killer Instinct Crossbows
The Killer Instinct Crossbow packages are straightforward to use and includes clear instructions to help you get started quickly. The crossbow's simple design makes it easy to maintain and clean after each hunting expedition. Regular maintenance videos show how to ensure longevity and consistent performance.
With their crossbow packages, I would consider adding a Slayer Narrow Crossbow case along with the purchase of the crossbow.  It is made to fit the crossbow, protect it and it makes a sharp looking addition to the package.  Slayer Crossbow Case – $99.99
Killer Instinct Crossbows ship (almost) hunt ready, with a selection of a broadhead being a necessity.  This can be a daunting task given the variety, so here is a guide on selecting broadheads for hunting.