I arrived in bear camp shortly after lunch. Shooting my crossbow and organizing clothes and gear didn't take long. The rest of my hunting crew was running late. When they finally showed up, I was heading out the door to sit in a tree for the night. They came back with a little ribbing about me being overly competitive, but that didn't bother me a bit. I barked back some teasing as well and reminded them, "The early bird gets the worm."
It was a beautiful May evening. The warm sun was a welcome shot of vitamin D. The best part of spring black bear hunts is spending time outdoors after a long winter. It has become a part of the changing seasons for me and signals more time for hunting and fishing.
Travis Morrison would be my guide for the evening. Trav and I go way back. One of the most memorable events we shared was when Travis was about seven years old. I was hunting with his dad, Cam. We had a nice bull moose trot onto the road in front of the truck. As we slowed to have a look, the bull stood in the middle of the road and stared at us. Travis got so excited that he jumped up and down on the front seat, hitting his head into the roof with every bounce. At the same time, Travis insisted that his dad get out and shoot the moose. When Cam explained that he did not have a license for moose, the young lad paused for a second, then yelled, "Roadkill it, Daddy!'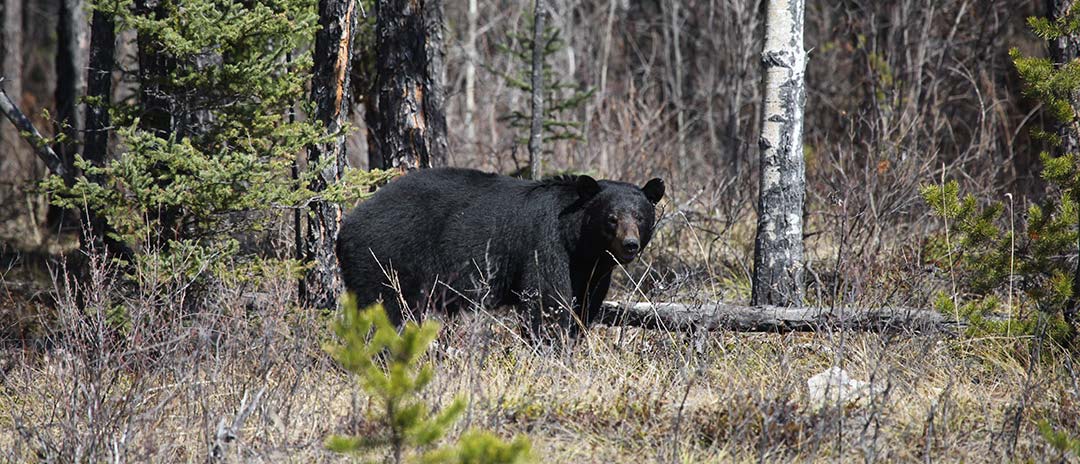 We still chuckle about the experience today and know it indicated things to come. Travis was destined to be a hunter, shooter and outdoor enthusiast. I recall one day at the Morrison house when Travis came in and asked for a knife. When asked why he needed a knife, he explained in detail how he had made a rabbit trap with the neighbor girl and would need something to take care of the bunny once caught.
Travis has always been adventuresome and eager to find success. I was in camp when he shot his first bull elk. We have hunted ducks, geese, grouse and pheasants together. He is always the first to offer to help in camp, fix a truck, trailer or side-by-side, and ensures there are never any leftovers to take up space in the cooler. His annual family trips always produce photos of Travis with a big smile.
Over the years, Travis has put in his time to try to harvest a nice black bear, but it has never come to fruition. There have been encounters, giant bears and a young man determined to shoot a bear with his bow. I wanted to sit with him, but that would mean displacing his dad, who has always been there as a coach and more. Having Travis take me to the stand for the night was my pleasure. It gave us a chance to visit and catch up. A big bear was seen in the area. Other hunters had spied it at a distance but could never get a shot opportunity.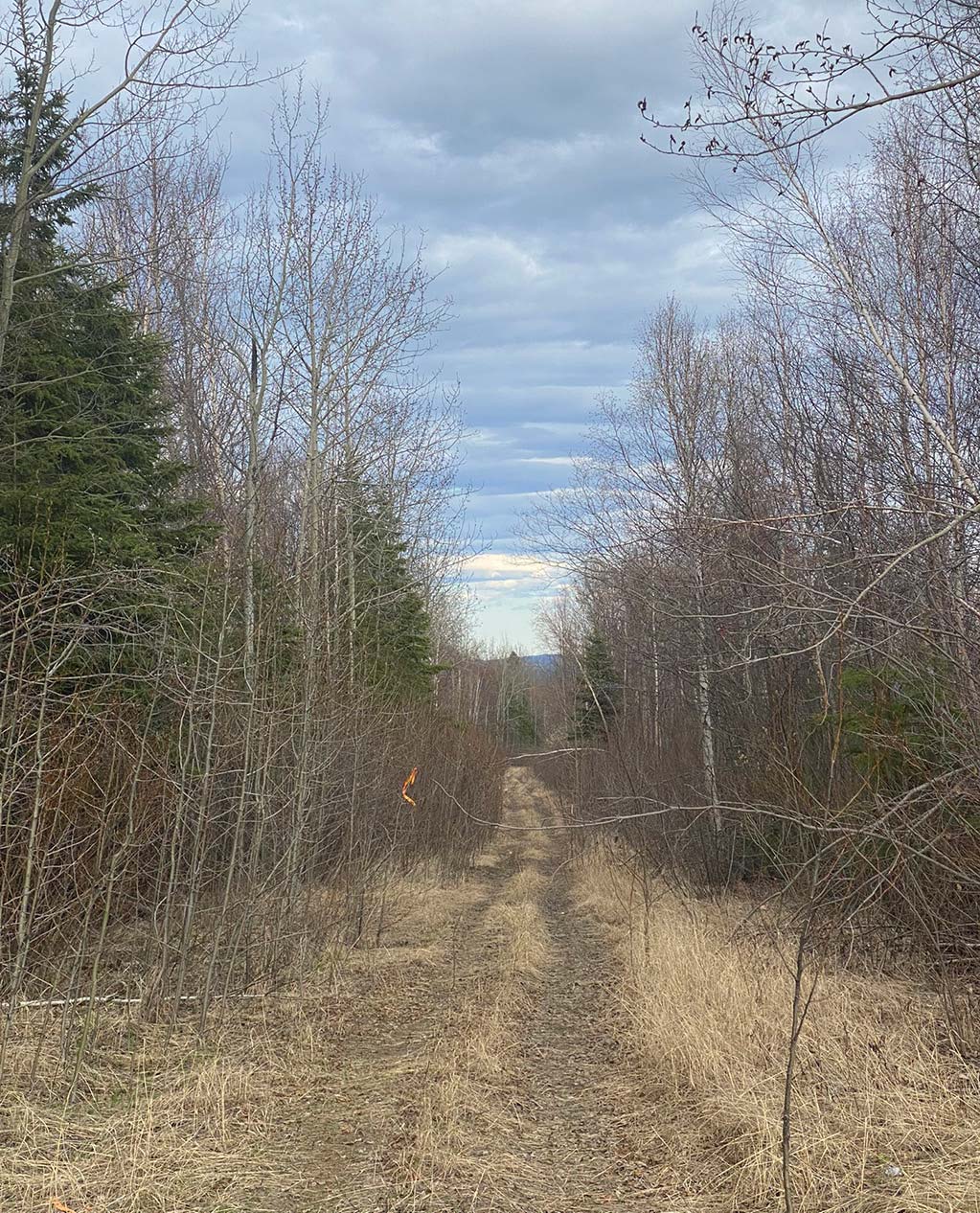 Finding Zen
Finding your Zen means slowing down and finding peace. It is about being centered at your core, mentally with your soul.
The challenge of sitting still while keeping my senses on high alert was a great way to start the week in bear camp. I had my Thermacell ready to fire up, a set of shooting sticks to help remain still and my crossbow ready to acquire the target. Travis drove me to the bait with his quad and bid me adieu.
A goldeneye hen flew out of a cavity in a tall aspen, and I took it as an omen for positive things to come. I got comfortable and sat back to soak things in and enjoy the evening. The goldeneye returned and hit the tree at breakneck speed before disappearing into the old woodpecker hole. Ruffed grouse were drumming, chickadees were singing and some local geese were making a ruckus by the river. Life was good.
I tried hard not to move and was cognizant that a big bear would likely circle the area before committing to coming in. I sprayed with Scent Killer Gold and stored my clothes to remove as much human scent as possible. My hood was up to keep the mosquitoes out of my ears and provide cover for my face. After a couple of hours, my back was aching, my hips were tightened, and I had to remind myself to stay focused.
One never expects a big, old bear to come in early. It is standard practice to have one bed close to the bait or circle it several times. Staying silent and being a part of the tree that I sat against was my strategy for success. No smaller bears were coming in, which told me the big boy must be hanging out close by. I moved my head back and forth in slow motion to scan the forest for as far as I could see.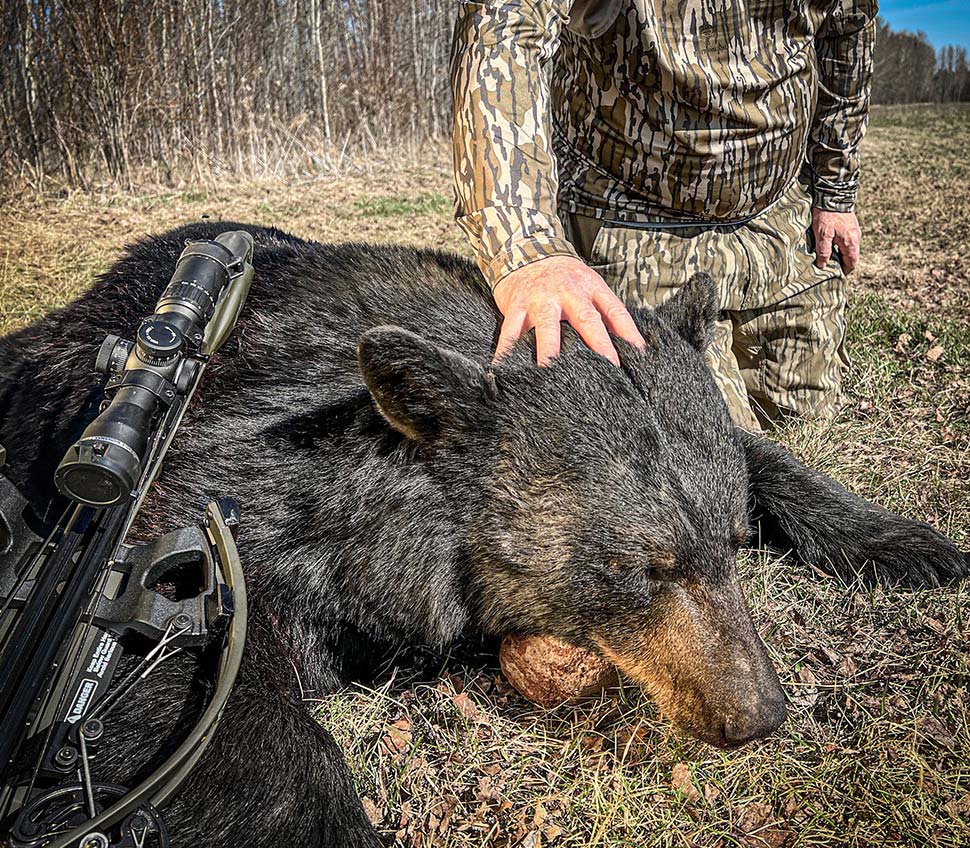 A Dark Patch
It was a relaxing night, and the sit was calm and relaxing. I scanned slowly to my left and a dark patch in the trees caught my attention. It was a bear. I could feel my heart rate increase immediately and took a deep breath to keep my wits about me. The bear was concealed mainly by the low-hanging spruce branches, but it acted like an intelligent old bruin.
The bear did not move for several minutes, and I reminded myself to "be the tree." The jet-black bear stared in my direction as though daring me to move. A mosquito buzzed around the edge of my glasses and I tried to blow it away without moving. It was hard to tell how long the stare-down would last or if the bear would turn and head back into the forest's solitude.
When the bear finally stepped forward, I knew it figured the coast was clear. The bruin sauntered towards me with legs rolling around the rotund body. The stealth was impressive and each step was methodical and silent. I am convinced the bear was educated by someone else hunting the site. It continually looked up at the stand as if it had seen something there before. I dared not move.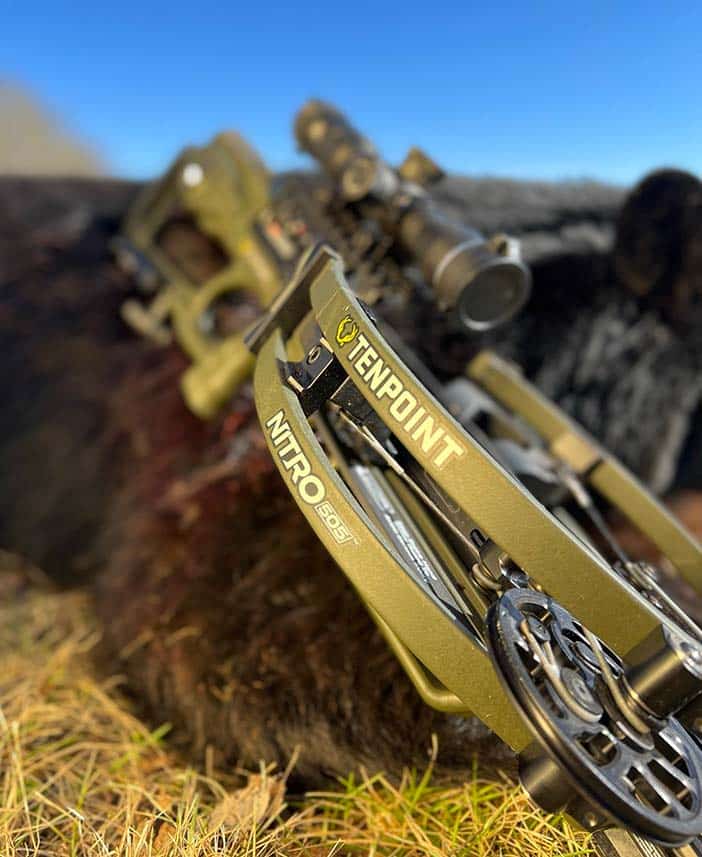 Eye to Eye
The bear slowly walked down the length of a fallen tree like a circus entertainer strolling a tightrope. I slowly sat forward to engage my crossbow with my shoulder and to be able to see clearly in the scope. The bear was close and he looked up at me, showing the whites of his eyes.
I made the decision to take the first shot opportunity. As the bear closed the distance to 22 yards, it stopped with its head behind the trunk of a large tree. My crosshair found the spot behind the front shoulder, and I tightened up on the trigger.
The 150-grain SEVR Robusto broadhead made a loud "whack" as it passed through the bruin. The big bear jumped off the ground with all four feet and bolted forward three steps, where it tried to get over some deadfall. As the bruin somersaulted over the fallen tree, it rolled a couple of times and lay motionless. My heart was beating 100 miles an hour. I could not believe the hulking bear had only made it 10 yards before succumbing to my well-placed arrow.
I used a TenPoint Nitro 505 crossbow and converted some of the speed to kinetic energy. There was still plenty of speed. The bear never heard a thing before the arrow pierced it. The 150-grain Robusto broadhead was the perfect match for a weight-forward projectile that could pass through a massive bruin.
I texted Travis to let him know I had a bear down. He showed up a half-hour later and I ventured down and out of the tree to meet him. We walked over to the downed bruin, and Travis could not believe his eyes. The bear was a monster. It was a grunt to pull it out from under a tree. We were both excited, and Trav lay beside the bear to show its size. Travis is a big man and towers above most people. The bear made him look small in comparison, and we sent a picture to his dad to share the adventure.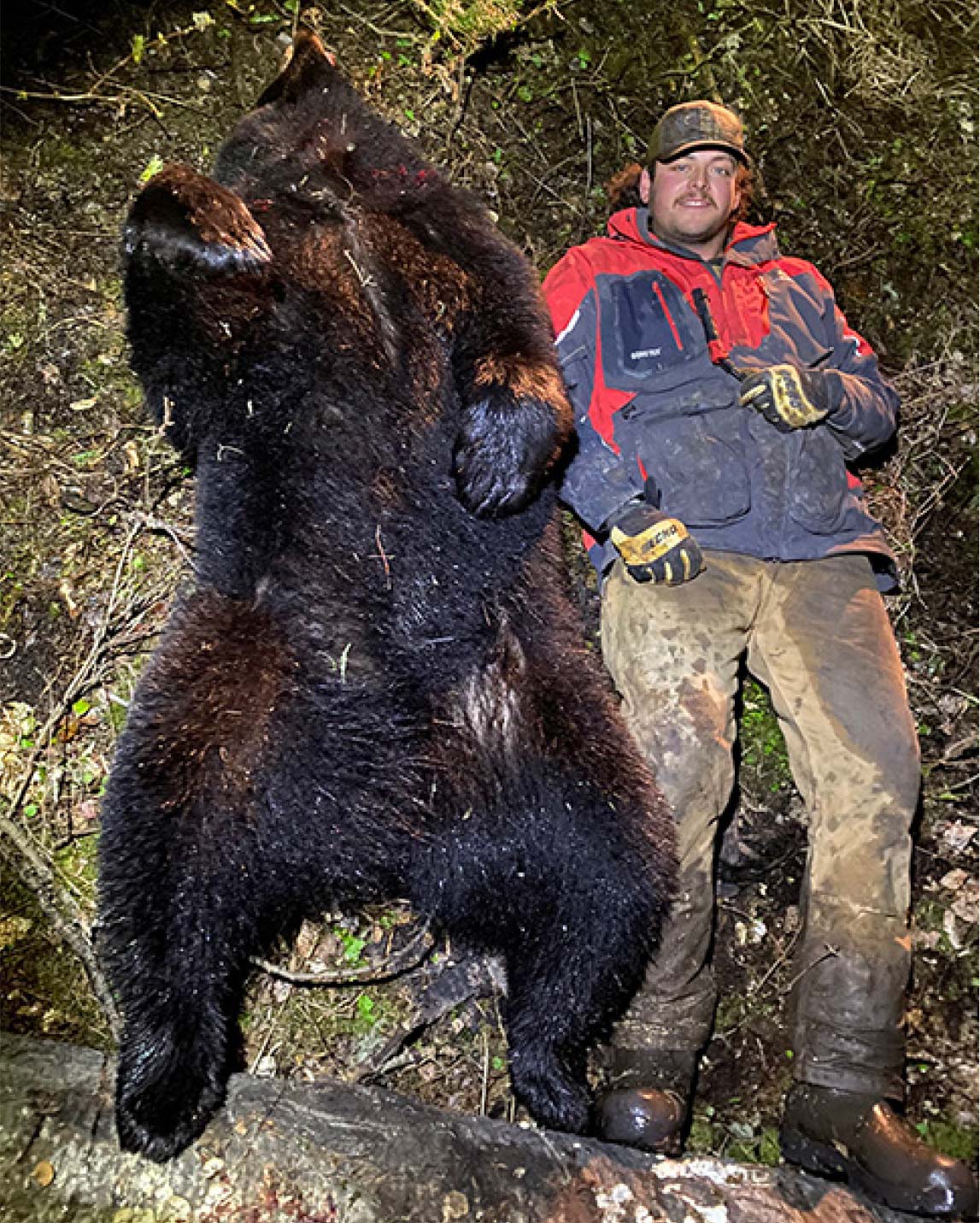 Smarter Vs. Harder
Our motto was working smarter and not harder, so we backed the quad up to the fallen tree that the bear had scurried over. The bear was rolled onto the tree and pulled up to where we could roll it directly onto the quad. This plan worked perfectly. I walked out of that spot since the bear and Travis were a significant enough load for the quad to handle.
It had been a special night in the bear woods with an old friend who had grown into a great young man. I would have done anything to have Travis harvest the bear, but he was so excited about the night's events that he would not have changed a thing. For me, it was a bear for Travis. Good luck, hard work and a lifetime of learning to be an outdoorsman have made Travis a successful hunter and guide with whom to share the experience.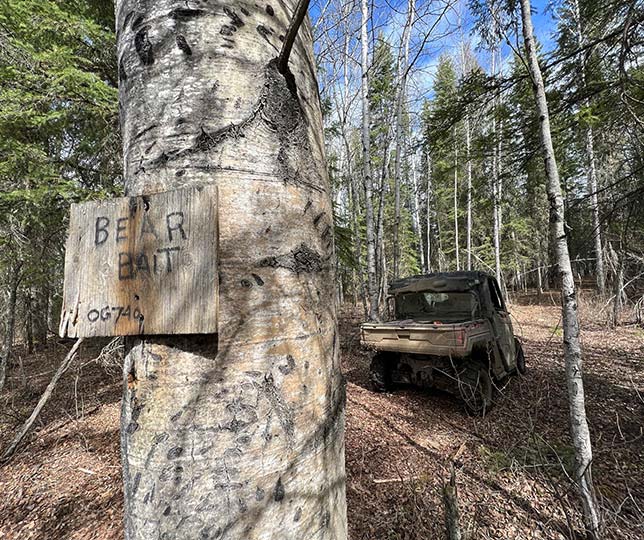 Wildlife Research Center Ultimate Bear Lure
Are you having trouble with a shy or secretive bear? Putting out an irresistible scent might be the ticket to success. Bears can smell it a long way off and feel they must come to investigate.
Ultimate Bear Lure has a unique oily formula that works better and lasts longer, even in wet conditions. The formula has a powerful, extremely intense, burning, sweet-smelling attractant that bears can't resist. Use it with a Pro-Wick High-Intensity Scent Dispenser designed to hang in a tree. It will disperse scent and draw bears from a wide area. The wicks come in a four-pack and resealable zip-lock bag.
Use a bear's curiosity to your advantage and see the response to the Ultimate Bear Lure firsthand. For more information, visit wildlife.com.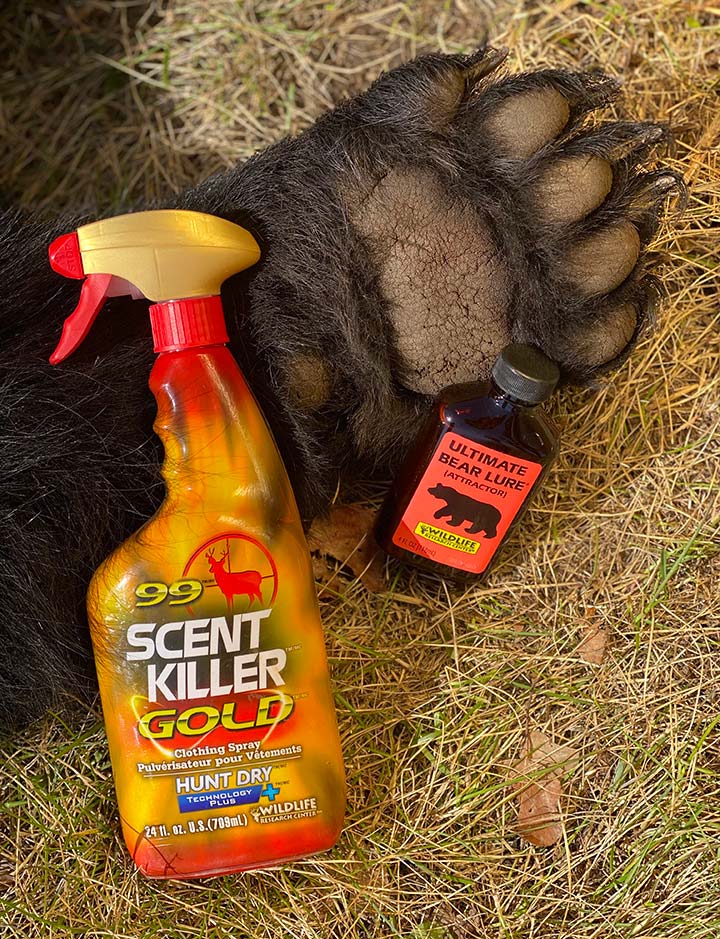 SEVR Robusto
The SEVR™ Robusto 2.0, 150-grain broadhead provides multiple benefits to the crossbow hunter. The rear-deploy locking-pivoting blade technology and fluted, hardened-steel ferrule design will perform with any modern high-energy crossbow.
Robusto is assembled with a machined one-piece ferrule and precision-ground tip. The Max-Cut 2.0 blade technology improves penetration and provides stretch-cut entry and exit wounds for well-defined blood trails. (Some hunters refer to this as a slap-cut.) The Lock-and-Pivot blades lock open on impact, but the blades can pivot as needed when hitting bone or other dense body parts. The pivoting blades ensure the arrow continues to fly true and straight through game when needed.
SEVR designed a Practice Lock screw that can be placed into the broadhead, keeping the blades locked and contained. The lock screw allows hunters to practice with the actual broadheads used to hunt without dulling blades. Remove the lock screw after practice and head to your treestand. SEVR Robusto 2.0 broadheads are available in 150 grains in standard 8-32 threads. SEVR broadheads are available at www.sevrbroadheads.com.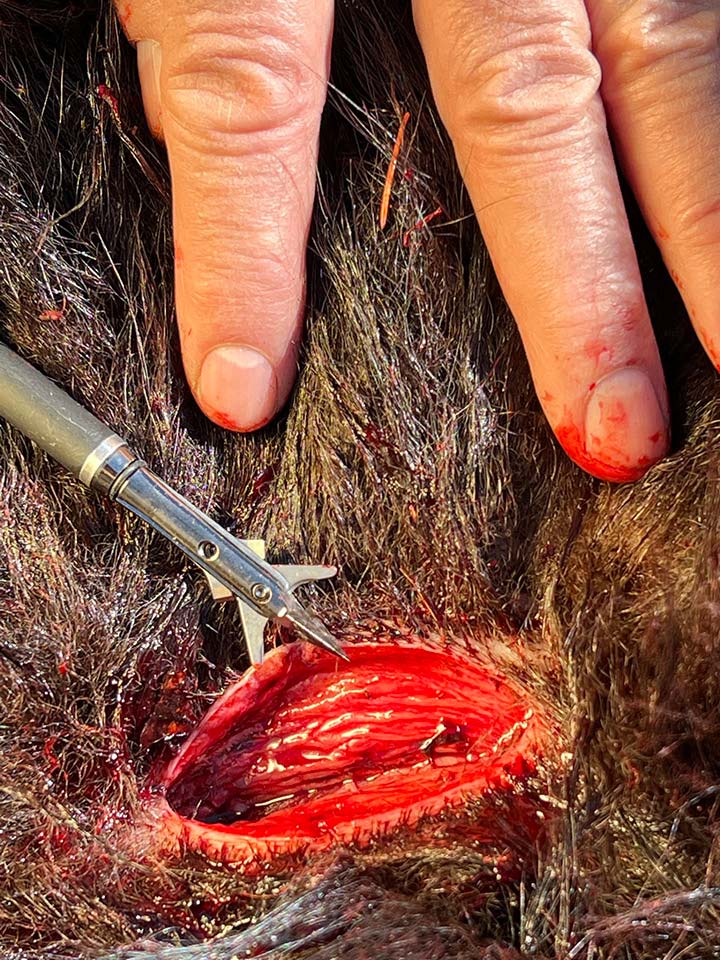 ALPS Impulse
A quiet, easy-to-access pack is a must when hunting black bears. The Impulse comes wrapped in DEADQUIET fleece designed to help deaden sound upon contact with brush or clothing, making it ideal for bear hunting. The special fleece is enhanced with a waterproof membrane to protect contents from moisture. The Impulse's zipperless main compartment lid folds open or closed. It uses a series of strong magnets and an aluminum hook to keep the lid closed and the contents secure. The pack will stand upright on the ground or at the base of a stand.
The Impulse also comes with a two-piece adjustable and detachable waist belt. Other Impulse features include multiple interior mesh pockets, left- and right-side bungee and cord locks to secure a quiver, side and front mesh pockets, a drop-down bow or gun-carry pocket, an integrated rain cover and a hydration pocket with two side-outlet hydration ports. The Impulse weighs 5 lbs., 4 oz with a total volume is 30L/1850 in3. For more information, visit www.alpsbrands.com.