With the growing popularity of crossbow use, Omega Sights created the new 2023 Hawkeye.
Like its siblings, the new 2023 Hawkeye is a digital reticle sight, a continuous rangefinder, and an HD video camera, all in one. But what sets the new Hawkeye apart is that is has both Day vision as well as a Night Vision feature.  Additionally, its new 50mm super Sony hi-resolution camera and processor aids in seeing what the naked eye cannot in low light conditions such as pre-dawn or dusk, even without the use of its night vision feature.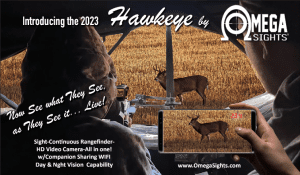 The new Hawkeye boasts a terrific feature that the manufacturer calls "Companion-Sharing."  With its built-in WIFI processor, and a Free App for viewing, the user can share what is seen in the sight viewfinder as well as what they hear, with a companion up to 10 feet away… live as it happens! The free App will allow recording to one's personal cellular device whether Android or IOS and allows taking still pictures of the viewfinder imagery as well. This feature can be a very useful tool in teaching a new shooter proper target-acquisition techniques, or simply to share one's hunting experience with friends or family. Moreover, this can be achieved in daylight or in Night Vision. If one wishes to utilize the Night Vision feature, the Hawkeye's accessory quick-release detachable Night Vision IR flashlight is required. One can easily acquire targets 100+ yards away with this accessory package.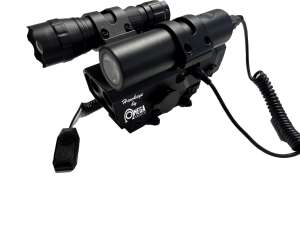 Additionally, the Hawkeye takes either non-rechargeable or rechargeable CR123 batteries, that will power the unit for several hours. Using the Hawkeye's supplemental cylindrical power bank accessory with quick release it can provide an additional 10 hours of power for the Hawkeye.
The Hawkeye's reticle package is easy to set up and comes with 6 adjustable crosshairs to be locked in at any yardage one desires.  The crosshairs can change color as the environment warrants to one of any 4 colors, red, green, black, or white.
With power Zoom 1X-4X and easy turn focus knob, acquiring a target has never been easier.  The new Hawkeye weighs 18oz. and is 5.75 inches long and 2.25 inches tall.  It has both an elevation turret and windage adjustment in a sturdy mounting bracket that fits any Picatinny or Weaver rail. The LCD screen harnesses a built-in collimating lens, and its viewfinder is 1.5 inches by 1.25 inches.  Included is a charging/downloading USB-C cable, a 32GB micro-SD Card, 2 rechargeable 3.7V CR123A batteries, and a 2-button detachable remote control for hands free movement.
For more information, please email [email protected].
For additional Omega Sights press releases, click here.