40th Anniversary Bottomlands
I believe most of us can agree that we live in a complicated world. Sometimes, technology is overdone, and things get more complex than necessary. That's why there's something refreshing—even captivating—about simplicity. Excalibur, a household name in crossbows, has embodied that concept since its inception 40 years ago. Most crossbows today flaunt more and more radical, futuristic styling, but not Excalibur. Its motto, "Different for a Reason," says it all.
Today's wildest crossbow designs can be intimidating to beginner and intermediate hunters, but an Excalibur plucks a familiar chord with most because of its recurve design. Even if someone hasn't used a crossbow before, they've likely seen photos or movies showing a recurve crossbow. It seems to feel more understandable, like something that even a beginner can manage.
This review of the Excalibur Wolverine was performed without bias or payment from Excalibur Wolverine.  If you find this review helpful and plan to buy one – you can support us by purchasing the Excalibur Wolverine through this affiliate link, for $1,099.99.
Obviously, being in business for 40 years is a major milestone, and Excalibur is celebrating this event with a stunning masterpiece: The Wolverine. Like all Excalibur models past and present, it's built on a recurve platform to preserve simplicity in a day and age when that can be hard to find. That simplicity, among several other reasons, is why the Wolverine is a crossbow I'd trust for any hunting adventure.
Lookin' Good
Though the Wolverine's specs, features and performance scream 2023, its styling is a stroll down Memory Lane, which is really cool. The Mossy Oak Bottomland camo pays homage to Excalibur's 40th Anniversary and aligns with the throwback trend in camo that's currently popular in the hunting world.
To tie a bow to the Wolverine's aesthetic appearance, Excalibur incorporated exquisite wood inlays on the pistol grip and the foregrip. The bow also wears a 40th Anniversary earmark just beneath the rail. This all offers an assurance that you're holding something of quality that has not only withstood the tests of time and competition but has stayed on the same narrow road it has been traveling all along. Oh— and don't forget the ritzy, gold-colored trigger. As for the platform itself, it's modern and tactical.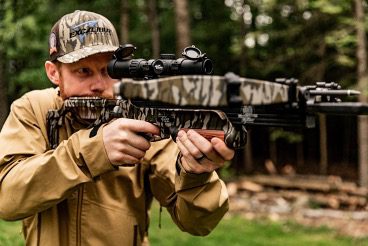 Next-Level Comfort
Not surprisingly, the Wolverine teems with comfort, making it a pleasure to handle and shoot. First, it has a skeletonized stock that fosters balanced, lightweight and easy-to-handle maneuverability. The pistol grip delivers an ergonomic fit and feel. It also gives the shooter excellent control with virtually effortless trigger access.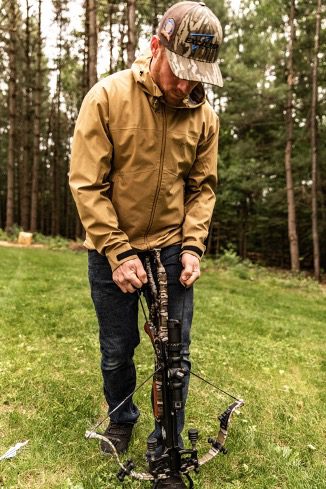 To cap it off, the cheekpiece, which can be swapped to either side of the stock to accommodate right- and left-handed shooters, makes scope acquisition fast and easy while providing another contact point enhancing stability and consistency. The Wolverine does many things well, and comfort ranks high on the chart.
Fast Enough, Deadly Accurate
While the Wolverine doesn't set any new speed records, it delivers bolts at 360 fps, which is plenty of power for any hunting scenario. The trajectory is nice and flat, with the bolt drop being minimal from 20 to 30 yards. I've also had my hands on Excalibur's new Assassin Extreme. It's considerably faster with a 405-fps velocity, but it's also noticeably louder when fired than the Wolverine. Personally, I'll take the Wolverine's reduced velocity and stealth.
As I expected, the Wolverine is extremely accurate. After a quick sight-in, I tested out the different hold points in the included Overwatch scope, and all were dead on. My turkey target was toast every time I shot it from 50 yards. A heads up: When shooting groups from 20 yards on a tripod, you risk ruining bolts; dime-sized groups are common. I've had the Wolverine for a few months now and have shot it in various weather conditions. Whether it's 80 degrees or frigid with a 15-mph crosswind and two feet of snow on the ground, this bow flat-out performs.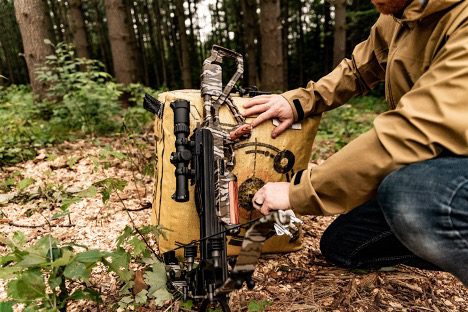 Accuracy is a product of the Match Grade trigger, which is a smooth operator. It breaks cleanly and consistently with about three pounds of pressure. Comfort, fit, feel and quality components with tight tolerances provide its deadly accuracy.
The Package
The Wolverine package includes everything needed to hit the woods except for broadheads. The Overwatch scope features crystal-clear glass and is rigged with red and green illumination. Its reticle has calibrated aiming circles from 20 to 100 yards. And there's no guesswork; yardages appear next to each respective aiming circle for fast reference.
Also included are the Rebolt quiver and four Proflight arrows with 100-grain field points. Excalibur includes a Rope cocking aid and a CeaseFire decocking hook. That's right, de-cocking the Wolverine with the included Rope cocking aid is a safe and simple alternative to discharging the crossbow following an unsuccessful hunt.
Its R.E.D.S. suppressors help reduce string oscillation and vibrations. The S.D.S. silencing system also silences the shot. One part of the S.D.S. is the Wolverine's rubberized foot stirrup. That means no worries about game-spooking metal-on-metal resonances.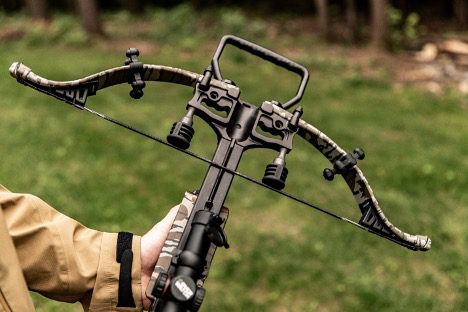 Ode to Excalibur
If one thing is evident with Excalibur's Wolverine, it's that the company has been true to the recurve platform that its bows were founded on 40 years ago. Of course, the Wolverine is wildly faster and quieter than Excalibur crossbows of old. However, in a complicated world where most crossbows are beyond radical, the Wolverine delivers modern, get-it-done performance with a time-honored simplistic platform. I find that very refreshing, and I believe most of the hunting community will, too.
Cheers to 40 years, Excalibur.
SPECS: Wolverine at a Glance
Finish: Mossy Oak Bottomland
Mass Weight: 6.4 pounds (bare bow); 8 pounds (accessorized)
Limb Width:  21.5 inches (cocked); 25.5 inches (uncocked)
Overall Length: 31.5 inches
Power Stroke: 14.25 inches
Bolt Length and Weight: 16.5 inches; 350 grains
Listed Velocity: Up to 360 fps
Trigger Pull: 3 pounds
Draw Effort: 15 pounds
Cocking Device: Rope Cocking Aid
Scope: Overwatch Scope
MSRP: $1,099.99